THE SCENE: Sophisticated, boisterous, flirty, energetic, demure and serene—all are accurate descriptors of Stephen Starr's latest creation. Despite its physical magnitude—the 10,000-square-foot space incorporates its previous tenants, the Sheraton Hotel (including it's lobby and ballroom) and the former restaurant Blue—Parc is far less flashy than we've come to expect from the master of themed restaurants.
Like other Square eateries, Parc draws the outside in with glass doors and windows, which pull in the day's weather and create a marvelous interior breeze. The design team sourced a variety of fixtures directly from Paris antique shops and flea markets, along with reclaimed millwork—doors, wall panels, moldings, an old ticket booth and the entry vestibule—from shuttered Parisian restaurants.
The focal point of the main dining room is the 50-foot handcrafted solid zinc bar—and the gazillion ecru, amber, green and eggshell mosaic tiles on the restaurant floor. Also lovely is the large, worn hutch decorated with Martini-logo'd carafes near the hostess station.
The ceiling was treated to give it a tobacco-stained look and create the effect of effortless aging. The diverse array of photos, posters and antique fixtures add authenticity without screaming "theme." Among the other notable details: vintage fans (including a transom fan over the door in the back dining room designed to draw out cigarette smoke in its former life), thrift-shop mirrors, reddish-brown leather banquettes, frosted glass, worn-down bistro tables, and a defunct jukebox.
The ladies' room is sleek yet feminine, with a marble vanity and shimmery wallpaper depicting reclining vixens—which complement the nude artwork outside the restrooms and scattered throughout the restaurant. It lends an unexpected sweetness to a place with an atmosphere that's more "power meal" than "romantic rendezvous."


THE FOOD: Parc's kitchen welcomes the return of French-born chef Dominique Filoni (Savona and Bianca in Gulph Mills and Bryn Mawr, respectively; the Four Seasons in Washington, D.C.), one of Food & Wine's Best New Chefs of 2004. The menu centers on classic bistro favorites, simply prepared and presented. The usual suspects include hors d'oeuvres of salade lyonnaise, steak tartare, pâté and charcuterie, plus entrées like boeuf bourguignon, steak frites, sautéed calves liver, and crispy duck confit served with fingerling potatoes and pickled chanterelles. A variety of plats du jour include a bouillabaisse on Fridays and coq au vin on Sundays.
We've gotten used to haute gastro-pub cuisine around these parts, but typical French bistro fare is unfussy, its everyday ingredients presented simply and dressed up in bold flavors. That said, some of Parc's dishes hit their mark. The salade lyonnaise—a neat pile of frisée, chives and onions, meaty cubes of smoky lardons and potatoes crowned with a poached egg, all perfectly dressed with balanced acidity—is a terrific rendition of a classic.
 
Continued on page 2 …
Other dishes—like the grilled sardine salad with roasted tomatoes, arugula and Parmesan—were disappointing. Its tangy-sweet, peppery, piquant flavors should've spilled over to the sardines, which lacked any distinct impact—a far cry from the imported ones I sampled this summer from a local market.
Elsewhere, the lava-esque onion soup gratinée was pretty to look at, and loaded with sweet onions. But it could've used some fresh thyme, bay leaf and a bit of sherry to make it surpass ordinary.
The pissaladière was also loaded with caramelized onions—turned sassy with tangy goat cheese and salty olives atop a flaky crust. Another pleasant surprise was the flavorful side salad, which was almost overlooked as nothing more than a garniture.
Although the cracker-crisp skinned duck confit was good, the flavor profile was shallow—something that easily could be altered with a good curing process. The tousle of peppery baby arugula
was dressed well and provided an extra kick with a dusting of fresh cracked pepper.
We were somewhat disenchanted by the lackluster pommes frites, macaroni gratin and cauliflower gratin. But while the slim frites weren't hot, and teetered on limp, the not-too-thick lemon aioli was a zesty condiment.
The aforementioned gratins had similar flavors and consistency—too little cheese that wasn't sharp enough, and too much cream. The cauliflower's golden- brown bread-crumb crust is peppered with thyme, but each dish needed more seasoning to perk it up. Because there wasn't enough cheese to bind the petite macaroni, it was hard to get a decent portion on one's fork without the pasta falling off.
The entrées delivered a much-needed punch to our meal. The beef bourguignon offered a hearty helping of tender beef chunks, deliciously chewy al dente papparadelle pasta, shallots and mushrooms. It was quite good, but swimming in a syrupy,
cloying reduction. Succulent, pink slices of roasted leg of lamb arrived fanned out alongside a thin pool of creamy, divinely cheesy polenta. Though cooked to our specifications, the meat was lukewarm—the risk you take when serving such thin slices, especially when they must travel across a large dining room.
The skate grenobloise with brioche croutons, rapini and caper brown butter sauce held promise, but it was either overcooked or had been sitting too long under a heat lamp, losing its snap and its moist flesh.
The sizable New York strip steak was served with a toned-down peppercorn sauce that had less kick than a traditional au poivre, velvety sautéed spinach with bits of garlic, and a classic side of gratinéed potatoes. It mostly caught our attention thanks to its cerise center and juicy mouthfuls.
 Continued on page 3 …
A decadent finish to our meal came in the form of La Colombe espresso and a cheese-and-chocolate combo. We were a little put off by the ho-hum cheese offerings—after all, we were in a French bistro—but the jewel-toned quince paste and apricot preserves, and the chunk of honeycomb were nice embellishments. Of the three cheeses we tried, the Ossau-Iraty was the most memorable.
We adored the chocolate mousse's lack of pretension and its rustic, fresh crushed raspberry sauce—also a nice complement to the creamy cheeses.
In the end, Parc's kitchen left me craving something more. To be fair, it wouldn't require much to take the dishes we sampled to a higher level. Bistro fare should be simple and fresh. What we tasted was more rushed and unimaginative.
Knowing who is at the helm, I did expect more. Undoubtedly, though, the volume is dictating the food, which might be as frustrating for Parc's culinary team as it was for us.
THE EXPERIENCE: Despite a warm greeting from the hostesses, the caliber of service at the bar was lukewarm. Our "should we, or shouldn't we?" debate about ordering a bottle of wine elicited a terse comment from the bartender. By the glass, the wine was $8. Per bottle, $40. When the price disparity was questioned, he tossed out "eight times five" as if we couldn't do the math in our heads and didn't know that, generally, a good pour gets you four glasses to a bottle, not five.
That gruff encounter was quickly overshadowed by our delightful and witty waiter, who put up with our questions and even removed the frites from our check when we told him they'd arrived on the colder side. We were also impressed by his composure on an exceedingly busy night. (The bus boys, on the other hand, were a little too eager to clear our plates before we'd finished with each course.)
Parc's deafening decibel level had us wishing we had a megaphone to converse audibly. It amped up our adrenaline, making it hard to fully unwind with a meaningful conversation. Alas, it's the cost of wanting to see and be seen—and something the Starr organization apparently is working to improve. A second visit on a more subdued evening made a romantic interlude seem more possible.
Still, we were smitten by Parc's vigor, which spilled out onto the street and increased the energy level on Rittenhouse Square. For a Thursday at midnight, the area was full of life, making this suburban dweller green with envy. On another trip to Center City, I found a quieter scene inside Parc, and the place seemed all the more inviting.
BAR NOTES: I didn't opt to dive into one of Parc's signature cocktails, which included lush-sounding concoctions like figorne, a fig and red wine spritzer; citron glacé, Ciroc vodka with lemon juice and sugar; and romarin, Finlandia grapefruit vodka, rosemary, elderflower liqueur and grapefruit juice. But reading through the menu made me wish it were a Friday and not a Thursday. Wines (18 of them) and bubbly (three choices) by the glass range from $7 to $16, and although the draught beer selection is a little light, the bottled offerings should please any beer snob. There's also a short list of fruit beer and cider—or if you're looking for something different, Pastis (anise-flavored alcohol similar to Pernod), absinthe and sherry. The 160-bottle wine list features French- and American-produced European grape varietals.
Continued on page 4 …
It seems that guests are in a bit of a disagreement on the quality of the wine list. I have to be honest here and say that on the night of my visit—which started with a harried, lengthy drive and ended with me walking into an insanely crowded Parc—lingering over a glass of vino was the last thing on my mind. It was more like, "Can you give me that martini intravenously, please?" So, perusing the wine list came more as an afterthought. My companions, though, were under-whelmed with their by-the-glass Malbec and Sauvignon Blanc. And we all agreed that the list isn't exactly a bargain, but what does Stephen Starr—and Rittenhouse Square, for that matter—stand for if not decadence? What I really want to know is, what was he thinking with those puny martini glasses? Carafes of house wine—Laboure-Roi Blanc (chardonnay) or Laboure-Roi Rouge (merlot) are available for $16 (12 ounces) or $28 (25 ounces), which may explain why all those youngsters we saw hunkered down at the bar and at a nearby table could afford to be there.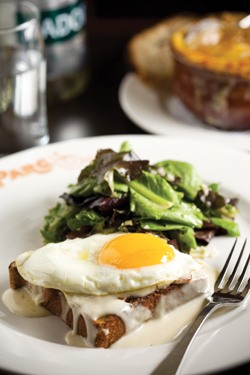 THE SKINNY: If Starr's restaurants aren't exactly synonymous with theater, they come pretty darn close. And with so much emphasis on the dining experience, the food isn't always the main attraction. Although not as flashy as Starr's other restaurants, Parc does present a challenge for a chef of Filoni's caliber. Ensuring that the cuisine remains above-par won't be an easy task; 280 seats and a steady turnover are likely to have an effect on quality.
Nonetheless, Rittenhouse Square is an ideal locale for this tempestuous French bistro. The different sides of its immense personality play well against the park, with its own shifting moods depending on the time of day. One day, Parc is unbearably unruly; the next, delightfully coy. Others might call that schizophrenic, but I see a passion that's tantamount to French culture. I can easily imagine a day spent people watching, strategically tucked into a table just inside those fabulous glass doors. Talk about a memorable study of human behavior.
With the amount of dishes they're producing, Parc often feels like its churning out upscale French fast food. Prices are fair and comparable to other high-profile area restaurants, and à la carte flexibility allows customers to have more control over their tabs. Still, in Paris, there are hundreds of restaurants like Parc, so the bar areas aren't jam-packed and the noise isn't as bad. It will be interesting to see how quiet it is when Parc's doors are closed in the winter.
Ultimately, Parc is a state of mind—albeit one that requires an open one. If you're not in sync with the ambiance, you're likely to see the cacophony as something less than a harmonious soundtrack to bustling urban life. Tasting that energy can be invigorating at times, and undoubtedly, that's all part of Starr's mission—to create a place where people of all ages can congregate and enjoy life's simple pleasures.
It can be annoying to have to shout across your table. I wouldn't want to do it every night, but it is one of the main reasons people love hanging out in Rittenhouse Square.
In the end, Parc won me over with its ambiance more than its food, and I'll wager there are others who'd admit the same. But with such a prime piece of real estate along one of the city's prettiest streets, expect improvements.
DETAILS
Location: Rittenhouse Square, 227 S. 18th St., Philadelphia; (215) 545-2262, parc-restaurant.com
Cuisine: Upscale French bistro fare
Price: $18-$28 for entrées
Attire: Parc is where the beautiful people are; fashionable is in.
Atmosphere: See and be seen
Hours: 11 a.m.-11 p.m. Monday-Thursday, 11 a.m.-midnight Friday, 10:30 a.m.-midnight Saturday, 10:30 a.m.-10 p.m. Sunday
Extras: Breakfast 7:30-11 a.m. Monday-Friday; retail bakery in the works