Many thousands of years ago, the Chinese emperor Shennong liked to drink his water hot. One day, as he boiled some, a gust of wind blew leaves into his pot. The open-minded ruler drank the brew anyway, and he felt refreshed. So he began brewing the leaves every day, and thus, the tea-drinking culture was born.
True or not, this legend inspired Barry Eichner, vice president of operations at 3000 BC spa, when he was looking for a way to differentiate himself from the competition. After visiting both spa and tea conferences, he became inspired by the drink's health properties. And since tea comes in many different varieties, each with its own benefits, a spa can individualize the experience for clients. "I'd been to other spas that had a really relaxing atmosphere centered around tea," says Eichner.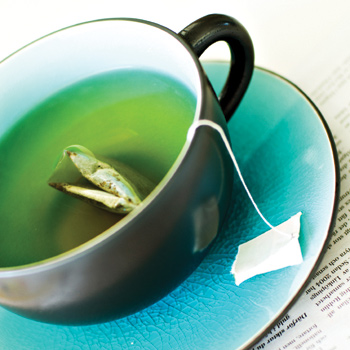 Eventually, tea became an integral part of the 3000 BC experience, both as a beverage and a component in spa treatments. When patrons arrive at its Wayne location, they're ushered into a beautiful, spacious tea lounge called Swi-Ka—a name adapted from the ancient Egyptian term meaning "drink this for your soul." The experience begins with a choice of several custom blends, from the lightly caffeinated green tea "Bastet : Warmth" to the more traditional white tea "Maat : Truth," to the herbal "Hathor : Joy." All are organic and come from fair-trade sources. "When people come in, it's nice to enjoy a cup of tea," says Eichner. "It really relaxes you."
The teas come in an array of flavors and varying levels of caffeine, and they offer a number of health benefits. If a client can't have caffeine, an herbal tisane might be in order. If a coffee addict needs a caffeine fix, a black tea might be the ticket to knock out that headache, while keeping the client relaxed. "Black tea contains caffeine, but it's not the jittery kind," says Eichner.
When clients arrive at Swi-Ka, they're handed a tea menu with detailed information on the teas available. Without some direction menu, you might be overwhelmed by all the choices. But once you've got the lingo down, it all starts to make sense.
All true teas come from the Camellia sinensis plant. Whether a tea is black, green or oolong depends on how much fermentation it's undergone. The most common and traditional kind of tea is black, which is heavily fermented during processing and has a deep, rich taste. Traditional English teas like English Breakfast, Darjeeling and Earl Grey are made from black tea. It takes milk and sugar, and is well caffeinated.
Other major tea varieties include:
Oolong. One notch down on the fermentation scale from black, this Chinese blend contains slightly less caffeine and is thought to have many health benefits. Oolong contains polyphenol, which is thought to help prevent tooth decay and stave off obesity.
Green tea. Rapidly catching up to its black cousin, thanks to the increased popularity of Asian cuisine, green tea undergoes minimal fermentation and has only a little caffeine. Like oolong, it's long been consumed for its health benefits and contains antioxidants, which are thought to fight the aging process.
White tea. Made from uncured and un-oxidized Camellia sinensis, white tea is fast-dried and contains even less caffeine than green tea. Recent studies have shown that it has antiviral and antibacterial properties. White tea is often expensive and was, until recently, not widely available here in the United States.
Rooibos (red) tea. Derived from a South African shrub, red tea is technically an herbal tisane. It mixes well with other herbs and dried fruit, has long been consumed for its calming properties, and is thought to help the skin stay healthy. It contains no caffeine, and research shows it to be heavily packed with antioxidants.
In addition to Rooibos, there's also a dizzying number of "herb teas"—or herbal tisanes—that are thought to have health benefits. Herb teas like chamomile, mint and ginseng have their own potential benefits. And more often than not, they contain no caffeine.
At 3000 BC, the tea concept was so successful that Eichner added tea-based spa treatments to the service menu. The spa offers a Red Tea Facial and a Red Tea Massage, both heady experiences and especially helpful for people with dry or damaged skin.
"I learned that you could infuse these teas into various skin-care products. So we actually steep the tea in oil like you would in water, and all the nutrients go into the oil," says Eichner. "Rooibos is incredibly soothing. When you apply it to the skin, it really brings it back into calming stasis."
And the way things are going today, we could all use a bit less jitter in our lives.
To learn more about 3000 BC Spa, see our March spa story, Twist on Tradition.
Must-Haves for Tea Devotees

Tea Tumbler from Namu Baru
This stainless steel travel mug comes with an infuser basket in the lid. Place your loose leaves in the basket and pour in the hot water. Then screw on the lid tightly, and turn the tumbler upside down to allow just the right amount of time for the tea to steep properly. When it's ready, turn the tumbler upright, and you'll have perfectly steeped—and still piping hot—tea. According to the company, the stainless steel can keep the tea hot for as long as six hours. $19. Visit uncommongoods.com.
T-Sac Loose Tea Filter Bags
Sure, it's great to brew a whole pot of your favorite brew. But what if a guest wants caffeinated black just like her grandmother in Shropshire, while another insists on a decaffeinated
herbal blend to help balance her chakras? These empty filter bags allow you to make individual cups of your favorite loose varieties. They're also 100-percent compostable. $7.59.
Visit culinaryteas.com.
Tetsubin Cast Iron Teapot
Those old tea cozies your aunt used may have worked great. But if you're not going for that quaint country look, try a Japanese-style Tetsubin teapot. These cast iron vessels keep water
hot, and symbolize strength and unity. They come with their own infuser baskets, and their interior has a black enamel coating to prevent rust. $73. Visit kitchenkapers.com.