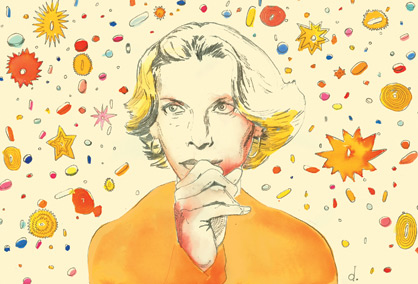 You may not know it yet, but talking about your prescription drug plan—or lack thereof—may be the next hot topic at the watercooler. Consider two of the most recent bills introduced in Congress: an amendment that would grant the Department of Health and Human Services the authority to negotiate fair prices with drug manufacturers, and one that would allow the federal government to regulate advertising and other information issued by the private companies that contract with the government to provide Medicare benefits.
While the best intentions are behind such legislation, much of it winds up stalled in the Senate. And patients can't afford to wait around for the government to protect their interests.
Here's something else to consider: Brand-name prescription drugs have never been more expensive, while generics have never been cheaper. On average, consumers doled out a whopping $120 for a 30-day supply of a name-brand drug in 2007, according to the most recent data collected by the Henry J. Kaiser Family Foundation, which tracks key health policy issues. That's a $111 increase over the previous year. Meanwhile, generics can run as low as $4 per 30-day supply. (The Kaiser Family Foundation compiled its statistics from polling data and a state-by-state survey of healthcare budgets.)
So why aren't we all buying generics? For one, well-publicized studies from the Journal of the American Medical Association aren't always singing their praises. In treating cardiovascular disease, for example, research shows brand-name drugs to be clinically superior to generics. And the generic versions of certain antidepressants can have more side effects and are absorbed differently in the body (a process known as a drug's bioavailability) than their brand-name counterparts.
But what you may not realize is that drug-industry practices have left consumers in the dark. At issue is the way a new medication is tested against a placebo instead of an existing drug used to treat the same condition. Typically, after it's proven to be safe and effective, a company will rush ahead and heavily promote the new drug without having to prove it's any better than an older—or cheaper—competitor. The current system, critics say, benefits only the pharmaceutical field, leaving doctor and patient no choice but to rely on trial and error, intuition and, worse, the salesmanship of pharmaceutical reps.
Dr. Edward A. Kelly of Downingtown Family Practice generally chooses generic over name-brand for practical reasons. It's cost effective and easier from an insurance perspective. "You get to the point where you know that if you prescribe the generic from the start, it will save a lot of time and paperwork," Kelly says.
That said, Kelly has seen vast improvements in generic medication—though not in all cases. Over his 32 years in private practice, he's developed a pretty firm handle on the difference between good generics and bad. But it can still get complicated, especially as more and more name brands lose their patents.
Some patients require more than one medication, he says, so you might be prescribing two generics. To complicate things even further, different pharmacies carry different types of generic drugs, and the brands may change between prescriptions.
When a patent expires, other companies can release a generic version of the drug, though whoever files first with the Food and Drug Administration gets 180-day exclusivity. Problems also have arisen with global patent disputes, delaying the release of generic versions of commonly used medications like the cholesterol drug LIPITOR.
Kelly worries that both the pressure from insurers and the general push to mandate more generics will limit options and discourage an open environment where scientific breakthroughs are possible. "You don't have the freedom of choice that you once had," he says.
 
Continued on page 2 …
And until the research community is able to get a handle on drug testing practices and Congress determines what's been dubbed a "new regulatory pathway" for the FDA, consumer advocacy groups like the Kaiser Family Foundation recommend that you become your own health activist.
Develop a relationship with your doctor and pharmacist, follow the guidelines listed below, and remember: The next time you hear a drug commercial's "side effects include" disclaimer, consider that fact that the United States is one of only two countries in the world that allow drug companies to peddle their "new and improved" brands directly to the public.

To learn more, visit kff.org.
 
Use As Directed
Terms you should know.
$4 Prescription Program. A fixed-price plan available for a small yearly fee at Walmart, Neighborhood Market and Sam's Club nationwide.
DestinationRx.com. A helpful website where you can comparison-shop for medications.
Discount card. Generally used to save money on medical services—not just medications. Ask your local AARP for availability.
Formulary. The list of drugs an insurance company covers.
PAPs. Free or low-cost patient assistance programs available through Medicaid's Part D plan.
Part D. Medicaid's prescription drug coverage, which changed this year. So look into it.
Pharmacy benefit managers. The name drug insurers call themselves.
Pharmacy discount. Typically offered by large chains, including CVS, which has a $10 annual program where you pay $9.99 for a 90-day supply of your prescription.
Preferred drug. Those medications for which the insurer has negotiated a preferred rate with a drug company. That means a non-preferred drug will cost you more.
 
Not So Fast …
Lowering prescription costs may be an admirable goal, but there are other factors to consider. Here are five questions to ask your doctor:
1. Is this the most effective treatment? Thanks to something called "first filer" rights, which grants 180-day exclusivity to drug companies that file first with federal regulators, generic brands aren't always the best or the cheapest.
2. What's the new medication's track record? Don't try it without knowing the latest research; it may not be an improvement over an older, less expensive drug.
3. Is there a generic alternative? Your doctor's office is bombarded with information about all the generic medications insurers accept. Many premium medications have more than one generic. Get to know them.
4. Can I lower my costs through pill-splitting or other alternatives? Many long-term prescriptions can be issued in larger doses or for a longer period of time, lowering the cost per pill.
5. Do I really need the medication? Studies have shown that drugs tend to be over-prescribed. If you think you've made strides with your blood pressure or cholesterol levels through diet and exercise, for instance, then it might be time to think about lowering your dose or stopping your medication. But always consult your doctor first.