Budgets. Can't live within them, can't live without them. In these turbulent economic times, it seems we all need a bit of a lifestyle adjustment. Out with the multiplex, in with DVDs; out with catering to the kids' every whim, in with just saying "no."
Yet, despite our newfound fiscal restraint, we still crave dinner anywhere but at home. Whether it's bar appetizers, a platter of sushi, a steak, or a family-style meal, value is now a top priority.
We're with you on that one. In fact, so are Main Line restaurateurs—and we've scoured the area for their best deals.
 
Jumpstart Your Day (and Have Something Left for Lunch)
Ardmore Station Café  Ever since taking over this popular Ardmore haunt four years ago, owner Bob Campman has been fattening us up with his "doctored-up" buttermilk pancakes and hefty breakfast burritos. An adult can expect to get out of here for just under $10. But when you take into account that everything is made from scratch with premium ingredients—and that the kitchen doesn't skimp on portions—the prices seem like a bargain. (6 Station Road, Ardmore, 610-642-3889)
Joe's Place  We'd be remiss if we left out this low-key Wayne staple. For a good old-fashioned short-order breakfast with all the calories and fat intact, this is your best bet. Expect to pay about $3 for a bacon, egg and provolone sandwich on rye. (236 E. Lancaster Ave., Wayne, 610-964-9164)
MilkBoy Acoustic Café  Monday-Friday from 7 a.m. to 3 p.m., savvy Main Liners know this is one of the best places to go for a hearty, healthy start to the day. Eggs from free-range hens and organic meats and cheeses from Lancaster County await, along with inspiring tunes and a cup of Joe or herbal tea. Breakfast sandwiches run $3.50-$5, depending on fillings, and vegetarians will appreciate the tofu and tempeh options. Or try the tortilla Española, with slow-baked eggs prepared in classic Spanish style, for $5.25. (824 W. Lancaster Ave., Bryn Mawr; MilkBoy Main Stage, 2 E. Lancaster Ave., Ardmore; 610-645-5269, milkboycoffee.com)
Neopolitan Deli  The place to go for a great breakfast sandwich on toast, an English muffin, a Kaiser or a hoagie roll, priced from $3.50 to $6.50 (for a large cheese steak and egg hoagie). A "you name it, we'll make it" omelet, with home fries and toast, runs $5.95. (1022 Lancaster Ave., Berwyn, 610-647-2050)
Our Deli & Meats  Eggs Benedict for a little more than $7.50, a hearty plate of blueberry, banana or chocolate chip pancakes for $5.50, and coffee for less than $1.50. And you don't even have to do the dishes. (39 E. Lancaster Ave., Paoli, 610-296-3350)
Riverstone Café  Sundays from 10 a.m. to 2 p.m., Riverstone's brunch is one of the best values out there for families. For $16.95 ($6.95 for kids), add to your waistline in grand fashion with omelets, pasta, carved meats, eggs Benedict (made to order) and all the usual brunch suspects, along with seafood, poultry and beef entrées, house-smoked salmon, raw oysters, and more. (Routes 30 and 100, Exton; 610-594-2233, riverstonecafe.com)
 
Continued on page 2 …
Go Global
Azie  Azie's Sunday buffet features a full bar and à la carte options (11 a.m.-3 p.m.). Selections include miso and chicken noodle soups, sushi rolls, Azie spring rolls, edamame, Azie French fries, sausage, bacon, ham, scrambled eggs, smoked salmon, Azie greens, chicken teriyaki, shrimp fried rice, grilled salmon, waffles, croissants, and more. And the price is right: $16 for adults, $11 for kids 12 and under; $4 more for flavored Mimosas and Bloody Marys. (217 W. State St., Media; 610-566-4750, azie-restaurant.com)

Don Gabriel's  This modest Mexican BYO has earned quite the cult following since opening last year, simply by putting out some of the best Mexican food around—overstuffed $2 tacos, $5 burritos, "enormous" enchiladas, rellenos and fajitas; and fiery, tantalizing creations like the Pastor Burrito, pulled pork in a spicy sauce with pineapples, and the Burrito Barbacoa, packed with barbecued beef and chipotle sauce. (611 W. Strasburg Road, West Chester, 610-431-3212)
Khajuraho India  Khajuraho offers a lunch buffet seven days a week. Pay $10.95 weekdays for four vegetarian options and three non-veggie, plus a selection of appetizers, salads and desserts. The buffet expands on weekends, with more choices for $14.95. (12 Greenfield Ave., Ardmore; 610-896-7200, khajurahoindia.com)
Margaret Kuo's  At her Granite Run and Malvern locations, Kuo offers an all-you-can-eat lunch buffet—$9.95 at Peking, $8.95 at Mandarin. And in Wayne, Media and Granite Run, she's introduced a $25 four-course family dinner Sunday-Thursday and the first Friday of the month (Wayne only). Enjoy flank steak sautéed with broccoli, diced chicken with cashew nuts, baby shrimp in tangy mandarin sauce, and sautéed pork Hunan-style—plus, your choice of wonton or hot-and-sour soup, one of Margaret Kuo's famous spring rolls, and lychee sorbet or green tea ice cream. (Various locations, margaretkuos.com)
Mikado Japanese Restaurant  Mikado Thai Pepper lunch sets include: the Teriyaki Set, $10, served with tofu miso soup, mixed green salad and California roll, with choice of beef, chicken, salmon or tofu teriyaki; the Roll Set, $11, served with tofu miso soup, mixed green salad, and choice of a California, spicy tuna, spicy yellowtail, eel and cucumber, spicy salmon, shrimp tempura or vegetable roll; the Sushi Set, $11, served with tofu miso soup, mixed green salad, five pieces of nigiri, and California roll; and the Tempura Set, $10, which features shrimp, chicken and vegetables served with tofu miso soup, mixed green salad, and California roll. (66 E. Lancaster Ave., Ardmore, 610-645-5592, restaurantrow.com)
Sampan Inn  We've looked high and low, but Sampan has the competition beat with its bento box and donburi lunches. The bento comes with salad, three pieces of California roll, and rice. The priciest combo is salmon teriyaki for a mere $11.95, and the N.Y. strip steak is less than $10. And there are numerous weekday specials—34, to be exact. (8 Brookline Road, Havertown; 610-446-3000, chinese-japaneserestaurants.com)
Trattoria San Nicola  Reasonably priced, seasonal dishes that don't skimp on serving size: Lasagna di Crespelle alla Bolognese, $12.75, made from crepes layered with tomato meat sauce, béchamel and grated Pecorino Romano cheese; Filetti di Sogliola Dorati, $18.75, a lightly batter-dipped flounder filet sautéed with a white wine lemon sauce and capers; Misto di Carne, $19.75, a combination of Italian sausage, chicken breast and veal tenderloin medallions, sautéed with a demi-glace cream sauce and garnished with sweet peas and diced carrots; and Filetto di San Pietro con Salsa d'Aragosta, $18, tilapia filet grilled and served with a creamy lobster sauce and basil. (668 Lancaster Ave., Berwyn, 610-296-3141; 4 Manor Road, Paoli, 610-695-8990, sannicola.net)
Wabi Sabi  The western suburbs' version of Kotatsu, Wabi Sabi has a great lunch deal Monday-Saturday. For $9.95, enjoy a lunch-size portion of teppanyaki-style shrimp, beef or chicken, served with soup or a house salad, and fried rice. Or try a protein combo for $12.95. (1776 E. Lancaster Ave., Paoli; 610-296-8100, wabisabisteakhouse.com)
 
Continued on page 3 …
Let's Do Lunch
Berwyn Tavern  Guys, especially, will love the BT's new and improved pub grub menu, chock full of hearty (and probably not-so-healthy) sandwiches like grilled chicken with marinara and Provolone, Bayou spices, bacon, cheddar and ranch dressing, or the Cordon Blue with ham, Swiss and spicy mustard—all priced at $7.50. You can cut back on the carbs and go for one of the kitchen-sink salads, made with all kinds of zesty fixins' such as spicy shrimp salad, grilled buffalo or Cajun chicken. Fish & Chips will cost you $7, and the spicy shrimp po' boy wrap with waffle fries tallies a whopping $7.95. (625 Lancaster Ave., Berwyn, 610-889-9352)
Fellini's Café  Lauded for its huge portions and reasonable prices, this humble Italian BYO offers a solid weekday lunch deal: $8.95 for an all-you-can-eat buffet featuring two pastas, a chicken entrée, mussels, various veggie dishes, soup, and two salads. (19 E. Lancaster Ave., Paoli, 610-644-6767; 31 E. Lancaster Ave., Ardmore, 610-642-9009)
The Greeks  Deals abound at this once smoky, but now fit for the little ones, Narberth institution. Nothing exceeds 10 bucks (including the flank-steak wrap), even when you add a $2 house salad. Sandwiches top out at $6.95, and there's a burger—with fries, a soda, cheese and fried onions—for $5.50. Daily lunch specials range from $5.95 to $7.95. (239 Haverford Ave., Narberth, 610-664-8655)
Mediterranean Grill  This modest Persian gem's $8.50 lunch special features your choice of two out of three items—a wrap, salad or soup—or one of three platters: falafel; fresh mozzarella with roasted eggplant and red peppers, tomato slices, basil, and kalamata olives over a bed of lettuce; or roasted eggplant with sweet peppers, mushrooms and fresh herbs. (870 W. Lancaster Ave., Bryn Mawr;
610-525-2627, tasteofmainline.com)


Mikado Thai Pepper  Mikado's lunch sets can't be beat for quality, portion size and value. Their teriyaki set ($10) comes with tofu miso soup, mixed green salad, a California roll, and a choice of beef, chicken, salmon or tofu teriyaki. The sushi set ($11) has tofu miso soup, a mixed green salad, five pieces of Nigiri and a California roll. Also try the roll set ($11) and the tempura set ($10) . (66 E. Lancaster Ave., Ardmore; 610-645-5592, restaurantrow.com)
Pub at Penn Valley  Your eyes will go bonkers sifting through all the tempting sandwiches on this favorite, tried-and-true Main Line pit stop. With the exception of the pan-seared crab cake sandwich and 6-ounce petit filet sandwich with creamy horseradish sauce that top the price chart at $11, all the sandwiches run between $7 and $9, and come with choice of pub fries, House or Caesar salad. Late 2008 menu additions include the smoked salmon with spinach, tomatoes and a creamy dill dressing on a croissant ($8.50); grilled fresh mozzarella, pancetta, tomatoes and pesto on ciabatta bread ($7); and a little taste of Santa Fe, grilled chicken in a garlic herb wrap with salsa, avocado, pepper jack cheese and ranch dressing ($8). (63 Montgomery Ave., Narberth, 610-664-1901, pubofpennvalley.com)
Trattoria Giuseppe  The portions are so generous here that every meal feels like a bargain—especially if you're a fan of leftovers. The lunch combinations for $9.50—soup with any pasta, or a mixed green salad with any pasta—can easily make two meals. If you're looking for a lighter option, the soup and salad for $7 is the way to go. (4799 West Chester Pike, Edgemont; 610-353-4871, mussotra.com)
Yangming  This Chinese eatery's fine dining fare has earned a loyal following. Granted, it's not the most inexpensive place in town, but most agree it's worth it. The best deal is lunch, served 11:30 a.m.-3 p.m. Monday-Saturday with prices ranging from $6.95 to $10.95. It includes hearty sandwiches and salads portioned perfectly for a midday meal. Have a late lunch and stay for Happiness Hour 4:30-6:30 p.m. Monday-Friday, when you can enjoy 20 percent off your favorite beverage, plus free appetizers. (1051 Conestoga Road, Bryn Mawr; 610-527-3200, yangmingrestaurant.com)
Yeats Pub  Here's another great lunch deal to add to your list: a half sandwich and cup of soup for one [Abe] Lincoln. Choose roast beef, roast turkey or ham, hot or cold; and either the signature Maryland crab or soup du jour. (202 E. Lancaster Ave., Ardmore, 610-896-0705, yeatspubinardmore.com)
 
Continued on page 4 …

Look Who's Coming to Dinner
Avalon Restaurant  From 5 to 9 p.m. Sunday-Thursday, try the Chef's Trio—your choice of selected appetizers and entrées, and chef's choice of dessert, plus a complimentary glass of wine, all for $25. If you'd prefer an appetizer or dessert on the regular menu, you can make a switch for just $3. (312 S. High St., West Chester; 610-436-4100, avalonrestaurant.org)
Blush Restaurant & Bar  Tuesday-Thursday at Blush, go tapas style and sample any three entrées for $30—considering they start at $23, that's a pretty good deal. (24 N. Merion Ave., Bryn Mawr; 610-527-7700, dineatblush.com)
Bourbon Blue Restaurant and Canal Lounge  There's always something on special at Bourbon Blue, especially at happy hour. But when you've got more on your mind than a liquid meal, try the $30 prix fixe dinner on Thursdays or a mid-week helping of all-you-can-eat snow crab legs and barbecued spare ribs for $20.95. (2 Rector St., Philadelphia; 215-508-3360, bourbonblue.com)
Cedar Hollow Inn  Mondays, it's all-you-can-eat king crab legs for $25; on Tuesdays, you get half off a bottle of wine when enjoying an entrée with a friend. (2455 Yellow Springs Road, Malvern; 610-296-9006, cedarhollowinn.com)
 
Christopher's: A Neighborhood Place  This oldie but goodie is a terrific dining option for families, with a great kids' menu featuring items under $6. For more mature appetites, there are plenty of dishes—at least 11 entrées, not including pasta—priced under $18. On Tuesdays, kids eat free, and Wednesdays you can enjoy your meal with a bottle of wine at 50 percent off. (108 N. Wayne Ave., Wayne; (610) 687-6558, christophersaneighborhoodplace.com)
Cosimo  Another restaurant that's added small plates to its offerings. Get two small plates Monday-Thursday, and you'll be rewarded with a complimentary dessert. Here's a peek at some of the dishes on the new menu: mozzarella salad with prosciutto and Kalamata olive dressing, $7; lump crab cake with key lime tartar sauce, $8; wild and exotic mushrooms with brie, puff pastry and tapenade, $7; Mediterranean shrimp cocktail with spicy couscous salad, $7; stuffed potato skin with braised beef short rib and goat cheese, $6; wild Florida grouper with shrimp and udon noodles, $13; seared scallops with parsnip carrot puree and fennel glaze, $12; and "milk fed" veal with spaetzle and exotic mushrooms, $15. (209 Lancaster Ave., Malvern, 610-647-1233)
Garrett Hill Pizza  A weeknight savior that's also great for lunch, this Wildcat staple is equally a hit with Rosemont and Bryn Mawr residents. Not only are the cheese steaks reasonable at $7 or less, there's a slew of hearty entrées—complete with garlic bread and salad—for under $12. Here's a sampling: twin salmon filets in a seasoned butter sauce with vegetable rice pilaf; Rockin' Rabe, grilled chicken drizzled with lemon juice and served with spaghetti mixed with broccoli rabe; chicken Marsala; meatloaf and mashed potatoes; and chicken parmigiana—all priced between $9.99-$10.59. (910 Conestoga Road, Garrett Hill, ghpizza.com)
Georges'  It's definitely a sign of the times—and a wee bit shocking—that the highfalutin Georges Perrier would be serving up chicken fingers and mac 'n' cheese at his swank Main Line locale, but 'tis true. On Tuesday nights, for each entrée or sandwich ordered by an adult, children under 12 can dine on the above for nary a buck. Other kiddie choices include Margherita pizza, fettuccini Bolognese and gooey grilled cheese sandwiches. (Spread Eagle Village, 503 W. Lancaster Ave., Wayne, 610-964-2588, georgesonthemainline.com)
Glenmorgan  The Prime Rib Dinner Special every Saturday night features Premium Gold Angus Prime Rib served au jus with choice of soup du jour, Caesar or mixed green salad, mashed potatoes, a seasonal vegetable and dessert for $32. (Radnor Hotel, 593 E. Lancaster Ave., St. Davids, 610-341-3188, glenmorgan.com)

Gypsy Saloon  This winter, look for discounted menu items each week—like the Gypsy Burger, 8 ounces of beef with porcini mushrooms, a veal demi-glaze, Danish bleu cheese and French fries, for $12; and lobster risotto, with asparagus, crispy onions and ponzu sauce, for $15. (128 Ford St., Conshohocken; 610-828-8494, gypsysaloon.com)


Continued on page 5 …
Iron Hill Brewery & Restaurant  Pump up for the workweek with Iron Hill's Prime Time Sunday meal, available from 1 to 9 p.m. Sink your teeth into a 14-ounce prime rib accompanied by a tossed salad, baked potato, veggie side and 16-ounce house pint or glass of house wine, all for $19.95. Every other Wednesday at 7 p.m., it's dinner at the Chef's Table—four courses (chef's choice) paired with wine or beer, for $40. (Various locations, ironhillbrewery.com)

J.R. Monaghan's  This new-ish Ardmore hangout boasts Full-Course Sunday starting at 3 p.m., when you get a soup and side salad with the purchase of an entrée. During the week, look for chef's choice dinner specials, and on Mondays, kids 12 and under eat free after 3 p.m. (one child per paying adult). Wednesdays, it's burger night—buy one, get one free. (34 E. Lancaster Ave., Ardmore; 484-416-3547, jrmonaghans.com)
Kotatsu Restaurant  This deal's as straightforward as it gets: all-you-can-eat sushi and appetizers on Mondays and Wednesdays for $27. (34 Greenfield Ave., Ardmore, 610-642-7155)
Patty Mac's Café  Along with its early-bird special from 4:30-6 p.m.—which includes a salad, an entrée, and rice pudding or cake for $13.95—this folksy café has terrific Friday-night dinners. Enjoy home-style versions of chicken Marsala for $15.95, chicken cordon bleu with smoked ham and Swiss cheese for $17.95, London broil with mushroom gravy for $15.95, prime rib for $19.95, and steak au poivre for $18.95. Or go crazy with one of the weekly seafood specials like the swordfish short stack (layers of swordfish, creamed spinach and grilled shrimp skewered with fresh rosemary sprigs) for $21.95. Best deal yet: Cut your entrée in half, and they'll cut the price in half. (814 Lancaster Ave., Berwyn, 610-644-8275)
Peabody's Pub  Your money goes a long way at this friendly Havertown pub. The most expensive entrée on the menu is the crab cakes—two homemade backfin crab cakes with steak fries—at $12.95, and most other items are $10 or less. "Processed" is a dirty word here, so even the burgers are hand ground. And you won't find its Irish Nachos everywhere—steak fries topped with salsa, mozzarella and Provolone cheeses, black olives, jalapeño peppers, and crumbled bacon; nor its sweet potato fries served with a cranberry-horseradish dipping sauce or its Guinness beef stew. The portions are big—8-ounce burgers, 12-ounce cheese steaks, etc.—so it's not uncommon for people to take half home with them. And on Monday nights, kids eat free (one free entrée from the kids' menu with every adult entrée.) (2138 Darby Road, Havertown, 610-449-9950, peabodysirishpub.com)
Pop-Pop's Restaurant & Pub  The old Wayne Beef and Ale that changed to Cooz's Corner last summer is now Pop-Pop's, and what was rarely viewed as a family or date place is catering to a new audience with dinner specials ($10.95-$16.95) like Fettuccini Alfredo with chicken and broccoli, and chicken breast rolled in capicolla, Provolone cheese and spinach that's prepared with creamy chipotle sauce. (232 W. Wayne Ave., Wayne, 610-688-3318)
Soprano's Deli & Catering  Legendary for its roasted pork sandwiches, Soprano's is an affordable dinner option. Dinner for two off the regular menu (there's about 30 different pastas, but plenty of nightly specials) with a salad or soup, plus two cannolis, will run you about $24. And some portions are large enough that a family of three to four can often get away with ordering just for two. Cheap eats that show up as specials during lunch and dinner are the marinated chicken kabob platter with peppers and onions, a side of salad, hummus and pita bread for $8.95; the proscuitto salad with fresh mozzarella, on a bed of spring mix with roasted peppers and roasted almonds, for $9.95; and the Italian meatloaf (usually a weekend offering) with a side of pasta for $12.95. (3072 West Chester Pike, Broomall, 610-359-9355)
Spamps Restaurant  Sunday's $25 prix fixe menu features spicy crab soup; mixed Italian or Caesar salad; a choice of filet, crab cake, veal parmigiana, chicken parmigiana or tilapia; and your choice of dessert. (16 E. First Ave., Conshohocken; 610-825-4155, spampsrestaurant.com)
Stella Blu  Got a hankering for pasta, but too lazy to cook? Momma Mary's $12 homemade spaghetti and meatballs at Stella Blu will send you home satisfied—and should leave you with leftovers for lunch the next day. (101 Ford St., West Conshohocken; 610-825-7060, stellablurestaurant.com)
T. Burke's  Fairly new and already improved, T. Burke's is offering wintry game degustation menus (three courses, various types of game) for $36, plus affordable pub standards—great for a light bite and catching up with the guys over a game and a beer. Here are a couple of sandwiches to try on for size: tenderloin of beef with smoked Gouda, fresh horseradish, lettuce and tomato on toasted brioche rounds, $12; and the 9-ounce Angus beef burger with choice of cheddar, brie or bleu cheese, bacon, lettuce, tomato and caramelized onion on a brioche bun, $11. Both are served with a choice of hand-cut French fries, green salad or soup du jour. (Dolce Valley Forge, 301 W. DeKalb Pike, King of Prussia, valleyforge.dolce.com)
Viggiano's of Conshohocken  Viggiano's has always been a superb locale for diving into a big platter of pasta with a group. It's a perfect place to enjoy a Sunday-evening family dinner and lots of pasta. Ordering "family style" will give you more bang for your buck: instead of $25-$35 per person when you order individually, the dinner can cost $15-$20 each for family style, plus the adults can enjoy a glass of house wine. If the kids aren't up for sharing, there are some pretty good deals on pint-size creations like batter-dipped chicken fingers and fries, Italian bread pizza, and spaghetti or homemade ravioli with meatballs or sausage—all for $5.25 and under, including drinks and ice cream. And Sunday-Wednesday, there's a prix fixe: three courses for $24.95, which includes app, entrée, side, dessert and one beverage. (16 E. First Ave., Conshohocken, 610-825-3151, viggianosrestaurant.com)
Westgate Pub  The Italian and seafood dinners are a good deal here. Expect a variety of sharable dishes—especially the hearty $20 dinner platters, which come with either two vegetables or a choice of pasta, garlic bread, and soup or salad. The veal parmigiana is substantial and delicious, and pub dinners are under $12. (1019-21 West Chester Pike, Havertown, 610-446-3030)
 
Continued on page 6 …
Sweet Deals

Cosimo  Pastry chef Andrea Schwob delivers some highly creative and tasty $8 dessert combinations that are great for after dinner or alone with cordials, wine or bubbly. Try the "adult" milk (actually a Kahlúa vanilla milkshake) and cookies (chocolate fudge with sea salt, apricot linzer, cinnamon sugar, and ginger spiced). (209 Lancaster Ave., Malvern; 610-647-1233, cosimorestaurant.com)
Majolica  This BYO has induced swoons with its revolving roster of luscious desserts priced, for the most part, at around $8. This season's menu features a chocolate soufflé; coffee cardamom pot de crème with spiced doughnuts; hazelnut cake, date puree and parsnip ice cream; and sweet, fragrant shortbread cookies served with lemon curd and Earl Grey tea ice cream. (258 Bridge St., Phoenixville; 610-917-0962, majolicarestaurant.com)
Molly Maguire's Irish Restaurant & Pub  Lots of rich and gooey desserts for $6: Irish Bash, a Baileys-infused cheesecake-like creation; Chocolate Spoon Cake, layers and layers of rich chocolate; and Snicker's Pie. Some are made in-house, others are from Sweet Street. Also, daily and weekly dessert specials offer further temptation. (197 Bridge St., Phoenixville, 610-933-9550, mollymaguirespubs.com)
Old Guard House Inn  Pastry chef Isaiah McCutchen's serves up his famous desserts from one of the Main Line's favorite winter haunts—classic crème brûlée, apple tart with butterscotch ice cream, Guard House Coupe (vanilla ice cream in a crispy shell with warm raspberry sauce and fresh raspberries), Inge's Famous Bread Pudding, and more—each for $7.25. (953 Youngsford Road, Gladwyne; 610-649-9708, guardhouseinn.com)
Trattoria San Nicola  The Limoncello is one of San Nicola's most popular creations—a mix of fresh lemon gelato with a lemon-liqueur cream center, covered with lemon meringue sprinkles and served with a Nocello cream sauce. Or try the Crema Caramellata, an Italian-style custard served with caramel sauce and whipped cream. Both are under $5. (668 Lancaster Ave., Berwyn, 610-296-3141; 4 Manor Road, Paoli; 610-695-8990, sannicola.net)
Yangming  A trio of yummy desserts for $3.50-$5.25: Lychee, a tropical Chinese fruit served over ice to cut the sweetness and keep it deliciously chilly; Cappuccino Crème Brûlée, flavored with imported Belgian white chocolate, cappuccino, glazed sugar and fresh berries; and Chocolate Toffee Tart, a rich but surprisingly light combination of chocolate toffee mousse, pecan crust and chocolate ganache. (1051 Conestoga Road, Bryn Mawr, 610-527-3200, yangmingrestaurant.com)
 
Continued on page 7 …
Putting the "Happy" in Happy Hour
333 Belrose Bar & Grill  Monday-Wednesday, it's half off the entire bar menu starting at 5 p.m.; on Tuesday and Thursday, they offer a 50-percent discount on bottles of wine under $100. (333 Belrose Lane, Radnor; 610-293-1000, 333belrose.com)
Azie  Weeknight happy hour specials in the bar and lounge include half-price sushi rolls, $2 domestic drafts on Mondays, $3 Sycamore Lane Chardonnay and Merlot on Tuesdays, $6 sake flights on Wednesdays, and $6 Ciroc Vodka and Rangpur Gin Martinis on Thursdays. PLUS: BYO wine and sake every Sunday (reduced corkage applies). Every Monday, $10 off any bottle of wine (in the dining room). (217 W. State St., Media, 610-566-4750, azie-restaurant.com)
Blush Restaurant & Bar  Save on wine and corkage (no fees) Tuesdays at Blush's BYO night. On Fridays, enjoy $5 wines by the glass and well drinks, and $2 domestic brews. Saturday night's Reverse Happy Hour (10 p.m.-midnight) features $2 domestics, $3 well drinks and $5 wines by the glass. (24 N. Merion Ave., Bryn Mawr; 610-527-7700, dineatblush.com)
Bourbon Blue Restaurant and Canal Lounge  There's a reason this place rakes in the crowds: specials, specials and more specials. Not for the faint of heart or the old at heart. This is where beautiful 20- and 30-somethings go for a little "window shopping" while the rest of us are tucking in. Check it out: $3 Blue Moon drafts and 50 percent off selected bottles of wine on Sunday Funday; $4 Sauza Margaritas till midnight, plus $3 drafts and a $5 snack/sandwich menu from 7-9 p.m., on Margarita Mondays; $5 Long Island Iced Teas till midnight, and $2.75 Sam Adams bottles and drafts from 8-10 p.m., on Twisted Tuesdays; $3 Miller Chill bottles 'till midnight and $3.50 Absolut mixed drinks from 8-10 p.m. on Wild Wednesdays; and $3 Bud Light bottles till midnight and $5 martinis from 8-10 p.m. on Thirsty Thursdays and for Meet Me In Manayunk. (2 Rector St., Manayunk, 215-508-3360, bourbonblue.com)
Coyote Crossing  Happy hour deals on weeknights from 5-7 p.m., featuring half-price botonas (apps) and daily drink specials. On Margarita Mondays, order one of the signature margaritas and get 50 percent off any bar appetizer. Also look for the occasional Wednesday dinner special, when the chef pairs select dishes with a sampling of wines from Argentina, Spain, Latin America and Chile. (800 Spring Mill Ave., Conshohocken, 610-825-3000, coyotecrossing.com)
Georges'  Tuesday-Friday from 5 to 7 p.m., Georges' rolls back prices on its bar offerings, and throws in free food. On Tuesdays, all well drinks are $4; Wednesdays mean $3 glasses of Sycamore Lane Chardonnay and Merlot; Thursday is Bubbly Night, with $4 glasses of Paul Louis Brut and François Montand Rosé. Vodka martini fans can save a bundle on Ciroc Fridays, when the martinis are just $5—if shaken or stirred with Ciroc, of course. (503 W. Lancaster Ave., Spread Eagle Village, Wayne; 610-964-2588, georgesonthemainline.com)
Glenmorgan Bar & Grill  This Radnor meeting place has long been known for its half-price happy hour (5-7 p.m. Monday-Friday), when you can enjoy premium mixed drinks, martinis, draft beers and wines by the glass for half as much, and nibble on bar appetizers for equal savings. (Radnor Hotel, 593 E. Lancaster Ave., Wayne; 610-341-3188, glenmorgan.com)
J.R. Monaghan's  Stop here on Mondays for $4 margaritas and a choice of six different fajitas, all $13.99 and under. Plus, $6 domestic pitchers (60 ounces) all day, every day. (34 E. Lancaster Ave., Ardmore; 484-416-3547, jrmonaghans.com)
Maddie's  If you haven't been to this occasionally raucous Frazer hangout, you might want to make the drive. This August marked the debut of a new sushi bar manned by veteran sushi chef Yono Moto. Tuesday-Saturday, get your fix with a dollar off all sushi from 5 to 7 p.m. (all day on Sunday). Maddie's 1-2-3 Happy Hour (5-7 p.m. Monday-Friday) features a dollar off all mixed drinks and appetizers, $2 domestic pints, $3 import pints, and $3 import and specialty drafts. (330 Lancaster Ave., Frazer; 610-644-2722, maddies.com)
Molly Maguire's Irish Restaurant & Pub  Absolut Happy Hour (5-7 p.m. Monday-Friday) features $3.50 Absolut vodka drinks. Sunday's In the Biz Night treats those in the restaurant industry to drinks and dinner for 15 percent off regular menu prices. (197 Bridge St., Phoenixville; 610-933-9550, mollymaguirespubs.com)
Peabody's Pub  Specials all week and weekend beginning Tuesdays with $5 personal pitchers of Bud Light from 9-11 p.m., then continuing right through with wine sampling (a 2-ounce sample of each of Peabody's five wines of the week), also for $5, on Wednesdays. On Thursdays, happy hour specials (5-7 p.m.) include $2 domestic bottles and draughts, and buckets of beer (four for $10 domestics or four for $15 imports) beginning at 8 p.m. Fridays, they up the ante with half-price appetizers (however, there is a limit of one per person). And during all Philadelphia sporting events, $5 personal pitchers of Bud Light flow freely. (2138 Darby Road, Havertown, 610-449-9950, peabodysirishpub.com)
Plate Restaurant  Ever so timely, Plate is offering a Stimulus Package—Monday-Thursday after 5 p.m.—that features two glasses of wine or beer and an appetizer at the bar for just $20. New American selections include steamed Prince Edward Island mussels, seared tuna burritos, and crispy calamari with shredded slaw and chili vinaigrette. (Suburban Square, 105 Coulter Ave., Ardmore, 610-642-5900, platerestaurant.com)
Spamps  Conshohocken-ites fill this place to the brim during happy hour, when domestic bottles are $2, drafts $1 off, and all three Olives cocktails can be had for $5. On Tuesdays, it's half price on the bar menu all night, but the real fun is ladies' night on Wednesday with live music and a $5 Martini Bar. (16 E. First Ave., Conshohocken, 610-825-4155, spampsrestaurant.com)
Teikoku  You'll find lots of specials at this popular Asian fusion outpost. From 4:30 to 6:30 p.m. Monday-Friday, deals abound on draft brews ($3 for select brands, well drinks $4.50), specialty cocktails like the Teikoku mojito ($5), and several wines by the glass ($5). (5492 West Chester Pike, Newtown Square; 610-644-8270, teikokurestaurant.com)
Teresa's Next Door  Sure, there's lots of beer at Teresa's. But there are also great deals on wine. During happy hour (4-6 p.m. Monday-Friday), take advantage of $3 discounts on wines by the glass and reduced flights on Sundays and Mondays. Half off all cheeses Sunday, and "buck-a-shuck" oysters Monday. (126 N. Wayne Ave., Wayne, 610-293-0119)
Totaro's Restaurant  Happy hour gets an early start at this illustrious Conshohocken watering hole: 3:30-6:30 p.m. Monday-Friday and 3-6 p.m. Saturday and Sunday. The bar menu features tasty items like lobster mac 'n' cheese—usually $16, but half off during happy hour. You can also feast on filet skewers over spring mix topped with Gorgonzola fried onions and a Jack Daniels shiitake mushroom sauce, or escargot in a wild mushroom, roasted garlic, tomato thyme sauce over crostini for $7*. Or there's roast pork with broccoli rabe, roasted peppers and Provolone, plus fries, for $5; and buffalo sliders with truffle fries or a grilled vegetable wrap stuffed with Portobello mushrooms, grilled asparagus, roasted peppers and fresh mozzarella with balsamic vinaigrette, served with fries, for a meager $4.50. *Prices shown reflect the 50-percent discount. (729 E. Hector St., Conshohocken; 610-828-9341, totaros.com)
 
Continued on page 8 …
And While You're at It, Throw in a Room …
Duling-Kurtz House & Country Inn  A Main Line tradition for special occasions and weddings, Duling-Kurtz overflows with history and charm, despite the modern world that's emerged around it. The $225 overnight package includes a four-course dinner for two, with soup or the Duling-Kurtz house salad, choice of entrée, and dessert. Celebrate your arrival with a bottle of house champagne for an additional $25. (146 S. Whitford Road, Exton; 610-524-1830, dulingkurtz.com)
General Warren Inne  The General Warren Inne is an ideal destination for a quick getaway. Its eight beautifully appointed suites have a romantic and historic flair, and especially pretty beds. The $190/night General's Champagne Package includes a two-room suite prepped with a chilled bottle of Piper Sonoma champagne, a three-course dinner for two, and continental breakfast the next morning. (Old Lancaster Highway, Malvern; 610-296-3637, generalwarren.com)

The General Warren Inne
Mendenhall Inn  Located between Longwood Gardens and Winterthur Museum, Garden & Library, this Brandywine Valley inn offers several getaway packages ranging from $239 to $293. All include a hot buffet breakfast, a bottle of house champagne and a box of Godiva chocolates. (Route 52, Mendenhall, 610-388-2100, innatmendenhall.com)

Mendenhall Inn
Montchanin Inn  A deft balance of old and new characterizes the plush accommodations at this restored 19th-century inn. Its restaurant, Krazy Kat's, is legendary among foodies and worth the trip alone. The Dinner, Bed & Breakfast Package (Sunday-Friday) includes a full breakfast and a $100 voucher for Krazy Kat's. One-night rates range from $375 (for a one-bedroom suite) to $628 (for a two-bedroom, two-bathroom suite). (Route 100 and Kirk Road, Montchanin, Del.; 302-888-2133, montchanin.com)
Normandy Farm Hotel & Conference Center  One of Philadelphia's foremost—and friendliest—chefs, Jim Coleman specializes in locally grown, homestyle-yet-chic fare, delivering a bevy of recipes to readers of the Philadelphia Inquirer and Daily News. His namesake restaurant at Normandy Farm has drawn much praise over the years for its stepped-up classic American cuisine. Wintry specialties include pan-seared tuna with lobster smashed potatoes and broccoli rabe, and rack of lamb with sautéed spinach, creamy sage polenta, caramelized onions and brandied figs over a lamb reduction. The hotel recently completed the final phase of its renovation, adding 29 new suites. The romance package includes an overnight stay and three-course dinner for $249; the anniversary package kicks it up a notch with dinner and Sunday brunch for $299. Beverages like coffee, tea and iced tea are also included; soda and alcohol are not. You can easily enhance your stay by upgrading to the Gatehouse suite for $60, or the Manor/Carriage suites for $80. Add an in-room floral arrangement for $65, or a bottle of Mumm Champagne and chocolate-covered strawberries for $50. (1401 Morris Road, Blue Bell; 215-616-8500, normandyfarm.com)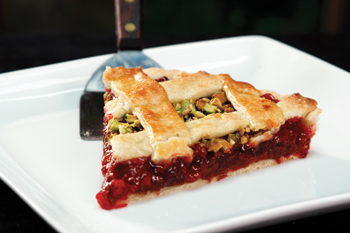 Normandy Farm Hotel & Conference Center
Radnor Hotel  OK, so it may not feel like much of an escape for anyone who lives nearby. We suggest averting your gaze away from the Genuardi's and toward the Radnor Hotel's award-winning formal
gardens. As part of its $249 Getaway Package, you'll be greeted with a bottle of chilled champagne to help you unwind before heading over to the hotel's Glenmorgan Bar & Grill for steaks, seafood or seasonal specialties. Cozy up in the bar with an after-dinner drink—or (in warmer months) stroll the gardens with nightcap in hand. Finish your stay with Sunday brunch in the Terrace Room. (591 E. Lancaster Ave., St. Davids; 610-688-5800, radnorhotel.com)

The Radnor Hotel
 
Continued on page 9 …
Party On

It's certainly not news that corporate parties took a dive over the holidays, disappointing both employees and the caterers who rely on the annual soirees to carry them through slower periods. Milestones like birthdays and anniversaries are going under-celebrated as well, with smaller guest lists and less elaborate food and décor. So what's a hostess-with-the-mostest to do?
"People need to eat, and people need to celebrate," says Jim Israel of Culinary Concepts Catering in Philadelphia. "There's always an anniversary, always a bar mitzvah."
Israel is quick to point out, however, that throwing parties just for fun is out—and that even when a caterer is hired, the gatherings tend to be smaller and more basic. "Even though there's still money out there, people are reluctant to be too showy," Israel says. "We saw a similar trend after 9/11 and the Gulf War. Our industry isn't just affected by the economy—social consciousness is taken more seriously than people expect."
Israel mentions a party hosted by Crate & Barrel to benefit Living Beyond Breast Cancer. Instead of dropping the event for fear of overspending, the company opted for comfort food and a casual vibe, with guests enjoying cheese-steak paninis with porcini mayonnaise, and hearty seasonal soups. "The goal was to meet expectations of quality, but stay within budget," says Israel. "We did this by creating a fun menu and avoiding costlier ingredients such as filet and shrimp. I can be at a lot of different price levels based on what we do with the food. Our general range is $80-$170. The challenge is figuring out how to make a profit and meet expectations for last year's $150 client who only wants to spend $110 this year."
One way to do that is by eliminating nonessentials. "Ten-dollar gold chargers won't make or break the look—sometimes it's the linens that do," he says. "When you go with something more exciting in terms of pattern and color, it allows you to play down the place settings and flowers—and your costs."
Another way to save is to forgo the full bar and offer a selection of wines and champagnes. Step it up with four or five different champagne-based cocktails. (Use a less expensive sparkling wine for the cocktails, but definitely dole out the good stuff for those sipping it straight.)
In the end, just be certain to pick your priorities—and make sure they're yours, not what so-and-so had at their party. "We urge our clients to come to us with everything they want at that first meeting," says Israel. "We don't want to put up any obstructions that would impede our creativity or theirs. Once we do that, I ask my clients where they want to be, and we work our way into the budget as we go."