The art world had never seen anything like "Helga".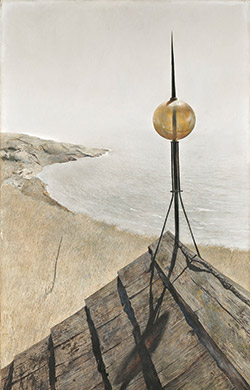 "NORTHERN POINT" 1950, TEMPERA
If that sensational art exhibit were mounted today—a time of reality TV, fake news and alternate facts—people would probably yawn. But in the spring of 1987, it was too much to process, especially for the New York art establishment: Andrew Wyeth—marginalized by critics as a sentimental illustrator from the boondocks of the Brandywine Valley who hated bright colors and preferred shapely tree limbs to those of live models—was launching a nudie show at the National Gallery of Art in Washington, D.C.
Drawn from a private collection, the exhibition prompted all sorts of speculation about the backstory. Were the 70-year-old Andy and his subject, 50-something Helga Testorf—a neighbor and mother of four—lovers? Had Wyeth kept his trove of paintings a total secret, a secret that was years in the painting? What did Betsy Wyeth know, and when did she know it?
Newsweek planned a cover story on "Helga". Time would've, too—but its art critic Robert Hughes, one of the most influential cultural commentators of the day, refused to write it, complaining to his editors that the exhibit stunk of exploitation. In an article years later, Hughes recalled the uproar:
"The story had got onto the television networks and was being splashed on the front page of every newspaper in America. Nobody wanted to be left out of it, even though, as the week wore on, there seemed to be less and less of it to get into.
The lanes and back roads, diners and gas stations and Kmarts of rural Pennsylvania were crawling with reporters, festooned in tape recorders and videocams, looking for Helga. My colleagues would lean over the diner counter and flash a picture of her, naked as a jaybird. 'Know this lady?' Nobody did. The close-mouthed locals would deny all knowledge of the mystery blonde, and even of Andrew Wyeth. Whether Wyeth was obsessed with her or not, the media certainly were. The quest for Helga began to take on the epic proportions of the search for Patty Hearst, or even the Lindbergh baby."
His was not an isolated view. In a New York Times article about the exhibit, the prevailing opinion was negative. "'We had an opportunity to show the Helga series,'' sniffed Philippe de Montebello, director of the Metropolitan Museum of Art. "We quite pointedly, and as a conscious decision, declined to do so.'"
''He's more of an illustrator than a great painter,'' griped Edmund P. Pillsbury, director of the Kimbell Art Museum in Fort Worth. ''He's not a good draftsman, and he's a sentimental artist. His paintings tell stories. They're anecdotal, not profound; backward-looking and not forward-looking.''
Henry Geldzahler, formerly curator of 20th-century art for the Metropolitan Museum of Art, added to the pile of Wyeth denunciations. ''He's a regionalist, and to single him out is only pandering," he said. ''In a world that has Ellsworth Kelly, Jasper Johns and Willem de Kooning, you don't give Andrew Wyeth a one-man show. To the naive viewer, his art looks hard to do. It's got a lot of strokes, and it would appear to be time-consuming. It is a bit astonishing, but it's a conjuring trick.''
Yet, despite doubts by some of the staff, the National Gallery held firm. ''Along with Hopper, he's one of the two greatest American realists in the 20th century,'' said John Wilmerding, then deputy director of the gallery. ''I think these paintings are among the most powerful images of the human figure in the history of 20th-century American painting.''
Today the art world is slowly coming around to Wilmerding's point of view. Thirty years after the "Helga" exhibit—arguably both the highest and lowest points of Wyeth's long career—and on the 100th anniversary of his birth, Andrew Wyeth's reputational stock could not be higher.
Locally, the Brandywine River Museum of Art is marking the artist's 100th birthday with "Andrew Wyeth: In Retrospect". Running through Sept. 17 and featuring more than 100 works selected from major museums and private collections, it's the first in-depth chronological examination of Wyeth's career since 1973.
"No artist of Wyeth's fame ever suffered the amount of abuse that he did," says Dr. David Cateforis, chairman of the art department at the University of Kansas and editor of the 2016 book "Revisiting Andrew Wyeth". "I think he took strength in being an outsider to the critical establishment."
Is Wyeth emerging from the critical wilderness?
"I think we've already moved beyond that," Cateforis says. "Perhaps we should use your word: Wyeth has been 'rehabilitated.'"
| | |
| --- | --- |
| | |
| "ANNA CHRISTINA" 1967, TEMPERA | "TWO FIGURES IN A DORY" 1937, WATERCOLOR |
The life of Andrew Newell Wyeth has been well documented, with dozens of books and museum catalogs written about him over a span of decades. The arc of his creative career is astounding. He painted from his teens in the 1920s until shortly before his death at 92 in 2009.
Born on July 12, 1917, in Chadds Ford, he grew up in a hotbed of creative activity. It was the Golden Age of Illustration, and his father, N.C. Wyeth, was the king of the castle, having inherited the mantle from Wilmington native Howard Pyle. Along with Frank Schoonover, the trio illustrated covers and articles in the magazines of the era, as well as adventure books such as "Robinson Crusoe" and "Treasure Island".
Andrew was the youngest of N.C's children. Andrew's two older sisters—Henriette, who married painter Peter Hurd, and Carolyn—became prominent painters. Some biographers have noted that, unintentionally, Andrew's fame obscured the talents of his sisters, while others argue that, since women artists are often ignored in American society, they would have been forgotten had it not been for Andrew. Another sister, Ann, opted for a career in music,becoming a composer, while the sole brother, Nathaniel, or Nate, became an inventor who worked for DuPont. Much of N.C.'s instruction was directed to the girls, though young Andy hung constantly about N.C.'s studios along the Brandywine and at their summer home in Maine.
Andrew was adventurous in this rural environment but also frail, so the decision was made to school him at home. He later complained that, though his father supported his talent and taught him drawing at an early age, their relationship was stifling. N.C. seemed to want Andrew to be an expansion of his own talent.
Andrew's first medium was watercolor, executed in the style of Winslow Homer, and his first showing of them was at the Philadelphia Art Alliance in 1936. The following year, the 20-year-old Wyeth had his first one-man show in New York—and every painting sold within the first two days. It was the beginning of a long never-faltering love affair that both casual viewers and collectors have had with Wyeth.
After the show, N.C. was effusive in his praise of his son. He was less thrilled when young Wyeth decided to paint with egg tempera, a medium used instead of oils by the Old Masters. Andrew's subject matter also further deepened the divide between father and son. N.C. created bold action heroes, whereas Andrew's paintings were often without people.
Andrew met a kindred spirit in 1939, 17-year-old Betsy James, and they married in 1940. It was a fortuitous union. Betsy, a spirited and intelligent woman, encouraged Andrew's independence from his father and helped steer him away from the field of illustration. Over time, she became his rock and his business manager. The accidental death of N.C. in 1945 launched feelings of both sadness and emotional relief in the 28-year-old Wyeth, and it was reflected in his paintings, which were already strong in visual metaphors.
"THE DRIFTER" 1964, DRY BRUSH WATERCOLOR
Wyeth's breakthrough came three years later in 1948, when he painted Christina Olson, a polio-stricken neighbor of young Betsy. In one image, Olson is seen from behind crawling across a field toward her derelict house at the top of a hillock. Though Wyeth thought the painting was a failure, the director of the new Museum of Modern Art purchased it for $1,800 when it went on exhibit in New York. In a pantheon filled with works of the famous masters of modern abstract art, "Christina's World" has become perhaps MoMA's most viewed painting, an icon of American art.
The next few years flashed by like a newsreel of the era, as Wyeth became wildly popular. In the early 1950s, the painter Elaine de Kooning, herself associated with New York modernists and wife of Willem de Kooning, wrote admiringly that Wyeth was a "master of the magic-realist technique" and that his paintings were as "haunting as a train whistle in the night." Kathleen Foster, head curator of the Philadelphia Art Museum, agrees that, though Wyeth painted in a realistic manner, his was not photographic realism. "Wyeth was always a modernist," Foster says, "with a thread of surrealism and fantasy running through his work."
Appreciation of Wyeth's work was widespread. Winston Churchill became a fan. Harvard gave Wyeth an honorary degree in 1955. In 1963, he made the cover of Time. Crowds flocked to a traveling exhibit that crossed the country in 1966 and 1967. He even painted commissioned portraits—a category he largely steered away from—for Eisenhower and Nixon.
Then the bottom fell out, as art critics and scholars built their own aesthetic wall. On the right side: rising modernists like de Kooning, Mark Rothko, Jasper Johns and Ellsworth Kelley. On the wrong side: Andrew Wyeth. In many ways, it reflected the political polarization of the country during the anti-war/civil-rights era of the late 1960s and early 1970s. The critical hostility to Wyeth's work was like a sanction, the only weapon the art establishment had to combat's Wyeth huge popularity and financial success.
Frank Fowler started selling Wyeth paintings during the late 1960s and later became his agent. "The critics seemed to feel that urban abstract art was the only art that mattered," Fowler recalls. "Andy was also viewed as too politically conservative."
Elliott Bostwick Davis, curator for Boston's Museum of Fine Arts' American collection, agrees. "The critics were all pushing abstraction, and their language toward Wyeth was visceral and damaging," he says. "There was no middle ground for them: 'You are either for us or against us.'"
So it was not a shock when the first exhibition by Jamie Wyeth, the teenage son of Andrew and Betsy, was harshly reviewed by critics in 1965. For young scholars in the 1970s and 1980s, saying something positive about the Wyeths could be "a career killer," says Davis, who curated a Jamie Wyeth retrospective in 2014.
When the Met committed to an Andrew Wyeth retrospective in 1976, curator Henry Geldzahler refused to install it, so museum director Thomas Hoving took over. Hoving left soon after to start his own art consultancy. "To many people, Wyeth seemed too easy, too accessible," Cateforis says.
To the critics, Wyeth's success was an ever-visible irritation. On the 50th anniversary of the Armory Show—the 1913 manifesto of modernism—in 1963, Wyeth's paintings were selling at prices unprecedented for a living American artist. Though most painters did not get involved in the critical brouhaha, Mark Rothko, who died in 1970, was barbed in his discussion of Wyeth's works as related to those of Edward Hopper, to whom Wyeth is sometimes compared. "Wyeth is about the pursuit of strangeness," Rothko wrote "But he is not whole as Hopper is whole."
After about two decades of abstraction's eminence, some cracks started to appear in the critical wall. "The post-modern narrative that blossomed in the 1980s partially dismantled the narrative of modernism," says Cateforis. "Postmodernism made room for Wyeth."
But before any serious reevaluation could take place, "Helga" appeared in 1987, adding fresh fuel to the critic's fire. "Helga was a setback at a time when realism was beginning to start a comeback," says Foster, who helped mount the PMA's 2006 exhibition "Andrew Wyeth: Magic and Memory". "There were the accusations that it was staged for publicity, and Andrew Wyeth dealt himself some damage. The subject matter of the exhibit became the center of attention." As a result, "We had some Helga paintings [in the 2006 showing], but we didn't have a whole room dedicated to them," Foster says
The PMA exhibit was perhaps the first step in the critical turnaround. Wyeth's death in 2009 also gave journalists and scholars a chance to reexamine his narrative. "Artists get a fairer appraisal after they die," Davis points out.
In 2014, a second National Gallery exhibit continued the reexamination of Wyeth's legacy. "Andrew Wyeth: Looking Out, Looking In" featured the 1947 painting "Wind from the Sea." "It is now apparent that Wyeth was, in fact, an artist as concerned with formal abstraction and existential darkness as were his contemporaries," the National Gallery notes on its website. "He was a multifaceted artist who employed abstract pictorial devices—including the window grid—to help distill compositions to their core emotion."
Wyeth's harshest critics were dying or already dead, and the younger generation had no emotional investment in making abstractionism succeed; they grew up with it. Cateforis' book—with its essays examining the artist from many vantage points—also encouraged a new round of Wyeth scholarship, one directed solely at his art.
| | |
| --- | --- |
| | |
| "ADAM" 1963, TEMPERA | "EVENING AT KUErNERS" 1970, DRY BRUSH WATERCOLOR |
"Unique" is an overused word, but Wyeth was certainly that, both adored and hated as an outlier. "He doesn't really fit any category," says William Haydock, head of American art for Christie's auction house.
Perhaps Edward Hopper­—25 years Wyeth's senior, though their careers overlapped—comes closest. Foster muses that a showing of Wyeth and Hopper "would be an interesting pairing. They share the same themes of isolation, decay and alienation, a certain surrealism and a cold eye."
Wyeth's early watercolors have always been linked to Winslow Homer, whose works Wyeth admired. The late George "Frolic" Weymouth, founder of the Brandywine Conservancy and the Brandywine River Museum of Art, looks back even further. A long-time friend of Wyeth, a fellow artist and a passionate defender of the faith, Weymouth once noted the parallels between Wyeth's work and that of 16th-century masters Hans Holbein and Albrecht Durer.
"We break Wyeth's works into four general periods," says Thomas Padon, director of the Brandywine River Museum of Art, site of the Wyeth centenary exhibit on view now. "The years of the 1930s through 1949 were marked by vibrant watercolors; 1950 through 1967 was the time of the Kuerners of Chadds Ford and the Olsons of Maine; 1968 through 1989 were the Helga years; and then there were the later works."
The one constant through the years has been Wyeth's popularity, both with serious collectors and casual admirers. "Prices were stationary for a while after the crash of 2008," Fowler says, noting that the pause was caused by the financial crisis and not by second thoughts about Wyeth.
Christie's Haydock reports that prices fetched for Wyeth's tempera paintings have always remained strong. "But watercolors at the moment are a bit of a challenge," he says. "There are lots of them available, and collectors are very choosey."
The record price for a Wyeth painting: $10.3 million for "Ericksons," a 1973 tempera auctioned by Christie's in 2007. That's followed by "Above the Narrows," which fetched $6.9 million in 2009. If it were to be sold, "Christina's World" should dwarf both prices. "We sell about three to four temperas at most during a year, and 40 to 50 watercolors," says Haydock, adding that many are from private sales conducted by the auction house.
Museums rich in Wyeth works have, for decades, contributed to his popularity. The Farnsworth Art Museum in Maine is one. The Greenville County Museum of Art in South Carolina is another. But it's the Brandywine River Museum of Art, about a mile south of Wyeth's Chadds Ford studio, that is home to the family collection. It's also the natural choice the centenary show, which features about 52 paintings and 46 works on paper-watercolors and drawings in pencil.
"We see the exhibit as an opportunity to bring fresh scholarship to Wyeth, as an opportunity to immerse those who have always loved Wyeth and as an introduction to a new generation," Padon says.
But, in some ways, all this presents perhaps a too-neat summation for an artist who was never the sentimentalist that critics characterized him as being, as one whose themes, in Foster's words, were "isolation, decay and alienation." In spite of the current turnaround in critical opinion, Cateforis reaches for a metaphor that seems especially apt for Wyeth.
"Perhaps," he says, "Andrew Wyeth is still not completely out of the woods."
Visit www.brandywine.org/museum.