Photos courtesy of DiscoverLancaster.com.
Where to Stay
| | |
| --- | --- |
| | |
| Lancaster Arts Hotel. Photo courtesy of Lancaster Arts Hotel. | Harvest Moon B&B's Braeburn Room. Photo courtesy of Harvest Moon B&B. |
Lancaster Arts Hotel
The Lancaster Arts Hotel offers a downtown location that's as convenient as it gets for exploring this dynamic small city. The former 19th-century tobacco warehouse is listed in the National Register of Historic Places, and even the furnishings are works of art, created by local craftspeople. Some suites come with kitchenettes and spa tubs. Indoor parking, bicycles and a deluxe continental breakfast are all included with your stay. Rooms $179-$219, suites $269-$369.
300 Harrisburg Ave., Lancaster; (717) 299-3000; www.lancasterartshotel.com.
Harvest Moon Bed & Breakfast
For a setting that's more bucolic than bustling, Harvest Moon Bed & Breakfast offers exceptional accommodations and immersive culinary experiences in the little town of New Holland. Innkeepers Carl and Marlise Kosko have embraced the graceful ambiance of the circa-1909 building's early years by retaining its historic elements and choosing antique and period furnishings for its rooms. The stunning Braeburn Room has two stories, a jetted tub and a fireplace.
A full breakfast is included at Harvest Moon, and on-site massage services are available. Every Friday in autumn, the Koskos light a bonfire and serve seasonal snacks and mulled cider. A trained chef, Carl also offers cooking instruction. On Nov. 10, he hosts a from-scratch pizza-making class for $50. Rooms $119-$189.
311 E. Main St., New Holland, (717) 723-5251, www.harvestmoonbandb.com.
Where to Eat
Downtown Lancaster's Central Market. Photo courtesy of DiscoverLancaster.com.
Café Chocolate
In Lititz, you'll find an abundance of the flavor everybody craves at Café Chocolate from hot (or frozen) varieties to a fountain for dipping sweet treats. There's also an intriguing globally inspired menu of soups, salads and sandwiches—even a special chili made with chocolate. $4.75-$13.98.
40 E. Main St., Lititz, (717) 626-0123, www.chocolatelititz.com.
Central Market
Philadelphia may have Reading Terminal Market, but downtown Lancaster has the oldest continuously operating farmers' market in America. First established way back in 1730, Central Market has more than 60 vendors. You'll find an international array of cuisine, including Italian, Greek, Middle Eastern, Puerto Rican and Thai. Open Tuesday, Friday and Saturday.
23 N. Market St., (717) 735-6890, centralmarketlancaster.com.
Checkers Bistro
French, Asian and American cuisine come together with considerable finesse at Checkers Bistro. Try the shrimp and grits with Caribbean tomato stew or the Peking duck tacos. For a more casual experience, grab a seat at the bar. If you want to sit in the dining room, be sure to make reservations.
$12-$34. 398 Harrisburg Ave., Lancaster; (717) 509-1069, www.checkersbistro.com.
Eden Resort
On weekends, Eden Resort hosts a Champagne Sunday Brunch—mimosas included—featuring classics like eggs Benedict, Belgian waffles, French toast, smoked salmon, made-to-order pasta and grilled-to-order New York strip steak. $38.95.
222 Eden Road, Lancaster, (717) 569-6444, www.edenresort.com.
| | |
| --- | --- |
| | |
| Downtown Lancaster's Central Market. Photo courtesy of DiscoverLancaster.com. | Café Chocolate in Lititz. Photo courtesy of DiscoverLancaster.com. |
John J. Jeffries Restaurant
Situated inside the Lancaster Arts Hotel, John J. Jeffries Restaurant is all about organic meats and vegetables. The mood is fairly casual, but the menu is decidedly upscale. Order several small plates to share, like crispy pork belly with triple mac and cheese and tomato-basil cream sauce. Standout entrées include the heritage pork gordita with johnny cake, brown rice pilaf and black-eye peas. $9-$29.
300 Harrisburg Ave., Lancaster, (717) 431-3307, www.johnjjeffries.com.
Zoetropolis Cinema Stillhouse
Enjoy a great meal and an arty film at Zoetropolis Cinema Stillhouse, a unique movie theater, restaurant and rum distillery. Tickets $10.
112 N. Water St., Lancaster, (717) 874-0526, zoetropolis.com.
Luca
Luca is one of the hottest tickets in town—and for good reason. This casual dining spot excels at rustic Italian food prepared in a wood-burning hearth and handmade Neapolitan oven, and pastas are made in-house. Small plates $7-$13, pizzas $14-$17, entrées $15-$32.
436 W. James St., Lancaster, (717) 553-5770, www.lucalancaster.com.
Rachel's Café & Creperie
Rachel's Café & Creperie breaks with traditional fillings in favor of specialties like Thai chicken, veggies and black bean, and cheeseburger. $6-$9.
201 W. Walnut St., Lancaster, (717) 399-3515, www.rachelscreperie.com.
Lancaster County Food Tours
Can't decide where to dine in the area? You can always nibble your way through the city and its outskirts with a wide variety of small bites and cocktail pairings during the three-hour Lancaster County Food Tours. $59.
(717) 473-4397, www.lancofoodtours.com.
What to Do
Stops along Lancaster's Gallery Row. Photos courtesy of DiscoverLancaster.com.
Along Gallery Row on Prince Street in downtown Lancaster, you can visit over 40 galleries, museums and working artists' studios.
Visit lancastercityartgalleries.com.
Artisans Gallery displays two- and three-dimensional works from regional and international artists.
114 N. Prince St., (717) 299-9496, 114artisansgallery.com.
At Mio Studio, artists Orama Muniz and Erica Millner carve wearable miniature sculptures from recycled exotic hardwoods and precious metals.
154 N. Prince St., (717) 394-6662, www.miostudio.com.
Christine David uses bold colors to create paintings with distinctive personalities.
112 N. Prince St., (717) 293-0809, christianedavid.com.
Among the world-class art museums in Lancaster, the Demuth Museum is the restored 18th-century home and studio of watercolorist and leader of the American Modernist Movement, Charles Demuth. It's free to visit, but donations are welcome.
120 E. King St., Lancaster, (717) 299-9940, www.demuth.org.
Willem deKooning, Maurice Sendak and Andrew, Jamie and N.C. Wyeth are among the great names represented at the Lancaster Museum of Art. Free; donations welcome.
135 N. Lime St., (717) 394-3497, www.lmapa.org.
The outdoor sculpture trail at the Steinman College Center on the campus of Franklin & Marshall College features 20 contemporary works. Free.
Located opposite 623 College Ave., (717) 358-3911, www.fandm.edu.
Feel what it's like being weightless as you do traditional poses and aerial and dance moves swinging above the floor from a fabric hammock at Float Yoga of Lancaster. $18-$25.
245 Bloomfield Drive, Lititz, (717) 475-6333, www. float-yoga.com.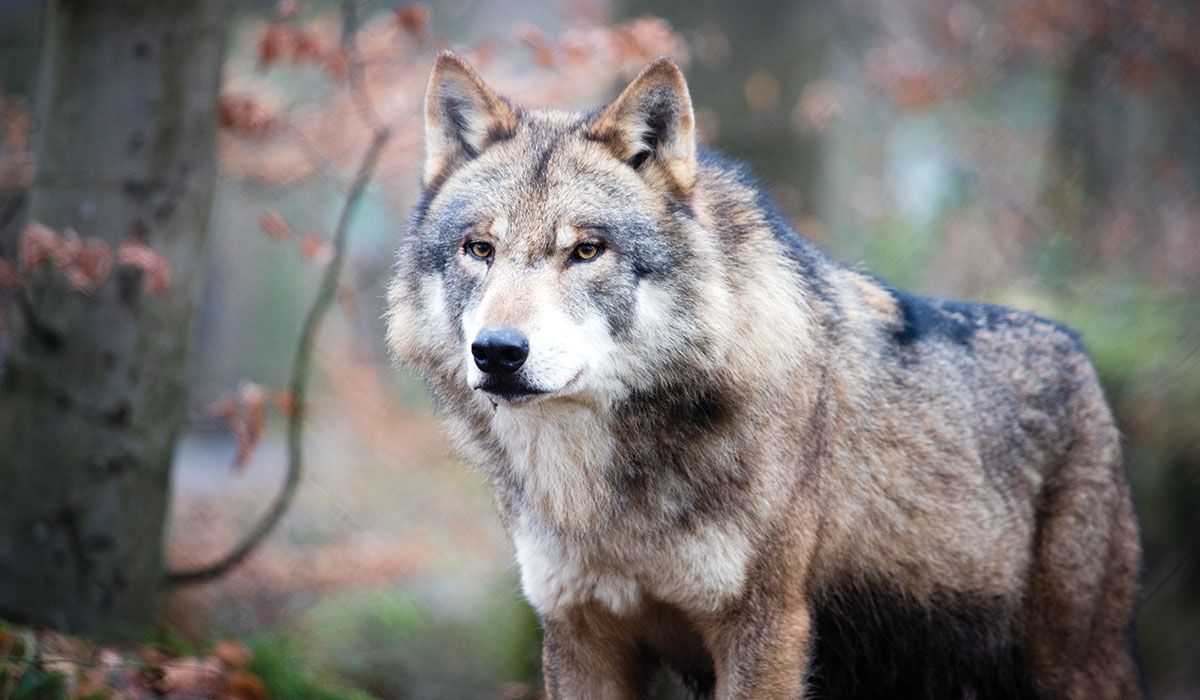 The Wolf Sanctuary of PA in Lititz is home to more than 40 rescued animals.
Get in touch with your wild side at the 80-acre Wolf Sanctuary of PA, which hosts monthly adults-only full-moon tours. There, you'll be introduced to over 40 of these majestic rescued creatures. Bring along a blanket, a flashlight, hot dogs and marshmallows for the bonfire. Daytime tours for the family are also available. $20.
465 Speedwell Forge Road, Lititz, (717) 626-4617, wolfsanctuarypa.org.
Built in 1852, the ornate Fulton Theatre—known locally as the Grand Old Lady of Prince Street—presents professional productions year-round. Upcoming shows include Treasure Island (Sept. 18-Oct. 14), 42nd Street (Nov. 13-Dec. 30) and Chicago (Jan. 22-Feb. 17). The Family Series will present A Christmas Carol (Dec.1-29) and the cutting edge Studio Series will feature the farce The Mystery of Irma Vep (Oct. 16-Nov. 4), with two actors playing 35 roles. Visit on Thursdays for "Thirsty for History" nights, when an hour before curtain time, ticket holders meet with production staff for cheese, wine and some historical background.
12 N. Prince St., Lancaster, (717) 397-742, thefulton.org.
Catch a classical music concert, poetry slams, theater performances and more at the Ware Center at Millersville University. Some are paired with cocktail and dessert receptions. Tickets $10-$30.
42 N. Prince St., Lancaster, (717) 925-8466, www.artsmu.com.
Shopping in Lititz. Photo courtesy of DiscoverLancaster.com.
Spend the day browsing the five blocks between Main and Broad streets in Lititz, with its 70 shops and dining spots.
Three generations of women offer artisan-made jewelry, handbags and other gifts at Pebbles and Lace.
56 E. Main St., (717) 572-3050, www.pebblesnlace.com.
Artist Steve dePerrot creates decorative and functional pottery, including vases and platters, in his studio, Pots by dePerrot.
201 S. Locust St., (717) 627-6789, www.potsbydeperrot.com.
The clothing and accessories are artistic and eclectic at Tiger's Eye.
49 E. Main St., (717) 627-2244, tigerseyelititz.com.
If you're a foodie, check out Zest!, where you'll find tools, linens and treats from around the world.
30 E. Main St., (717) 626-6002, zestchef.com.
On Saturdays in October, be sure to check out the farmers' market in Lititz for fresh produce and baked goods.
Former president James Buchanan's Wheatland estate. Photo courtesy of DiscoverLancaster.com.
James Buchanan, America's 15th president, made his home in Lancaster at the stately brick manor he called Wheatland. Guided tours are available; on the first Saturday of the month, you can take a Living History Tour featuring portrayals of historic figures. While there, wander the 22 acres of trees from around the world in the Louise Arnold Tanger Arboretum and Dwarf Conifer Garden. $8-$15.
230 N. President Ave., Lancaster, (717) 392-4633, www.lancasterhistory.org.
Through the end of October, Mount Hope Estate & Winery hosts the Pennsylvania Renaissance Faire with hundreds of costumed characters, jousting and performances. Ticket $27.95 online, $31.95 at the gate.
2775 Lebanon Road, Manheim, (717) 665-7021, www.mounthopewinery.com.
If you're a history buff, visit Rock Ford Plantation, the former home of Edward Hand, the adjutant general to George Washington during the Revolutionary War. Set on 33 acres, this Georgian mansion is furnished to reflect the gentile country life of the time. $8.
881 Rockford Road, Lancaster, (717) 392-7223, rockfordplantation.org.
Want to sip an abundance of Lancaster County's premier wines? Book an SUV for a Vineyards Winery Tour. $60/hour; four- to six-hour tours also available.
Allways Limo, (610) 207-1762, www.got2limo.com.
If spirits are more your speed, stop at Stoll & Wolfe Distillery for a tasting of sweet mash rye whiskey and a bourbon and rye blend. One half-ounce pour $4, three half-ounce pours $10.
35 N. Cedar St., Lititz, (717) 799-4499, www.stollandwolfe.com.
For something a little more unusual, try a flight from the 13 varieties on tap at Meduseld Meadery. A fall favorite is the Rauch mead, made from smoked sweet potato, wildflower honey and seasonal spices.
252 Harrisburg Pike, Lancaster, (717) 208-6144, meduseldmeadery.com.
Leafy Fun
Photo courtesy of DiscoverLancaster.com.
Fall colors tend to blaze their brightest in Lancaster from late September through late October, peaking in the middle two weeks of October. You can admire the leaves on two wheels, on four wheels or on foot. If you're driving or biking, you'll get some breathtaking views by following the Route 23 Pennsylvania Scenic Byway through Churchtown and Goodville.
Intercourse Bike Works offers many ways to take in the fall foliage. Use the ride-share option ($10) and bike the seven-mile Warwick Rail-Trail from Lititz to Ephrata. For a self-guided eight- to 40-mile tour on a traditional bike, they'll supply you with a map you can upload on your phone, with turn-by-turn instructions ($40). You can also opt for a guided tour ending with dinner at an Amish home ($75), or create a customized guided tour ($55). Rev up your ride with an electric bike ($75/day).
3614 Old Philadelphia Pike, Cross Keys Shopping Center, Gordonville, (717) 929-0327; 201 Rock Lititz Blvd., Suite 11, Lititz, (717) 553-7997, intercoursebikeworks.com.
When traveling Lancaster County's beautiful back roads, you'll find a wealth of 19th-century covered bridges. One of the most fun ways to see them is to take a guided tour with Strasburg Scooters, which offers both single- and double-seat scooters, or a three-wheel two-person scoot coupe. $89-$189.
242 Gap Road, Strasburg, (717) 344-2488, www.strasburgscooters.com.
Photo courtesy of DiscoverLancaster.com.
Prefer an aerial view? Take to the sky with the US Hot Air Balloon Team, which offers a one-hour morning or afternoon flight. $219.
2727 Old Philadelphia Pike, Bird-in-Hand, (800) 763-598, www.ushotairballoon.com.
Sept. 7-9, the Bird-in-Hand Volunteer Company hosts a Hot Air Balloon Festival, featuring 20 participants, plus a balloon glow with a bonfire, s'mores party and rides.
338 N. Ronks Road, Bird-in-Hand, (717) 392-0112.
If you want to take a short, tree-lined stroll, head to seven-acre Lititz Springs Park. On the way, stop at Greco's for a scoop or two of any of their more than 20 flavors of homemade ice cream.
24 N. Broad St., Lititz.