Photo by Lisa Dukart.
The largest of the three islands that make up the Cayman Islands, Grand Cayman is part of the Greater Antilles. Home to beautiful beaches and friendly locals, it offers a variety of activities and world-class snorkeling and diving. A sovereign nation of Great Britain, it has a population of just over 52,000 and welcomes visitors from around the globe. The island has three main attraction areas popular among visitors—Seven Mile Beach, Rum Point and its capital, George Town.
Head to Seven Mile Beach to soak up rays on pristine white sands, consistently lauded as a top beach in the Caribbean. The crescent shaped sands actually only extend a bit over six miles, despite its name. This part of the island is lined with resorts and condos, from swanky retreats like the Ritz-Carlton to the handsomely appointed condos at the Caribbean Club.
Photo by Bruce Harlick
Closer to George Town, and sprinkled throughout the main stretch, are public beaches, for those staying on other parts of the island. Escape the sun for a tropical fruit drink or a bite of Caribbean cuisine at Tiki Beach. Located right on the beach, the dreamy, gauzy white, open-air restaurant and bar is a piece of paradise on its own. Sip on mojitos or bellinis while watching the ocean waves gently roll onto shore. Tiki Beach is in walking distance to many area resorts and hotels and is located next to a public stretch of beach.
Rum Point, located on the north side of the island and jutting out into the sea, is undeniably quieter than Seven Mile Beach. Located further from the main hubs—and further from the restaurants and nightlife—it's a great spot for beach goers, snorkelers and watersports enthusiasts.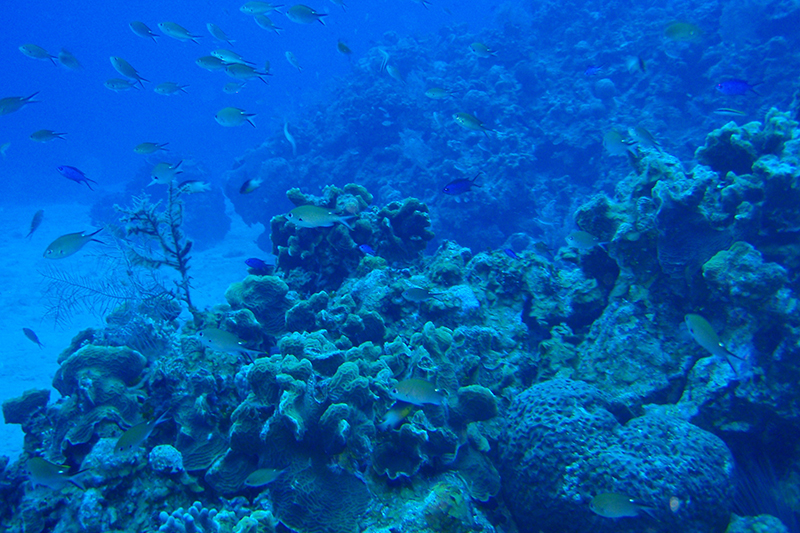 Photo by Andy Blackledge
George Town is a bustling hub of tourists. For first time island visitors, an afternoon wandering the streets and shops will more than suffice. With cruise ships docking in the harbor year-round, there are lots of shops, restaurants, watersports and tour activities, but for those looking for a more authentic experience, head elsewhere.
For avid snorkelers and divers, there are plenty of boat tours heading into deeper waters, but Stingray City is a close, albeit packed, gem. The clear shallow waters offer a perfect natural experience with stingrays, which are particularly abundant here, but can easily be seen snorkeling elsewhere off the coast.
Temperatures in the winter months remain warm during the day—expect to be in the 80s—and slightly cooler at nights—they steadily remain in the upper 60s. Precipitation is dramatically lower January through April, making it an ideal time to visit.
Photo by Lisa Dukart
Don't miss: Queen Elizabeth II Botanic Park, featuring local flora and native blue iguanas; blowholes, best seen on Sea View Road.
Flight time: 4 hours
Airports: Owen Roberts International Airport
Currency: Cayman Islands dollar
Language: English
Cost: $8,081
For more information, visit the Cayman Islands tourism website.