Photo courtesy of Mohonk Mountain House
Recharge and unwind at one of these luxury spas—all an easy and scenic drive from the Philadelphia suburbs.
Editor's note: This story was originally published on February 3, 2016 and updated on August 12, 2021. Please note, some of these details may be temporarily adjusted due to COVID-19 restrictions.
Whether in need of a romantic getaway for two or solo mind and body rejuvenation, a spa getaway might be in order. The East Coast is home to some top-rated destination spas, where every inch of the body can be rejuvenated and the mind relaxed. From weight loss to skin care, these spas can put you back on track.
165 Kemble St., Lenox, MA
Perhaps the preeminent health spa on the eastern seaboard, Canyon Ranch at Lenox sits snuggly in the Berkshires of Massachusetts. The resort and spa put a strong focus on wellness and, as such, offers an array of spa treatments, fitness centers and classes and outdoor activities.
The historic resort is located, in part, in the old Bellefontaine Mansion. The mansion was built in 1897 and restored by Canyon Ranch founders Enid and Mel Zuckerman, with the help of a historical preservation team. Formerly a privately owned home, a seminary and even a boarding school, it reopened in its current capacity in 1989 and still possesses its original charm.
The resort offers both hotel rooms and luxury suites with a range of different dining options. Menus feature a variety of healthy options for a full body balancing experience.
Photos courtesy of Canyon Ranch
There are over a dozen services offered under a handful of categories including Spa & Beauty, Fitness & Movement, Nutrition & Food, Health & Performance and Mind & Spirit. You may need more than one weekend to get through all the 73 Spa & Beauty services which include different types of facials or body scrubs.
If you aren't sure how you want to take advantage of all these services, there is a knowledgeable Wellness Guide who can create a tailored itinerary based on your needs. Whatever your purpose, Canyon Ranch offers the perfect balance of activities and wellness to fully rejuvenate all parts of the body and mind.
Related: 27 Drivable Weekend Getaways
152 Castle Hill Dr., Proctorsville, VT
Nestled in the Green Mountains of Vermont, this resort and spa provides a tranquil atmosphere to rejuvenate. With European-style stone buildings and décor, the idyllic setting offers multiple accommodations, ranging from castle rooms to one-, two- and three-bedroom condominiums.
The resort, built in English Cotswold style, was commissioned by former Vermont governor Allen Miller Fletcher as a home around the beginning of the 20th century. It was the first home in the state to be fully electrically wired and now possesses a range of modern conveniences. Throughout and around the main building, remnants of the past remain preserved, including wallpaper from 1905, original light fixtures, and the same garden landscape that was first set down. A journey here allows visitors to briefly travel back in time.
Relax and unwind at the resort's Aveda Concept Spa, the only full-service spa in the region. With a full range of services, the resort also puts a focus on fitness for full body wellness. There are multiple spa packages or different massages to get you feeling relaxed. In addition to the pampering, there is also a full range of exercise options.
Photos courtesy of Castle Hill Resort and Spa
Dine on savory French-influenced American cuisine in Castle Restaurant, which offers a four-course prix-fixe menu. On offer might be choices of classics like beef Wellington, slow-roasted rack of lamb and Atlantic salmon. The menu changes seasonally and utilizes local produce.
With its European style, Castle Hill makes for the idyllic Vermont escape for spa-seekers and sports enthusiasts alike.
Related: 12 Getaways for Couples
7039 Route 28, Shandaken, NY
Copperhood is not a traditional spa. Tucked in the Catskill Mountains, this retreat is ideal for those who want to focus on fitness and well-being. While it is a spa, it puts a heavy focus on full-body wellness, offering detoxes and cleanses. Whether you're looking to cleanse in peace, quit a bad habit, or simply reconnect with nature, this retreat offers it all. With just 17 rentals, The Copperhood allows guests to truly escape.
The spa includes a range of massages, including Swedish, deep tissue, hot stone and more. There are also facials, manicures and pedicures upon request. Elsewhere, guests can enjoy the indoor pool and hot tub, sauna, steam room, yoga studio, fitness center and plenty of outdoor activities like tennis or scenic walking trails.
The Copperhood is surrounded by an incredible array of eateries and off-site activities to enjoy. Nearby, guests can wander Mount Garfield or venture into the hamlet of Phoenicia. The tiny town has unique shops, including a leather store, market, antiques and more.
For those looking to escape society and embrace a healthy lifestyle, The Copperhood should certainly be a place to consider.
300 W. Main St., White Sulphur Springs, WV
This fabled luxury resort is tucked into the Allegheny Mountains of West Virginia. The 10,000-acre property dates back over 235 years and is a National Historic Landmark. Renowned for its mineral springs, it also offers golf, a large entertainment center and boutiques, in addition to its spa.
Recharge with a range of spa treatments from standard services like massages, facials, manicures and pedicures to more specialized services. The Greenbrier offers a MedSpa, which includes cosmetic injections, such as Botox and Juvederm, microdermabrasion and more. In the spa, enjoy a detoxifying mud wrap or sugar scrub, or take to the healing waters, which first made this location popular. The hydrotherapy spa specialties include a private soak in the sulphur waters, aromatherapy or mineral baths. Golfers can also recharge at the spa, with specially designed sports massages targeted to muscles most used when playing golf.
Photo courtesy of the Greenbrier
There are treatments for those who come with their families, as well. Children ages six to 14 can enjoy teen and junior packages, which combine facials, manicures and pedicures so the whole family can feel pampered.
During the winter months, visitors can go ice-skating or take a sleigh ride over the property. Those less inclined to venture outdoors can enjoy the casino, bowling, a lavish indoor pool and more.
Accommodations include over 700 rooms, including suites and estate homes. The resort offers several bars and lounges, as well as six restaurants. The main dining room shimmers in green and white tones and requires cocktail attire for dinner. It features traditional upscale affair, like butter poached lobster tail and pan seared free-range chicken.
With its bountiful entertainment and accommodations, The Greenbrier makes for a pretty, elegant escape.
109 River Birch Lane, Hawley, PA
Escape to the Pocono Mountains for a true nature retreat—with a few top-notch amenities. The property sits on 150 acres of woodland and includes a private lake, providing a serene, tranquil setting. This childfree zone allows adults to refocus and leave behind daily schedules and stressors.
Both rooms and suites are available at the lodge, and comfortably appointed. With just 58 rooms, it offers a more intimate environment suitable to the surrounding atmosphere. Nature seems to make its way indoors, as the lounges have floor-to-ceiling windows, affording views of the surrounding woodlands.
The spa offers a range of treatments, including massages, facials and couples treatments. Pre-natal services are also available. Treatments include reflexology; Reiki, a Japanese tradition of directing healing energy; shiatsu; mud treatments and body wraps. Couples' treatments include private scrubs, hot soaks and massages. Standard salon services are also available, including haircuts and colors, blowouts, manicures and pedicures, as well as makeup styling.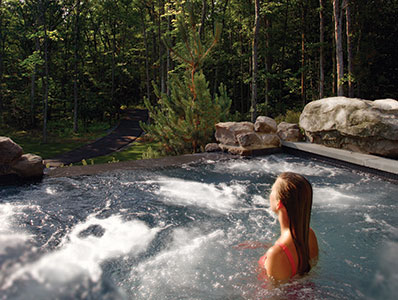 Photo courtesy of Lodge at Woodloch
The lodge offers a unique dining experience. Chef Josh Tomson prepares gourmet, locally grown, organic meals in one restaurant, situated among the treetops. Guests can expect to dine on entrees like seared scallops or cabernet-braised beef short rib. Guests can also enjoy food and wine courses, attend a demonstration, or have a chef-curated meal.
For those seeking a little adventure, the Poconos offer plenty of outdoor activities aside from skiing. Take a snowy stroll or, on dry days, hike through one of the many park areas nearby, go birding and spot some little-seen winged creatures, go snowshoeing or try cross country skiing.
851 W. Genesse St., Skaneateles, NY
This country estate is situated near the village of Skaneateles, on one of the many lakes in upstate New York. Inspired by renowned impressionist painter Claude Monet's style, it has a warm, inviting atmosphere, even in the cold months.
The spa is a main attraction for many. It is a 14,000-square-foot marvel of luxury. If you can't relax here, you can't relax anywhere. The space includes a heated foot pool, herbal infused saunas, steam rooms and a heated whirlpool.
Indulge in a range of massages, including deep tissue and Thai, skin-enhancing facials, body wraps and scrubs, or more traditional manicures and pedicures. In February and March, try one of the seasonal specialty treatments, which focus on couples and romance.
Photos courtesy of Mirbeau Inn & Spa
Mirbeau also offers sumptuous cuisine, serving all three meals in the dining room, with French flair. Ingredients are sourced locally and breakfast might include banana bread French toast, crab cake Benedict or a smoked salmon bagel. On Sundays, there is a brunch menu from 11 a.m. to 3 p.m. Guests can also try fitness classes, including yoga, spin, barre and Pilates, or wander the quaint village town, take a walk in the woods or go wine tasting.
1000 Mountain Rest Road, New Paltz, NY
This Victorian-style resort was founded in 1869 by Albert Smiley, near the Catskill Mountains. The 280-acre property is surrounded by undeveloped land and boasts generous accommodations, enough for 600 guests. It has a renowned spa and plenty of activities to keep busy for a long-weekend getaway.
Accommodations range from traditional rooms and suites to a handful of cottages. Rooms are made up in distinctive styles so guests can choose which best suits their taste. Classic rooms have a 19th-century feel, while country rooms offer a lighter, rustic option near the spa, among others. The cottages are situated a couple of miles from the main resort, affording guests a quiet retreat in the mountains. The cottages each have two bedrooms or more, and offer kitchen and living areas.
The on-property spa is the main attraction for many. With a solarium and stone fireplace, and outdoor heated mineral pool, fitness center and many treatment rooms, there are plenty of options for unwinding. Guests can enjoy massages, reflexology treatments, a range of facials, body masks and more. The spa also offers treatments for men, couples and expecting women. Children and teens can also enjoy a retreat with treatments geared specifically to them, like a teen facial or mini manicures.
The resort also focuses on fitness and offers yoga classes, Tai Chi in the comfort of the pool, as well as meditation and nutrition with a certified expert.
Mohonk offers a range of activities on property for when you need a break from pampering. Guests can go ice skating at the pavilion, try cross-country skiing over 30 miles of trails, or go snowshoeing or tubing. There is also a museum for those who wish to learn more about the area's history. Items on display date back to the 1800s and include antique farm equipment and a 1929 station wagon.
While there, dine on locally sourced dishes included in the cost of stay. Health-conscious meals are also available, as are gluten-free and vegan options.