A Proper Classic Modern Home in Malvern
Photos courtesy of Henck Design
Read how Henck Design incorporated a modern farmhouse feel with the traditional look of the Main Line in this Malvern home.
It's the last stop on our esteemed Main Line. This development called the Highlands at Malvern holds about two dozen new construction traditional homes in Chester County. Upon entering this stately suburban home, immediately, one notices Henck Design's customized selections and interior design work.
The design firm used subtly contrasting ceiling colors to the surrounding moldings and applied additional woodwork in corporation with moody dark paint colors. Black and white abstract art injects the space with some energy and movement. The Main Line home has an overall feel of a modernized farmhouse feel, and as one moves through the space, material selections and architectural features flow from room to room.
These clients of Henck Design with busy lifestyles have relocated from Philadelphia to the Malvern area, just down the way from Berwyn and Paoli townships.
The Main Line parents upsized to account for their growing family and are pleased with the extra square footage that will be used for entertaining family and friends.
The clients were clear from the beginning: They wanted HD to use the formal dining room as an introduction to a modern farmhouse feeling home with some drama. The primary dramatic element used was dark paint. After the painter transformed a few of the well-designed spaces, everyone involved in the project exclaimed that using darker wall colors was the right decision.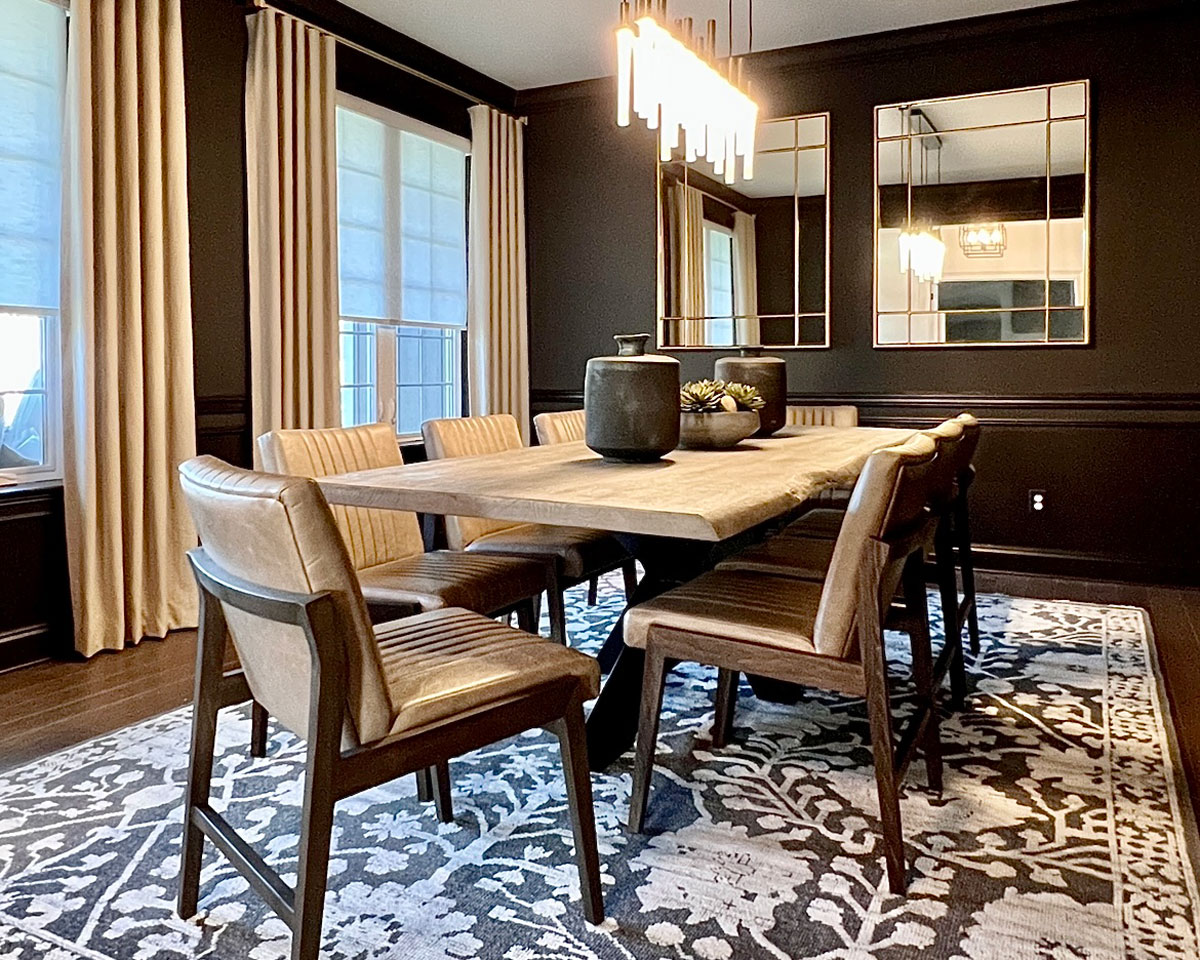 In the dining room, a rustic farmhouse style dining table with top grain leather chairs anchor the room with warm, neutral mid-tones. Rather than incorporating black walls with bright white or light-colored furniture, HD chose to develop the pallet in a more muted and subtle way.
Two large-scale gold mirrors set atop the black paint and custom millwork applied to the dining room walls. Instead of painting ceilings white, HD incorporated light grays on ceilings and tied them in with corresponding charcoal gray and black tones in nearby rooms.
The primary bedroom has a modern classic feel with on-trend dark gray walls. The tall tray ceiling really draws the eye up and keeps the space feeling grand.
Oversized nightstands and chunky table lamps with hombre finish contrast the light neutral headboard well, providing and supporting the scale of the room by incorporating larger pieces.
Rather than having a TV in the primary, the couple decided they preferred some interesting art to contemplate while lying in bed.
All in all, this traditional style suburban family home boasts an interior design style that incorporates a modern farmhouse feel with the sophistication of Philadelphia's time honored Main Line feel.
Contact Us
Phone: (215) 239-3045
Email: Info@HenckDesign.com
*What's this? This content is made possible by our sponsor. It is not written by and does not necessarily reflect the attitude, views or opinions of the Main Line Today editorial staff.