Ask the Expert: How Does Beatty Harris Sports Medicine Help Patients Achieve a Healthy Lifestyle?
What are the elements of a healthy, active lifestyle?
A: The building blocks of a healthy, active lifestyle include nutrition, exercise, good sleep hygiene, and mental and spiritual health.
A healthy diet is as much about what you put into your body as it is when and how much. It can be challenging to make large changes in your habits but if you can pick one aspect and make little changes, over time these changes can add up to big leaps in your health. Start planning out your weekly meals to include a variety of nutrient-dense foods with a balance of protein, healthy fats, and carbohydrates. This will provide the body with the energy it needs so you don't feel sluggish throughout the day. Meal timing and portion control can be addressed in time.
Sleep allows your body to heal and recover from everything you have encountered in your day. Consistent, uninterrupted, high-quality sleep gives you more benefits than just feeling refreshed; it can help improve heart health, reduce stress, improve memory, and repair the musculoskeletal system for improved athletic performance.
Exercise is something that can look very different for each person but is universally important for optimal health. Whether you take your dog for a long walk every morning or go to Pilates class, exercise supports your healthy living by increasing lean body mass, muscle, and strength while also decreasing fat and improving your cardiovascular health. Daily exercise also contributes to one's mental health and well-being through the release of endorphins — so it's no coincidence that you feel better after getting your body moving.
As we age, the combination of a healthy diet, restorative sleep, and regular exercise helps us feel better about ourselves, can reduce aches and pains, and improve your quality of life.
How does Beatty Harris Sports Medicine help patients achieve a healthy lifestyle?
A: Living with nagging aches and pains can make it challenging to achieve the healthy lifestyle you want. Pain can interrupt sleep and make it nearly impossible to exercise. We help our patients feel better so that they can return to, and maintain, the healthy, active lifestyle they desire. This begins by accurately diagnosing the issue and then finding the right treatment to address the source of their painful problem. Once we have your pain under control, we help guide our patients through a safe return to exercise (or sport) while also addressing key factors that will help prevent future injury.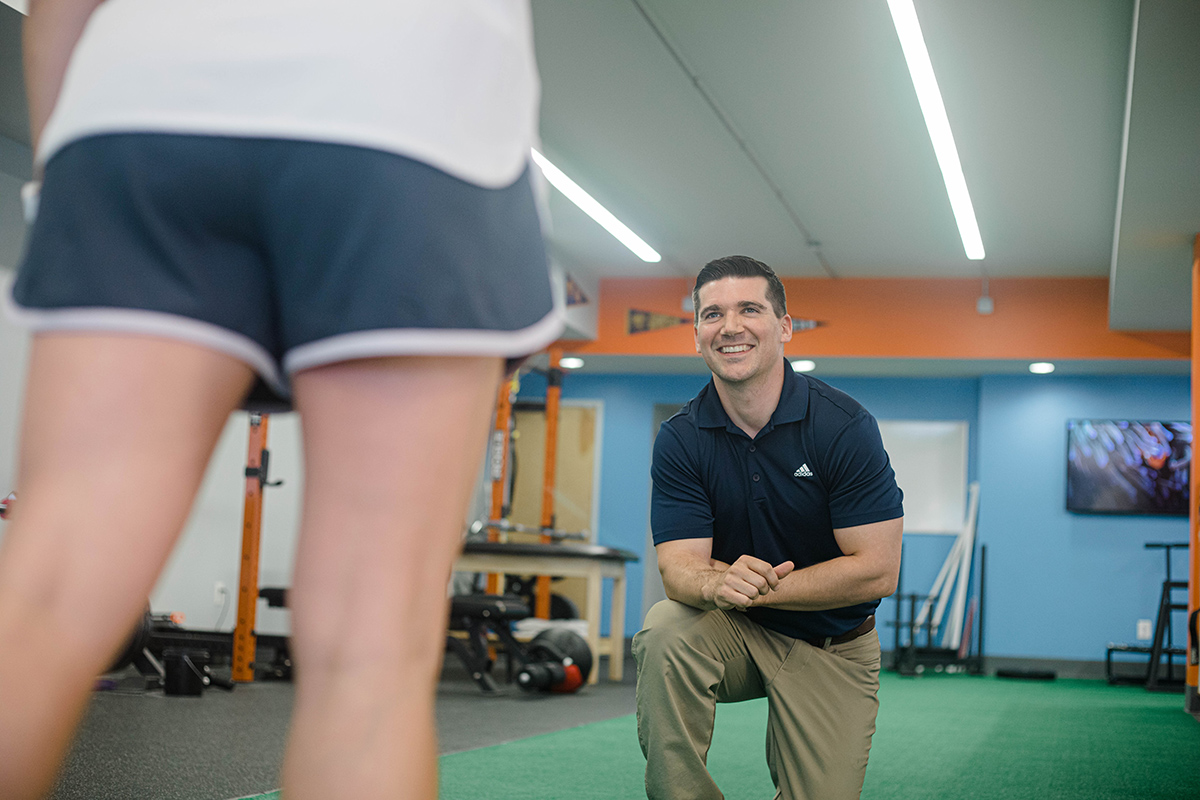 Whether it's treating the pain of knee arthritis to get you back into your walking routine, managing a shoulder injury that keeps you tossing and turning all night, or treating broken bones, we have you covered. We also partner with dietitians, personal trainers, physical therapists, and a variety of other specialists to provide a comprehensive, multimodal treatment plan that will restore function and return you to the activities you love.

How do you get your patients back to doing what they love?
A: Successful treatment starts with an accurate diagnosis. We also dig a little deeper to determine what factors may have contributed to the injury or why the painful problem developed in the first place. This allows us to come up with the right treatment plan to not only get you back in action but prevent further and future injury. Being former athletes ourselves, we understand the mentality of the athlete and the desire to get back on the track, field, pool, gym, or court as fast as possible. Just because you are being treated for an injury doesn't mean there aren't ways to continue being active or work on other parts of your sport while you recover. We look at the athlete as a whole rather than just the body part that's injured.

How does Beatty Harris Sports Medicine differ from surgical orthopedic practices?
A: Tricia Beatty and Allen Harris are board-certified, Primary Care Sports Medicine physicians. We have specialized training focused solely on the diagnosis and treatment of non-surgical acute musculoskeletal injuries and chronic painful conditions. The key to a successful outcome in managing any painful condition is an accurate diagnosis and expertly delivered treatment.
The vast majority of musculoskeletal pain can be managed non-operatively. We offer a wide variety of office-based treatments, depending on diagnosis, including exercise plans, guided physical therapy, cortisone injections, platelet rich plasma (PRP) injections, viscosupplementation, fracture care, and sport concussion management. We are the most experienced physicians in the region that perform the minimally invasive, Tenex & Tenjet tenotomy for chronic tendinopathies common in the shoulder, elbow, hip, knee, foot, and ankle.
There are, however, some conditions that may require surgical intervention. In these cases, we work closely with all of the best regional orthopedic surgeons to help guide our patients to the right orthopedic surgical specialist for their musculoskeletal injury/condition when needed.
What are some of the most promising and innovative treatments you offer your patients?
A: The minimally invasive Tenex and Tenjet procedures have had very positive results for patients with patellar tendinopathy, golfer's and tennis elbow, gluteus medius tendinopathy, Achilles tendinopathy, plantar fasciitis, calcific rotator cuff tendonitis, and many other chronic tendon issues. PRP has also shown good results in patients with partial tendon tears, and even arthritis. The use of ultrasound has made many of these modalities more effective by allowing us to visualize the joint or tendon being injected and ensuring the medications are getting into the exact location being treated.
If you have any questions about sports medicine and how it can help your active lifestyle, give us a call at 610.601.9177 or go to beattyharrissportsmed.com for resources and more.