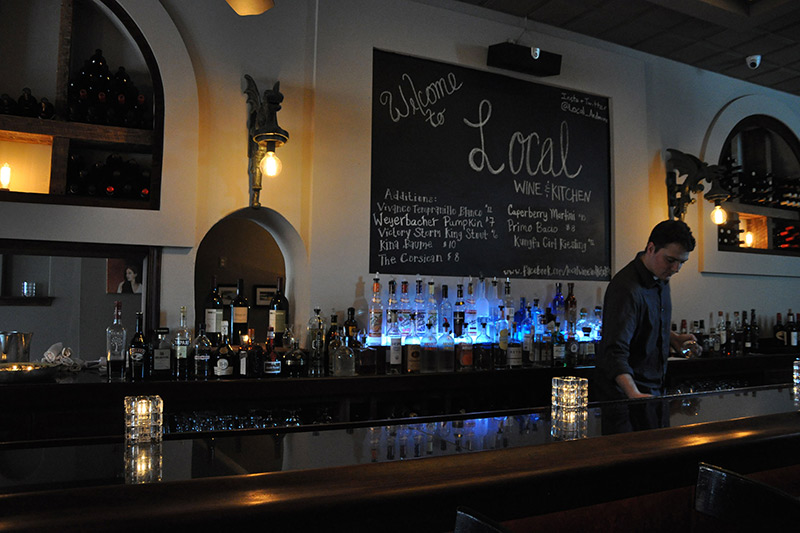 Main Line newcomer Local Wine & Kitchen is changing the face of Lancaster Avenue's food scene with its dynamic small plates, well-curated wine list and rustic-chic setting. And, they are just getting started.
Stefan Gagliano
Quietly sneaking into the former home of Café San Pietro in late August 2014, the latest Ardmore addition is a project of Stefan Gagliano. (You may know his father, Domenico Gagliano, who opened Positano Ristorante & Bar 24 years ago and Café San Pietro four years after that.) Stefan, immersed in the restaurant industry his entire life, rallied Matt Stebbins to helm his kitchen, a boundary-pushing chef who trained under talents like Townsend Wentz (Townsend) and Josh Lawler (Farm and Fisherman).
Together, the inventive twentysomethings are on a mission to acquaint local diners with their cultivated experience driven by seasonality, local farms (Plowshare and more) and international inspiration. Their small plates are speckled with globe-trotted ingredients and multi-cultural ideas, making their local-fused concept much more than one screaming the frequent "farm-to-table" speal.
One of the major selling points of Local Wine & Kitchen is the custom-built charcuterie bar (hottest seats in the house!). Grab a bar stool and make your way through an array of house-made or imported cured meats, regionally sourced cheeses (Doe Run and Cherry Grove Farm included) and elaborately-made accoutrements. Be sure to stay for dinner to delight your senses with Stebbins' ultra-buttery Pacific halibut. It's a textural playground, piled high with charred, smoky bok choy, farro, fermented snow peas and one mighty black bean sauce. We also suggest the delicate red Russian kale salad, vibrant with shaved Pecorino, snappy pickled onions and poached cranberries.
Matt Stebbins
Gagliano's pride and joy of Local is the wine list, which he's slowly—and confidently—building up each month. Local wines like Penns Woods Winery and Stone Barn Cellars are in stock, as are Philly-distilled spirits like Bluecoat Gin. As for the cocktail program, it features high-caliber components and touches like infused spirits (try the fig bourbon variety), absinthe rinses and funky bitters. Explore the current beverage lists here.
Local Wine & Kitchen is a honest game-changer for local dining—and you need to devour this fresh experience immediately.
Hours of operation: kitchen open Monday–Saturday, 5–10 p.m., with the bar open as of 4 p.m. and last call at midnight. Find Local Wine & Kitchen at 39 W. Lancaster Ave., Ardmore; phone: (610) 896-4740; www.localwineandkitchen.com.
Look for a restaurant review of Local Wine & Kitchen in the February 2015 issue of Main Line Today.