It's tough to tell whether there was more negative press about Britney Spears or the national housing market over the past year. A record number of foreclosures has beset California, Nevada, Ohio, Arizona, Florida and other Midwestern and Sun Belt states, where home prices have plummeted as much as 30 percent.
Yet, given the bleak outlook in much of the rest of the country, our region's housing market has been relatively stable by comparison. In fact, many area real estate experts and realtors say there really is no crisis on the Main Line.
"You have to look at local market conditions—and our local market conditions are strong," says Dana Zdancewicz of Prudential Fox & Roach Realtors.
Zdancewicz and her mother, Laura Caterson (who's been selling Main Line real estate for 27 years), are among the top-selling sales teams in Prudential's Devon office. And they've found themselves having to constantly educate buyers and sellers on the truths of what's really happening in the local market.
"The sky is definitely not falling," says Caterson. "There are deals to be made."
Numbers don't lie: Scott Furman's RE/MAX Classic office in St. Davids experienced stronger sales in 2007 than in the previous year. "I believe the [national] news has actually hurt our local real estate market overall, because it's projected a very negative portrayal of what's happening," says Furman. "And it's simply not like that."
Still, local agents will concede that the current real estate market isn't what it was a few years ago. Since 2000, it had been flaming hot, with every year better than the one prior. Realtors could barely get the "For Sale" sign in the ground before receiving multiple bids for well over asking price.
At the same time, any perceptive agent knew it couldn't last forever. Now the market has returned to more realistic conditions, and we're hearing terms like "correction mode," "slowdown," "coming back to normal" and "adjustment period." Prudential Fox & Roach Realtors' Carol Aaron, who's been selling for 35 years, has endured plenty of "adjustment periods."
"I was here in the '90s when it was like this, except the interest rates were higher," says Aaron, who works in the Haverford office. "It was after the end of the '80s, when we had really good years like we've had the last few years."
Furman mentions the early '80s, when interest rates were as high as 18 and 19 percent. "When people talk now about how bad a market it is, I laugh," he says. "The interest rate now [in mid-January] is less than 6 percent. The rates are fantastic."
Seller's Remorse
Buyers in today's market can expect homes that are priced to sell. "If sellers are pricing their homes for the market that was two years ago, those houses might sit," says Linda "Z," a top-producing realtor with RE/MAX Executive Realty in Bryn Mawr.
Those hit hardest by this adjustment period are sellers who bought at the height of the market and need to sell, says "Z."
"I have a client that bought at the very top of the market two years ago and paid $2,850,000," she says. "They have to sell, and we listed the home for resale at $1,999,000. Unfortunately, their loss will be the buyer's gain."
Simply put, if a house is priced correctly, it should sell—and there are still homes receiving multiple offers for more than asking price. "Today's buyers definitely are more cautious," says Bebe Forster of Weichert Realtors in Wayne. "Five years ago, they were willing to accept almost anything," she says. "Not anymore."
These days, a house must stand out from others in the inventory. If renovations are required, the seller must do them—or price the home accordingly so a buyer won't balk. "Buyers want move-in condition," she says. "Sellers have to be more responsive to what buyers are looking for. And if they're not, their house won't sell."
For now, gone are the days when the seller dictated the price. "They simply determine the offering price," says Forster. "The offering price is just that—it's an offering price. The buyers determine the value of the house. It isn't until you have a buyer who is ready, willing and able to buy your house that it actually has a value."
The discerning eye of today's buyer may explain why homes are sitting on the market longer than they have in more than five years. Depending on the condition of the house, average days on the market range from 60 to 120 days. When the market was hot, homes sold in a month or less.
Another sign of the times: the return of the home sale contingency, a clause in the agreement of sale stating that if the buyers don't sell their current house before a certain date, they can walk away from the agreement. "The home sale contingency disappeared completely," says Forster. "Now people are using it again. In the boom years, they would just go out and buy a house with no home sale contingency because they knew their house would sell. They were fearless."
The shift in the market also has led to most sellers' willingness to work with buyers on terms and agreements. "Terms can be just as important as the price," says Zdancewicz.
But even in this dicey market, the Main Line has many great selling points, including excellent schools, low crime and commuter convenience. "There are options from when you're just out of college to your last home," says Forster. "That's what has kept the market here from going through all the national ups and downs—we can accommodate any buyer."
So while other regions may be floundering, perhaps the Main Line is simply adjusting to a more even playing field where houses are priced fairly and buyers can actually negotiate with a seller.
"We're in a normal pattern," says Prudential Fox & Roach's Aaron. "You'll see a lot of real estate agents get out of the business because they don't know what normal is. It was too easy the past few years. Now the skill of a talented agent is going to come into play."
And that's a good thing for both buyers and sellers. 
 
Stage Show
When prepping your home to sell, it's all in the details.
Buyers form their initial impression of a home within seconds of entering it-which, for some of us, may not be such a good thing. In a real estate market where a surplus of inventory allows buyers to be choosey, more and more people are enlisting the expertise of professional stagers like Berwyn's Kate Hart.
"Your house is a pre-owned luxury product," says the owner of Hart & Associates Staging and Design. "If you were selling your used Lexus, you'd have it professionally detailed so it showed its absolute best. Why wouldn't you do the same for your home?"
Sellers may not be able to control many things about their homes-like the location or the state of the market-but what they "absolutely can do is competitively price their home and [control] how they present it to possible buyers," says Hart. "To get the price you want, you have to invest the time and money to get a return when it's time to sell."
The goal of staging is to show buyers how they could live in the home while highlighting the purpose of each room. Staging is not interior decorating, says Hart. "Every house-not just ugly duckling homes-can benefit," she says.
For her initial visit to a client's home, Hart examines the exterior and interior, providing the seller with a "buyer's-eye view." She then provides a written report of the positives, along with suggestions on improvements like painting, de-cluttering or rearranging furniture. Hart can even go as far as furnishing an empty house. On the second visit, she reviews changes the seller made and fine-tunes any last-minute touches. "It's about showcasing your home's best assets," she says.
Realtor Scott Furman of RE/MAX Classic in St. Davids started recommending staging to his clients almost two years ago. "It fell in line with my thinking that a house has to be prepared for showings before it hits the market," says Furman. "There's an adage in real estate that people buy what they see, not what will be. I firmly believe that."
And Furman has seen the proof. "The results have been unbelievable," he says. "I've seen a reduced time on the market and an increase in the price for the seller."
Furman recently had two single-family homes in Chesterbrook on the market. The smaller, staged home sold for a higher price than the larger one that wasn't.
Some other things you should consider: On average, staged homes sell for 7-10 percent over list price; they show better than non-staged homes in the same price range; and the investment you make in staging your home is likely to be less than the price reduction you may have to absorb later.
"Staging has been around for many years," says Hart. "But people-realtors and sellers included-are finally seeing what benefits it provides."
 
Mortgage Outlook
Without a doubt, the numbers are dismal. According to real estate website realtytrac.com, the number of homes that entered some stage of foreclosure was up almost 100 percent in the third quarter of 2007 compared to the same time in 2006. That's more than 446,000 homes, or one out of 196 nationwide. Nevada is tops among the 10 worst states, with nearly one in 61 homes in foreclosure.
Thankfully, Pennsylvania isn't on that list. "People hear these national news reports and they panic," says Matt Ryan, a mortgage consultant with the Trident Group in Devon. "We don't have a foreclosure crisis—not anything like what some of these states are going through. The National Association of Realtors reported a 3-percent increase in home prices in the Philadelphia marketplace last year. We're in a healthy market."
Even so, Ryan's business is experiencing a slowdown. "It's not that we're writing fewer mortgages," he says. "It's that people are taking their time in getting financed."
Two years ago, says Ryan, clients were buying homes within 60 days. Now that period has stretched to three to six months. "And people looking to refinance who don't have good credit are going to face higher interest rates," says Ryan, adding that a good credit score these days is 720 or above.
Mortgage companies are also restricting piggyback loans—two mortgages that enable homebuyers to avoid paying PMI (Private Mortgage Insurance) when they don't have enough for a 20-percent downpayment. Many Main Liners may be considering "jumbo loan" mortgages—anything over $417,000. People used to be able to put down 5 percent on a jumbo loan. No more. "The minimum now is 10 percent," Ryan says.
These days, the goal of the mortgage industry is to get back to common-sense underwriting—and with the low interest rates, it's the best possible time to buy a home. "The state of the mortgage industry now is the same as it's always been," Ryan says. "If you have good credit, have money for a downpayment and can handle the monthly mortgage, you can be a homeowner."
 
10 Staging Tips
1. Use a professional cleaning service. They'll do the jobs you don't want to do-like windows and wiping down cabinets.
2. Replace the carpet if it's five to 10 years old, if it's not a neutral color, or if it's stained.
3. Consider replacing outdated fluorescent lights with flush-mounted lights and hollow-core doors with six-panel doors.
4. Remove wallpaper. It's a personal statement that will limit your pool of buyers.
5. Paint rooms a neutral color. If you have murals in your home, paint over them.
6. Show off hardwood floors. They're a great selling point.
7. Remove anything with eyes. Photos, doll collections, trophies, live animals.
8. Add new, neutral bedding to the master bedroom. Crisp, fresh bedding creates a statement that's inviting and clean to buyers.
9. Make the kitchen completely spotless and visually clean. Consider installing neutral granite if it's outdated.
10. De-clutter. Clutter takes away from a room's spaciousness. 
 
Home Sales by the Numbers
Chester County
Houses sold: 6,616 (2006), 5,875 (2007)
Houses listed: 12,640 (2006), 11,531 (2007)
Days on market: 56 (2006), 68 (2007)
Average sale price: $376,154 (2006), $379,641 (2007)
Delaware County
Houses sold: 7,259 (2006), 6,772 (2007)
Houses listed: 11,788 (2006), 11,725 (2007)
Days on market: 48 (2006), 58 (2007)
Average sale price: $251,535 (2006), $267,459 (2007)
Montgomery County
Houses sold: 10,861 (2006), 9,864 (2007)
Houses listed: 19,646 (2006), 18,376 (2007)
Days on market: 53 (2006), 63 (2007)
Average sale price: $339,788 (2006), $339,709 (2007)
Source: trendmls.com
 
What Your Money Will Buy …
… for $2,950,000
In Malvern: Stunning hilltop estate with a private French garden, ponds and fountains. Artist-crafted moldings and millwork, a gourmet kitchen, formal library, state-of-the-art home theater, and more. Two additional lots also available. Contact George Raleigh, Long & Foster Real Estate, Wayne; (610) 304-7207, georgeraleigh.com.
… for $3,450,000
In Gladwyne: Award-winning Fenimore model home—a collaboration between Main Line builders Todd Pohlig and B.J. Drueding. Window treatments and light fixtures included. Contact Jean Bell and Ady McGowan, Prudential Fox & Roach Realtors, Wayne; (610) 642-2000, prufoxroach.com.
… for $5,250,000
In Bryn Mawr: New mansion designed by legendary Main Line architect Fred Bissinger, featuring more than 10,000 square feet of living space on 1.8 acres. Interior includes a two-story limestone fireplace in the family room, a library, cigar room, and a finished lower level with media and exercise rooms, full steam bath, wine cellar and billiard area. Contact Jeff Bater, Prudential Fox & Roach, Devon; (610) 651-2700, prufoxroach.com.
… for $374,900
In West Chester: Recently renovated home includes updated kitchen with new appliances and breakfast area. French doors in the dining room lead to a fenced garden. Contact Bernadette Krystow, Long & Foster Real Estate, West Chester; (610) 431-8500, homes.longandfoster.com.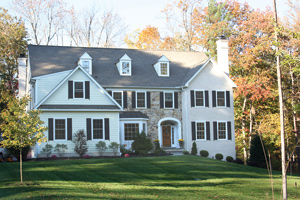 … for $1,489,000
In Berwyn: Custom home with hardwood flooring and top-of-the-line fixtures and appliances. Lower level recently renovated with a gym, home theater, bar and billiard area. Contact Laura Caterson, Prudential Fox & Roach, Devon; (610) 651-2700, prufoxroach.com.
… for $350,000-$1 million
In Newtown Square: Main Line builder David Della Porta's Terrazza luxury condominiums, available in one, two- and three-bedroom units. Non-age-restricted. Contact (610) 325-1700, terrazzaatnewtown.com.
More of What's Out There
First-time Buyer (up to $400,000)
Address: 43 Flintlock Lane, Chesterbrook
Price: $254,900
Square Feet: 1,400
Age: 23 years
County: Chester
Schools: Tredyffrin/Easttown
Taxes/Fees: $2,623; $130/month association dues
Details: End-unit townhouse with central air, three bedrooms, two-and-a-half baths, fireplace, and hardwood floors in living room, dining room and entrance hall.
Contact: Laura Caterson and Dana Zdancewicz, Prudential Fox & Roach, Wayne; (610) 651-2700, prufoxroach.com
Address: 1505 Westwood Lane, Wynnewood
Price: $359,000
Square Feet: 1,392
Age: 57 years
County: Montgomery
Schools: Lower Merion
Taxes/Fees: $3,543
Details: Single-family home with three bedrooms and two-and-a-half baths. Additional spaces include finished basement, covered side porch and floored attic.
Contact: Marguerita Downes, Prudential Fox & Roach, Gladwyne; (610) 658-7326, prufoxroach.com
Moving on Up ($400,000-$800,000)
Address:
530 Manchester Ave.
, Media
Price: $599,900
Square Feet: 3,349
Age: New construction
County: Delaware
Schools: Rose Tree Media
Taxes/Fees: $9,600
Details: Single-family home with upgrades available, including gourmet kitchen with granite countertops, third-floor finished loft with two bedrooms, and a large deck.
Contact: Shirley Booth, Prudential Fox & Roach, Media; (610) 627-4928, prufoxroach.com
Address: Cold Springs Run, West Chester
Price: $779,000
Square Feet: 4,400
Age: New construction
County: Chester
Schools: West Chester
Taxes/Fees: Mid-$8,000s
Details: Hardwood floors, a family room with two-story fireplace, and a three-car garage are some of the many features.
Contact: Mikael Nordstrom, The Davidson Group, Skippack; (610) 696-4003, davidsongrouprealestate.com
Dream Home ($800,000-$2 million)
Address:
1345 Colton Road
, Gladwyne
Price: $895,000
Square Feet: 4,291
Age: 52 years
County: Montgomery
Schools: Lower Merion Taxes/Fees: $12,429
Details: Move-in-condition six-bedroom home in multimillion-dollar neighborhood. Two-car garage and in-ground pool are among many amenities.
Contact: Pam Mawhinney Owsik, Duffy Real Estate, Narberth; (610) 667-6655, duffyrealestate.com
Address:
953 Parkes Run Lane
, Villanova
Price: $1,850,000
Square Feet: 8,000
Age: 33 years
County: Delaware
Schools: Radnor
Taxes/Fees: $18,060