As with so many ideas—particularly in the arts—the impetus for West Chester's Uptown! Entertainment Alliance came over a few drinks among friends. For Linda Foster, Tom McEvoy and Richard May, what had been an abstract fantasy morphed into a solid plan after a few killer vodka-and-grapefruit cocktails.
"I started talking about what would be great to have in West Chester," recalls Foster, who chairs the alliance. "Like many folks, I've always wanted a theater in town. And Richard said, 'You know what would be a perfect place for this?' And we all said, 'The armory.'"
Unlike Bryn Mawr, Phoenixville and Wayne, West Chester chose to demolish its historic movie theater. The Warner opened in 1930 and served as a movie house through the 1970s, when it was converted into a live venue. Not long after acquiring certification with the National Register of Historic Places in 1979, it closed. In 1986, the West Chester Borough Council made a fateful decision, and the Warner was basically leveled.
Four years later, downtown West Chester's resurrection in the late 1990s brought renewed vibrancy. Soon, the Chester County Historical Society was doing its best to make up for the Warner's loss, even hosting screenings for the budding West Chester Film Festival.
Meanwhile, the hometown Gilbert and Sullivan Society performed in space leased from West Chester University. Bars continued to host bands, and the Note arrived, providing a small but well-equipped concert space comparable to others on the Main Line and beyond.
But the void remained—that nagging absence of a larger venue dedicated solely to film and live performances. A number of residents honed in on the Pennsylvania National Guard Armory building that sits just a block from the Hotel Warner. The structure dates to 1916 and is listed on the National Register of Historic Places. It housed the National Guard's 1st Battalion, 111th Infantry and 56th Stryker Brigade Combat Team, which traces its lineage directly to Benjamin Franklin, who formed the unit in 1747 to protect the Colonies in the French and Indian War.
The old brick building itself appears to be a perfect candidate for repurposing. Once inside, you find a large main floor with a few offices, meeting spaces and a gymnasium, along with an acoustically impressive vaulted ceiling. Downstairs, there's plenty of space for classrooms and rehearsal areas.
But the National Guard wasn't going anywhere—or so everyone thought.
Continued on page 2 …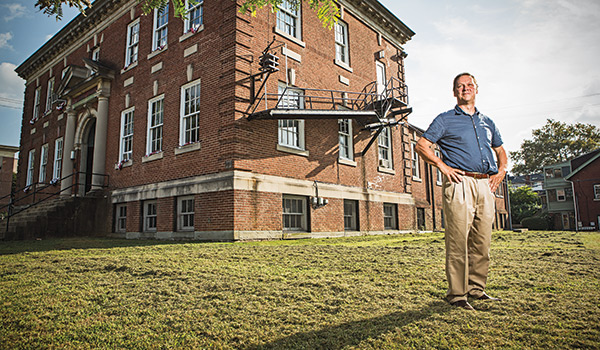 Initially, the Uptown! Entertainment Alliance focused on getting its own house in order. It took a year to establish the organization as a nonprofit, which would allow it to begin fundraising efforts and form a board of directors. It then went about creating a website to build awareness among potential volunteers and donors.
The alliance also began hosting pop-up dance, music and theater performances at various events and venues around West Chester. "Before anyone's going to give us a nickel for a building—before we even make the commitment ourselves—we need to prove that we can put on a show and attract a crowd," says McEvoy, the group's vice chair.
Last year, the alliance wisely enlisted the help of state Sen. Andy Dinniman, hoping for any advantage it could find. "We looked at many different venues throughout town," says Foster. "There was a warehouse on Market Street; there was the old courthouse, the old YWCA, and an old garage between Chestnut and Gay streets. We also looked at the Moose Lodge."
Through it all, the armory remained on the group's "most wanted" list—even if it seemed unattainable. Then Pennsylvania decided to centralize its National Guard armories in new, modern facilities. That set the stage for Bravo Company to leave West Chester.
This past February, Uptown! leadership received a call from Dinniman. "He says, 'OK, the window of opportunity is now open. I need the following information, and I need it now," recalls McEvoy.
Pennsylvania planned to put the site up for bids to anyone—including private developers—at a price of $950,000. Dinniman wanted to make sure that Uptown! had a first crack at the building. "My concern was that it could go to some developer," says Dinniman.
So Dinniman introduced a bill that authorized the Department of Military and Veterans Affairs to convey the armory property to Uptown! for a discounted price of $760,000, with the understanding that the building and its facade would adhere to historic standards.
Fortunately, the alliance was ready with the cash. West Chester Library, Labor & Capital LLC—a private equity firm that funds worthy business development in the borough—agreed to extend a low-interest $500,000 loan for the purchase. The announcement was made just in time for the alliance's April 13 Red Carpet Gala, serving as the perfect kick-off for efforts to help fund the purchase. Everything should be finalized by this month.
"We're more than just a building," says Foster. "We want to bring all the neighborhoods in West Chester together and provide a venue for the county's performing arts organizations. We're a presentation house, not just a production house."
But such multifaceted appeal won't come without some changes. Uptown! is planning extensive renovations to maximize revenue, with rental space on the ground floor for classes, rehearsals and offices. And an existing mess hall presents food-service opportunities. "When the architects walked through the first time, they said, 'We can do a lot in here,'" says McEvoy.
Potential donors appreciate the selfsustaining business model the alliance is pursuing. The goal is to use comfortable, easily stored seating for an optimal performance or film experience, while also accommodating weddings and proms.
Even so, says Foster, "film will be our main programming, because it's the easiest and the cheapest. We'll be like the Colonial [in Phoenixville]; we'll run second-run and indie films." McEvoy concurs. "We want to give the film festival a better home," he says. "And it would be great if we could be known as the Ritz West."
Visit uptownwc.org.