Autograph's 14-ounce 1855 Prime New York strip steak//Photos by Steve Legato.
John Lennon greets me with a beatific smile. Nearby, Jim Morrison broods. This isn't some alternate musical universe. Rather, it's Marty Grims' American brasserie stunner, Autograph, which opened this past May in Wayne's Eagle Village Shops.
A myriad of iconic celebrities' unmistakable faces adorn the walls at Grims' most stylishly adventuresome endeavor to date. That's saying a lot, considering his other creations include the formidable Penn's Landing tall-ship-cum-restaurant Moshulu, a Long Beach Island boutique hotel and two restaurant ventures, and three successful White Dog Cafe locations in our area.
Autograph is possibly the most visually impressive restaurant to open on the Main Line in the past five years, each room offering a signature setting. The Lounge, the already-popular main bar, is a musical homage, showcasing 550 album covers and an array of suspended string and brass instruments. Just off the glamorous chandeliered lobby, the Boulevard houses eight snuggeries—each one with an A-lister's photo and a perfect enclave for people-watching.
From left: Autograph's lemon meringue tart kisses, with lemon balm and poached strawberries; a wall of celebrities greets guests
With its centrally located wispy-leafed tree and alluring black-and-white images of Sophia Loren, Grace Kelly and Marilyn Monroe, the Sycamore Room is a dreamy, skylit representation of femininity. By contrast, the main dining area, dubbed the Club Room, oozes leather-bound
masculinity with its 16-point elk's head and photograph of Tony Soprano—aka James Gandolfini.
In the kitchen, Moshulu veteran Ralph Fernandez ambitiously melds the flavors of France, Spain, Italy and the American Midwest. Romesco kissed charred octopus and onion-packed Kobe-beef hot dogs find a place on the menu alongside truffle wild-mushroom toasts and honey-dripped artisanal cheeses, both of which pair nicely with one of the bar's Sugar Kane Cosmos.
From Left: Compressed watermelon salad with heirloom tomato, marinated Bulgarian feta, pickled red onion and petite basil; Organic beets with whipped ricotta, shaved fennel, roasted pistachios and pickled red onion
My wife enjoyed an artfully deconstructed wedge salad prior to the arrival of my succulent duck breast with wild mushrooms and her well-cooked but underseasoned 14-ounce dry-aged Angus ribeye. Pastry chef Colleen Winston's hazelnut budino concluded our meal with a flourish.
With a menu that makes the most of its high-quality ingredients and an upscale but laid-back bar scene, Autograph succeeds in celebrating popular culture and the celebrities forever etched in our lives. And while the full dining experience skews toward pricey, an "experience" is what you'll get at Autograph.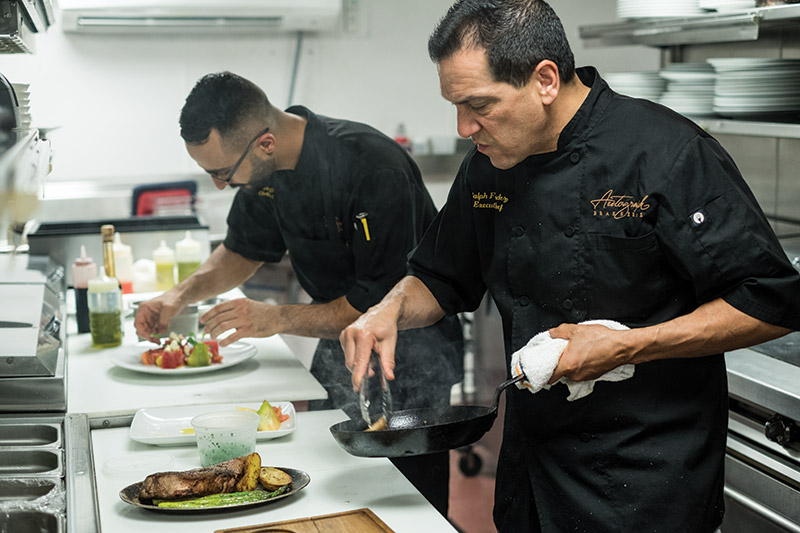 Executive chef Ralph Fernandez works his magic with chef de cuisine Dan Gervasi in the background
DETAILS
503 W. Lancaster Ave., Wayne, (610) 964-2588.
Cuisine: Classic European and American.
Cost: Appetizers $8-$16, entrées $19-$52.
Attire: Smart casual.
Atmosphere: Original signed and numbered photos create a pop culture canvas.
Hours: 11:30 a.m.-10 p.m. Monday-Thursday; until 10:30 p.m. Friday and Saturday; 9:30 a.m.-9 p.m. Sunday.
Extras: Sunday brunch, outdoor patio, private banquet rooms.