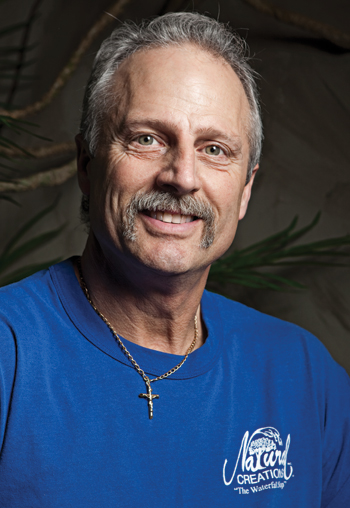 Charles R. Kern makes it easy to bring the outdoors in with his imaginative, hand-sculpted indoor fountains, trademark cave candles, sculptures and memorials. The owner and founder of Natural Creations in Phoenixville incorporates water and often fire into ancient stone for room accents that encourage a peaceful, restful state of mind. In fact, for many clients, they're nothing less than a passport to serenity—or at least that's Kern's intent. "Soothing sounds of tabletop fountains built with personalized touches stimulate the deepest state of relaxation," he says.
Kern's originality and insight were nurtured during a successful landscaping and stonemason career that began in the '70s and spanned three decades. He formed Natural Creations in 1991.
On April 2, when Kern opens his new Bridge Street gallery a block away from his old studio, he'll have 80-some fountains and 60 cave candles on display. The essence of nature in controlled, often-customized displays, his miniature non-splash indoor fountains are designed with water's natural path in mind. They provide clear, optimal sound quality and require no maintenance. "Any theme is possible," says Kern.
To date, Kern has created more than 17,000 indoor fountains. His client list includes Gov. Ed Rendell, Tom Ridge, and U.S. Olympic equestrian and world-class horse trainer Michael Matz.
239 Bridge St., Phoenixville; (610) 933-6919, naturalcreations.com.