It all started, of course, with the steam engine. The end of the Civil War and a span of Pennsylvania Railroad stretching west from Philadelphia set the stage for a large-scale settlement of the suburbs. The railroad executives came first, settling here to seed further growth. Then came the wealthy city folk and their summer retreats. Soon, great mansions were built as permanent residences for commuters. Before long, the Main Line was bustling
Now a centerpiece of the Baldwin School, this Frank Furness creation was once a hotel.
It's a place where you're still able to observe and understand over 200 years of habitation—there are enough remnants of the colonial origins and the agriculture," says Chester County-based architectural historian Jim Garrison. "You can see the early railroad suburbs and the money from the Industrial Revolution—and now you see the money from the hedge funds."
According to Garrison and other experts, the 1870s touched off a golden age of design on the Main Line. It was a time when certain architects rose to prominence by translating their well-moneyed clients' grand visions into monuments of stone, brick, wood and glass. Back then, the Philadelphia suburbs were a canvas for some of the greatest designers in the country. They conceived homes in a variety of styles, from Tudor to French Mediterranean to Colonial Revival.
All of this came to be largely thanks to an interwoven group that included Frank Furness, Addison Hutton, Theophilus P. Chandler Jr., Wilson Eyre, Will Price, Horace Trumbauer, the Hewitt brothers, Walter Durham and Mellor & Meigs. Trumbauer apprenticed with the Hewitts; Price worked with both Hutton and Furness.
A decorated Civil War veteran whose father was a prominent abolitionist, Furness was perhaps the earliest "name" architect to build on the Main Line. "When we think of Victorian architecture, we think of certain traits and materials and patterns and shapes," says Greg Prichard, Lower Merion Township's historic preservation planner. "Furness took those and made them as crazy as his mind would come up with."
Furness's unorthodox style is perhaps best embodied in the Pennsylvania Academy of the Fine Arts building in Center City and the 19th-century Bryn Mawr Hotel, which is now part of the Baldwin School. Furness is dubbed "the most prominent of the Philadelphia-area architects" in the influential book The Main Line Country Houses: 1870-1930. And while Furness may have dabbled in extremes, Main Line residential architecture has a largely conservative tradition. Reaching back to earlier European styles, it sometimes evoked Scottish castles and English country houses.
At the time of his death in 1912, Furness was considerably out of fashion. By the time his reputation was posthumously revived after World War I, many of his buildings had been demolished. A fortunate exception is Dolobran in Haverford, a shingle-style remake of a farmhouse built for shipping magnate Clement A. Griscom in 1881. As low-key as Dolobran might appear at first glance, "the varied roof line and the massing of geometric shapes is out of sync with most of the styles of the time," says Berwyn resident Jeff Groff, estate historian at Winterthur Museum in Delaware.
The work of Horace Thumbauer, Ardrossan is the most iconic surviving Main Line estate. Photo courtesy of Radnor Historical Society.
Throughout the area, there are numerous structures mistakenly attributed to Furness, including the historically significant Harford, which was most likely the work of his partner, Allen Evans. Now known as the Creutzburg Center and the headquarters of Main Line School Night, Harford was commissioned in 1879 by Judge John Innes Clark Hare. It sits on a Radnor hilltop amid what was then rolling farmland. Hare's goal was to provide a healthy environment for his descendants after his son died of tuberculosis.
Related Article: New Book on Ardrossan Estate Offers an Unprecedented Look at the Iconic Home
After the turn of the 20th century, the home as a retreat became a common theme as Philadelphia became somewhat more livable. Eventually, the need for summer mansions receded, and more would be built as permanent residences for those commuting to the city.
Addison Hutton's Beechwood House is now a conference center at the Shipley School. Photo by Tessa Marie Images.
Frank Furness contemporary Addison Hutton joined Chandler and the Hewitt brothers as prominent members of the earliest generation of the post-Civil War architects in the area. "You can really tell the difference between Furness's exuberance and Hutton's more restrained approach," notes Prichard.
Beechwood House is one of the best local examples of Hutton's residential work. The Bryn Mawr mansion has gone through several incarnations and today serves as a conference center for the Shipley School. Built in 1876, it was originally a summer cottage for Estevan (Stephen) Fuguet,
a wealthy tobacco merchant and scion of a French Huguenot family from New Orleans. Later, it was converted to a year-round home, and a third owner covered the original brickwork with stucco.
William Lightfoot Price designed this Wayne mansion for a local clothing magnate. Photo by Tessa Marie Images.
Shipley acquired Beechwood through a bequest in 1956. Thanks to a nearly $3 million campaign, major renovations starting in 2001 included removal of the stucco. Now, it fairly closely resembles Hutton's original. "[It's] among the most striking representatives of a particularly high-spirited and individualistic style [of residential design]," says Jeffrey Cohen, a professor of architectural history at Bryn Mawr College.
A Quaker, Hutton was quite active in the Society of Friends, landing many of his commissions through those connections. Social status was a lucrative business tool for 19th-century architects on the Main Line. Such was perhaps the case when Furness and Evans designed parts of the Merion Cricket Club, founded in 1865.
Wilson Eyre's Allgates embodies his unique "country house" aesthetic. Photo by Tessa Marie Images.
Hutton was also the primary architect for new arrivals to Bryn Mawr—especially in 1868-69. "Almost overnight, Lower Merion developed from a scattered collection of rural villages and farms to a popular suburban community," wrote Carl E. Doebley in Lower Merion: A Portrait.
The Hewitt brothers' more conventional buildings included the Bourse in Philadelphia. More unusual is Maybrook, a Scottish baronial castle located in Wynnewood just off Penn Road. Designed by the Hewitts in the medieval Norman style and built in 1881 for distiller Henry C. Gibson, it's described as "a somewhat awkward jumble of towers, gables and porches" in Main Line Country Houses.
Related Article: The Legacy of Architect William Price Lives on in Rose Valley
The imposing structure was later known as the Merriam Estate, after real estate developer John Merriam, who owned it for almost 40 years prior to his death in 1994. Today, it serves as a community center for the adjacent Maybrook apartment complex—one of many local 19th-century mansions saved by a conversion to non-residential use.
Mellor and Miegs' Locust Hill in Villanova. Photo by Tessa Marie Images.
In the Philadelphia area, William Lightfoot Price is best known as the designer behind Rose Valley, a utopian community near Media. His presence extended to the proper Main Line in the form of Bryn Mawr's Glenmede, Spring Mill's Woodmont, and the Alan Reed mansion in Wayne. The latter was built in the 1890s for the head of Philadelphia's Jacob Reed clothing store (which Price designed, as well). "His work had a picturesque aspect," says Garrison, who's studied Price's work extensively and regularly lectures on him. "It was based on observation, not on academic learning. He had a very fertile imagination."
While some architects used social connections to get commissions, Price "did not have that," Garrison says. "He had to come at it from the other side"—specifically, as a builder in partnership with his brother, Frank.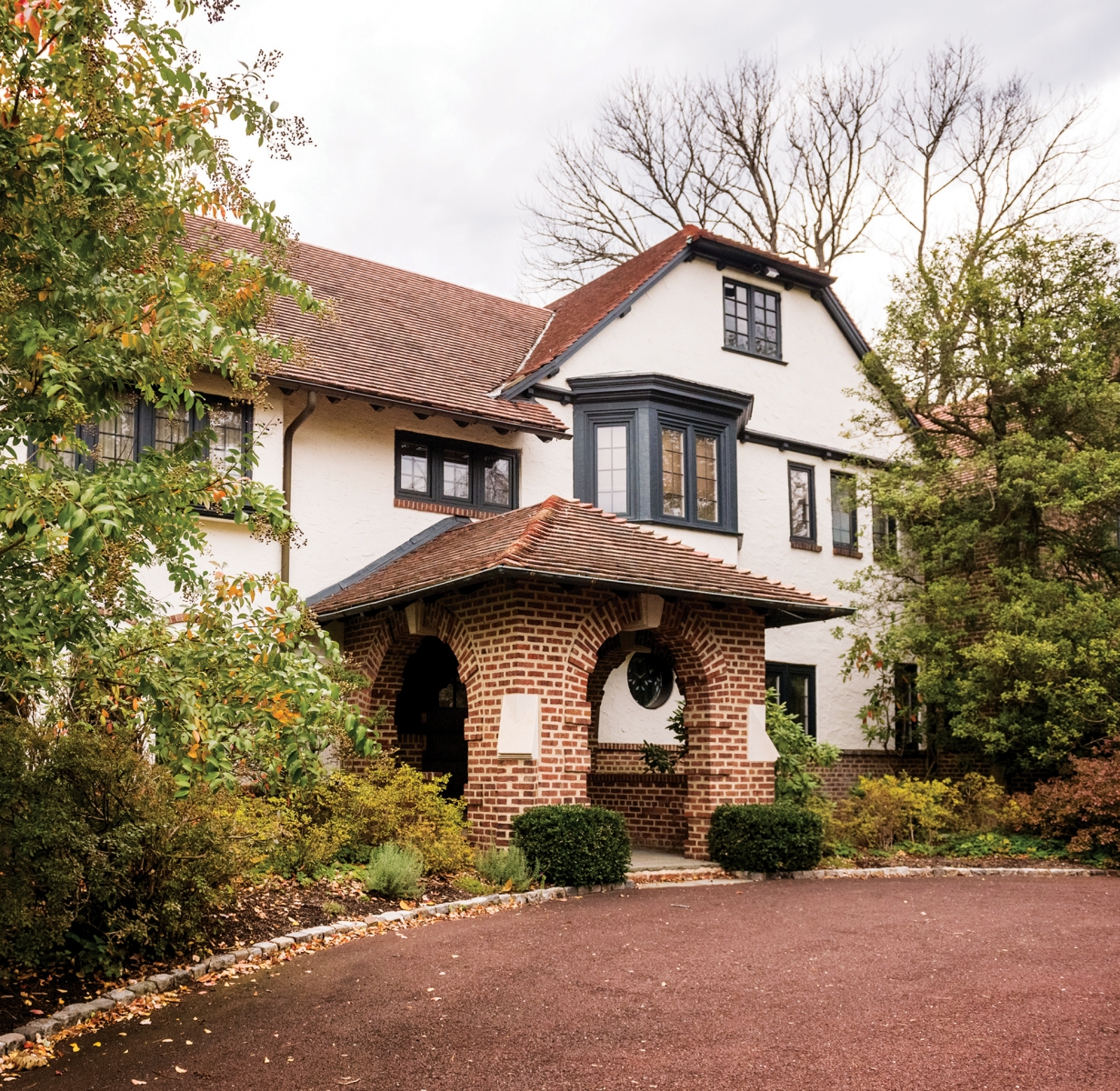 Wilson Eyre's Low Walls. Photo by Tessa Marie Images.
A prominent contemporary of Price, Theophilus P. Chandler Jr. came from different roots. A Boston native educated at Harvard University, he apprenticed in Paris, married into the du Pont family and founded the architecture department at the University of Pennsylvania. Generally more restrained than Price or Furness, Chandler was known mostly for designing public buildings and churches, including St. Asaph's Church in Bala Cynwyd.
An excellent example of Chandler's residential style can be found on Sproul Road in Radnor: The 1882 gatehouse of what was once Fox Hill Farm. A similar example is a house just south of that at the foot of Chandler Lane, which is named for him.
Related Article: 10 Architectural Wonders on the Main Line
In 1894, Wilson Eyre took what architectural historian Jane Dorchester calls "the grand tour" of Europe. The three-week journey was emulated by other architects and led to greater interest in the more restrained British architecture of the Edwardian period. An innovator in the Shingle Style, Eyre was known for his informal country houses. Two of his best-known buildings, Allgates (constructed in 1910) off Coopertown Road in Haverford and Low Walls (built in 1903) along Montgomery Avenue in Rosemont, reflect a debt to the rustic Arts and Crafts movement.
A renowned designer of gardens as well as buildings, Eyre was a founder of House & Garden magazine. Allgates was once known for its gardens, which have since been razed.
Wealthy residents who built mansions and estates in the 19th century expected their families to live there for generations. But that wasn't always the case, as subsequent offspring often "didn't want to sit through six-course dinners with very formal service," Groff says.
Architecture began to reflect those changes. "[There was a] move toward Colonial Revival houses and a reaction against ornate, heavy stone Gothic villas and Elizabethan houses filled with dark interiors," says Groff.
Eyre is also known for his influence on a younger generation of architects, including Edmund B. Gilchrist, one of his apprentices. Gilchrist's Anglo-French Cedar Crest mansion in Gladwyne perfectly embodies his work on the Main Line. Originally know as "Dolobran II" and renamed Linden Hill in 1999 by its present owner, the mansion was built in the early 1930s for Rodman E. Griscom Jr. He was the grandson of Clement A. Griscom, who'd commissioned Furness' Dolobran a half century earlier.
The storybook Linden Hill estate is currently on the market for $22 million.
Photo courtesy of Sotheby's International Realty.
Subsequent owners included John T. Dorrance Jr., chairman of the Campbell Soup Company. The estate is currently on the market for $22 million.
The best-known Main Line estate designed by a local architect is Horace Trumbauer's Ardrossan in Villanova. No longer accessible to the public and surrounded by new development, the 50-room Georgian Revival mansion was built between 1911 and 1913. So the story goes, Katharine Hepburn's Tracy Lord in 1940's The Philadelphia Story was inspired by Helen Hope Montgomery Scott, daughter of Ardrossan's original owners, Col. Robert Leaming and Charlotte Hope Binney Tyler Montgomery.
Other examples of Trumbauer's work can be found elsewhere. Built a decade earlier, the Tudor-style Woodcrest is the centerpiece of Cabrini University's Radnor campus. The original estate was flanked by stables that could accommodate 60 horses. Today, it's typically surrounded by students. "He was very classically oriented," says Cohen of Trumbauer. "[He and his contemporaries were] working with historical forms, but in subtly inventive ways, freely but almost imperceptibly manipulating them."
Like numerous architects of the period, Trumbauer worked across stylistic lines. "[He] skillfully reinterpreted the French styles, the Georgian Revival style, the Tudor Revival style and the Colonial Revival style," wrote Rachel Hildebrandt In The Philadelphia Area Architecture of Horace Trumbauer.
Dolobran as it looks today. Photo by Tessa Marie Images.
After apprenticing with Theophilus Chandler, Walter Mellor and Arthur I. Meigs formed a partnership in 1906. For the next few decades, they worked largely in the French Norman and English Cotswold styles. A decade later, George Howe joined them, and they renamed their firm Mellor, Meigs & Howe.
Locust Hill is a fine example of their work. Located on Newtown Road in Villanova, this restrained French eclectic-style home was built in 1916 or 1917 for John F. Meigs, a relative of one of the architects. Meanwhile, a "miniature medieval fortress" they designed on Lancaster Avenue in Wynnewood nearly became a neighborhood scandal and has since been razed. "When they did smaller commissions, they were sometimes on the crazy end of things," Prichard says.
Related Article: Ardrossan Connects Generations and Memories
Also coming into his own shortly after that time was Walter Durham—"a traditional architect with a mid-century twist," as Prichard puts it. The prolific designer built or altered some 235 homes in Lower Merion Township alone from the 1920s to the 1960s, when many of the Main Line's large estates were being subdivided.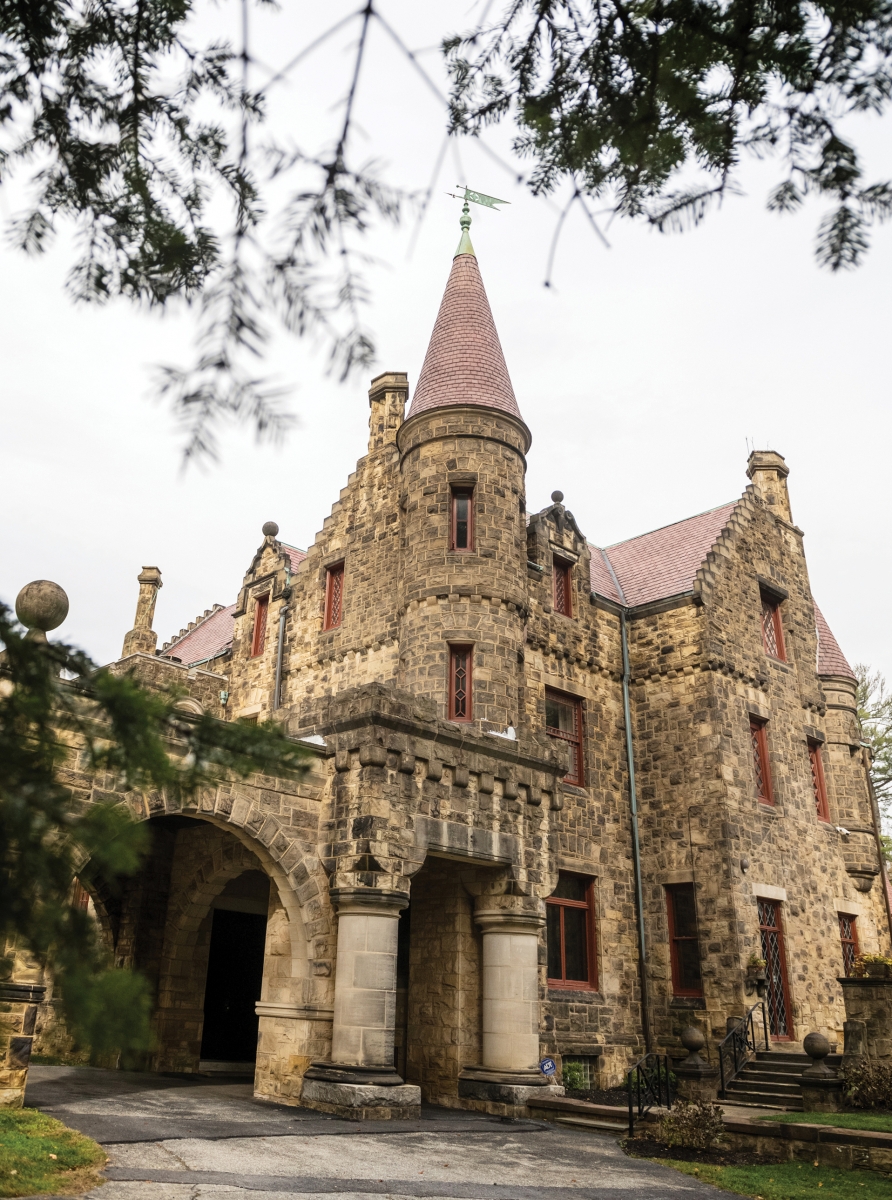 The castle-like Maybrook was designed by the Hewitt brothers in 1881. Photo by Tessa Marie Images.
Early in his career, Durham's goal for the Main Line was to create a Colonial Revival style that had its roots in Welsh architecture. "But as times changed, he would change," says Jean K. Wolf, a preservation consultant and the area's leading expert on Durham. "He was never a cookie-cutter architect."
Durham's houses were also noteworthy for their use of landscape, garden designs and positioning on lots to take advantage of available light.
He would often use architectural materials rescued from demolished
18th-century homes in Center City, including Belgian blocks, fireplace surround mantels and doors. One of his early residences, from 1925, can be found at 351 Laurel Lane in Haverford.
As he progressed in his career and age, Durham took greater risks—but not always for the better. "His eclecticism and attempts at modernity in his late buildings made them more routine and less special in the context of Lower Merion," Wolf wrote in her 1993 master's thesis for the University of Pennsylvania.
Architect George Howe had what Cohen describes as "a Buddha-like conversion to modernism" in the late 1920s. The world-famous result was Philadelphia's PSFS Building, the first international-style skyscraper in the United States, built in 1929-1932 and designed with William Lescaze.
About two years later, Howe and Lescaze took that philosophy to Gladwyne for the design of a studio for graphic artist Roy Spreter on Conshohocken State Road. With its white stucco volumes, the studio "is one of the most striking examples of early modernism out here," says Cohen. "It's totally a-historical."
Later converted to a residence by another owner, the studio deteriorated significantly and was even offered as a teardown. But a buyer eventually came along who hired local architect Martin J. Rosenblum to renovate the studio and build an adjacent residence, winning an American Institute of Architects award in 2008. A testament to time—and wherewithal—the studio now serves as a guesthouse, ensuring a lasting legacy for its original designers.