Who's been doing great things on the job longer: George Forster, head pro at Villanova, Pa.'s Radnor Valley Country Club, or the voice of the Super Bowl champion Philadelphia Eagles Merrill Reese? The smart money is on Merrill, with 41 years at the microphone. George is just a pitching wedge behind at 35 years at RVCC. The longtime friends and neighbors will once again partner for the seventh annual Merrill Reese Open, a special event held over the summer for Radnor Valley members and their guests. It's a great day of golf, dinner and questions for the Hall of Fame announcer. "Merrill is not only a legend here and nationally, he is one of the nicest human beings I have ever met," says Forster. "It's always a popular event, but we expect record turnout in light of the Super Bowl win."
The Women's League at The Rookery Golf Club in Milton, Del., is one of the largest in the region, and it continues to gain new members through its unique format and benefits. Players can sign up weekly for the nine-hole blind draw; league members get discounted greens fees during the offseason; and head pro Butch Holtzclaw offers ladies' clinics for prospective new members. "Some weeks, we have as many as 100 players," Holtzclaw says. "It's a fun, low-stress league open to all skill levels, including beginners."
For more info, contact the course at (302) 684-3000 or www.rookerygolf.com.
Applebrook Golf Club in Malvern, Pa., is prepping for the summer debut of its new Performance Center, an 1800-square-foot indoor/outdoor practice facility that will feature three bays complete with simulators, launch monitors, video equipment and club-fitting abilities. "We learned a lot from Merion about how their facility functions, and we wanted to make it the best experience possible for our members," says head pro Dave McNabb. "We expect this to be a great asset that can be used year-round."
Deerfield Golf Club's new outdoor patio has a fire pit and flat-screen television.
Deerfield Golf Club in Newark, Del., has a new outdoor patio with a fire pit and a 65-inch TV. But the 19th hole isn't the only course improvement there. Five holes have had extensive tree work to improve site lines and playability. And the Deerfield Golf Academy is happy to announce the return of Class A PGA Professional Ben Austin. Austin, along with head pro Mike Tobiason, will teach the numerous golf classes and clinics offered to juniors, along with a family clinic.
Philadelphia Cricket Club in Flourtown, Pa., is no stranger to hosting big-time golf events. They're already preparing for the 2020 USGA Four-Ball Championship, the first USGA championship hosted by the club since the 1910 U.S. Open. "The restoration work that was recently completed is outstanding, and our Four-Ball teams will see their skills tested at the highest level, notes Daniel B. Burton, USGA vice president and Championship Committee chairman. "We're very happy to return to this classic American golf club."
Wilmington, Del.'s Rock Manor unveils its new Advantage card, which enables golfers to save on greens fees there and two other Billy Casper Golf-managed courses in the area—Delcastle and Ed Oliver. An annual $35 fee is good for $5 savings on 18-hole rounds and $3 on nine holes. Rock Manor also has ongoing adult instructional clinics for both new and experienced golfers taught by 37-year veteran Class A PGA Director of Instruction Mike Cole.
For more info, visit www.rockmanorgolf.com, or call Cole at (302) 547-8596.
Wallingford, Pa.'s Springhaven Club will be a busy place this season, hosting the GAP Team Championship Qualifier in May and the PA State Open Qualifier and the Philadelphia PGA Boys Championship, both in July. Andy Caldwell, the reigning club champion there, won an amazing eight events in 2017. His biggest competition this year will come from 15-year-old Ryan McCabe, a sophomore at Devon Prep who finished runner-up to Caldwell in last year's club championship. McCabe won individual districts in 2017 and placed well in the state tournament.
Paxon Hollow Golf Club's new restaurant has an enclosed deck and fire pit.
The course at Paxon Hollow Golf Club in Media, Pa., has always been a personal favorite, especially with the new bunkers installed a few years back. Now, it has a new full-service restaurant with indoor/outdoor seating, an enclosed deck and a fire pit. Anthony Foster (Anthony's Ristorante In Drexel Hill) has done a great job taking over the kitchen, and there's also a revamped banquet facility with a bridal suite. Next up is a full-scale driving range. Proposed plans call for no disruption of regular daily play.
The inaugural Valley Forge Invitational at Pottstown, Pa.'s Raven's Claw Golf Club is schedule for May 24-26. "Having an event of this caliber will have a hugely positive economic impact on Montgomery County and the region," says Mike Bowman, president and CEO of the Valley Forge Tourism & Convention Board.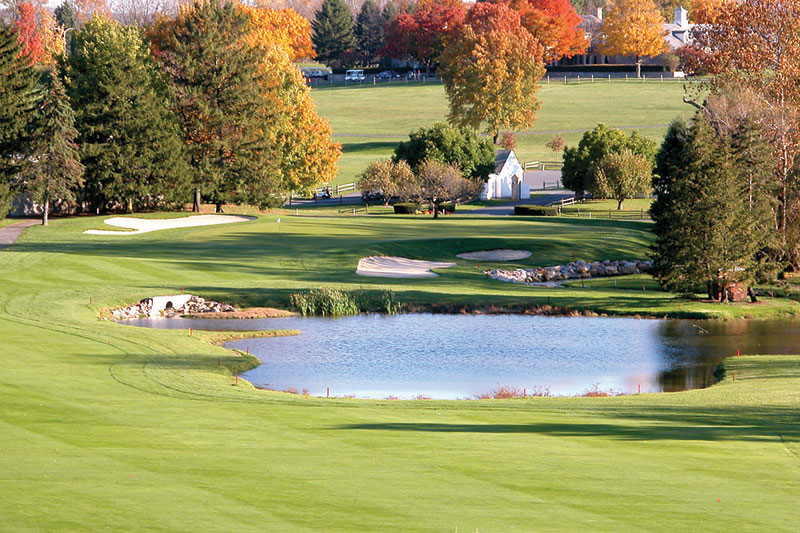 Moselem Springs Golf Club celebrates the 50th anniversary of the 1968 Women's U.S. Open this year.
Moselem Springs Golf Club in Fleetwood, Pa., will honor the legacy of two former women's champions this year. The club will celebrate the 50th anniversary of the 1968 Women's U.S. Open that was held there, including the return of winner Susie Maxwell Berning. A three-time winner of the U.S. Open and 11-time winner on the LPGA Tour, Berning will conduct a junior golf clinic in conjunction with First Tee of Lehigh and Berks County. A tournament is also planned. It will feature the same tee and pin locations from the 1968 Open.
Moselem will also host its annual Edith Quier Flippin Invitational, which features women's foursomes from area golf clubs. Edith Quier Flippin was a champion golfer, and her family founded Moselem Springs Golf Club.
For dates and more info, visit www.moselemgolf.com.
You'll see the work of a good superintendent the next time you play Baywood Greens in Long Neck, Del. Jamie Palokas and his team there have done extensive work on hole eight and the short par-3, including new Capillary Concrete work and sand and sod for all three bunkers. They've also enlarged and leveled all the teeing areas on the hole.
Green Valley Country Club in Lafayette Hill, Pa., will be wrapping up its six-year tree removal plan in 2018, and the course and play benefits are quite noticeable. They've also completed a massive ballroom expansion, and a swimming pool remodel is underway.
Heritage Shores Club was named one of Golf Advisor's top courses in Delaware.
Congratulations to Bridgeville, Del.'s Heritage Shores Club for being named one of Golf Advisor's "Top Five Golf Courses in Delaware." The club will also host this year's DGSA 53rd Annual Delaware Open. And it's a great time to check out the "Play Like a Member" campaign, where you can experience the perks of membership at Heritage Shores on a trial basis with no initiation fee, with the option of extending membership for the rest of the year. Junior camps are also available and open to the public.
For more info, visit www.heritageshores.com.
Good things are happening at Overbrook Golf Club in Villanova, Pa. Assistant golf pro Ashley Grier was the first female to win a professional points event in the Philadelphia PGA's nearly 100-year history. She also qualified for the 2018 Women's PGA Championship later this summer. Youth golf director Dave Zimmaro was awarded the 2017 Philadelphia PGA's Youth Golf Development Award. And what's better than a hole-in-one or breaking par? How about shooting your age in golf. Overbrook members Ray and Andy Thompson shot 65 and 68, respectively.
Radley Run Country Club in West Chester, Pa., welcomes Craig Kandravi as its new general manager. And Brett Melton, 2017 Philadelphia PGA Player of the Year, returns as first assistant golf pro.