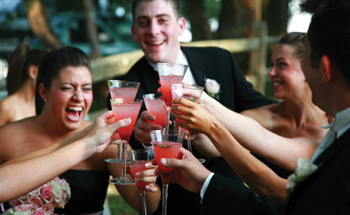 The down economy has left many of us wary of major life moves, including one of the biggest and most expensive: marriage. These days, it doesn't take long to go from, "Holy cow, we're getting hitched!" to "Holy cow, can we afford to?"
Probably the best news for couples planning a wedding: Competition among caterers is stiff. Negotiating skills are key, especially when it comes to equipment rentals.
"It's a buyers' market," says Jerry Diehl of Perfect Setting in Berwyn. "Everyone is expecting an incentive."
Ask Diehl and other experts, and they'll tell you that throwing the kind of wedding you've always dreamed about is not impossible—as long as your dream is flexible. Simply rethinking the time of year, day of the week or even the hour of day can trim costs. Instead of the high season—from May to October—pick a date in January or March. Or host a Sunday brunch rather than a soirée. Other money-saving moves include setting your own tables, serving fewer courses, supplying your own alcohol, offering an open bar only during cocktail hour, or limiting the drink selection to a signature cocktail.
Our experts offer seven other great tips:
1. Look for unique venues like barns and art galleries.
2. Choose standard, solid-colored linens over custom cloths and overlays. And keep floral accents simple and seasonal.
3. Start with the minimum. Only consider upgrades if your budget allows.
4. If it's a sit-down meal, choose a communal-style table setup to reduce rental costs. Or, if you're doing stations, opt for free-form seating, and only get enough chairs for two-thirds of your guests to create a more relaxed ambiance and encourage mingling.
5. Don't fool yourself: Buffets aren't always less expensive than sit-downs. They require more flatware and plates, more linens and a greater variety of food than a traditional three- or four-course meal. Serving a family-style meal, with courses on large platters, will also cut down on labor costs.
6. Get the wedding cake you want, but don't overload on additional sweets. Most guests skip the dessert course. Or try a smaller version of your dream cake for the cutting ritual and get a sheet cake for guests.
7. When making your guest list, focus on quality over quantity.
 
For our list of caterers, click here.