Photos by Tessa Marie Images
These accomplished women are all poised, passionate and persistent as they shape the region and make waves in their respective industries.
Dr. Rose Wadenya | Madi Coble | Dina Daubenberger | Deborah Van Cleve | Kim Wright | Cathleen Cohen | Debbie McCabe | Deanna Doane | Laura Manion | Joanne Craig | Barbara Wadsworth | Martie Bernicker | Shu-Wen Wang | Kate FitzGerald-Wilks | Naeemah Johnson | Nicole Klein | Marcia Williams | Aimee Rubin | Sydney Grims | Dr. Tracey Jubelirer | Robin Bond 
Dr. Rose Wadenya
Author and Founder, Eagle Crest Pediatric Dentistry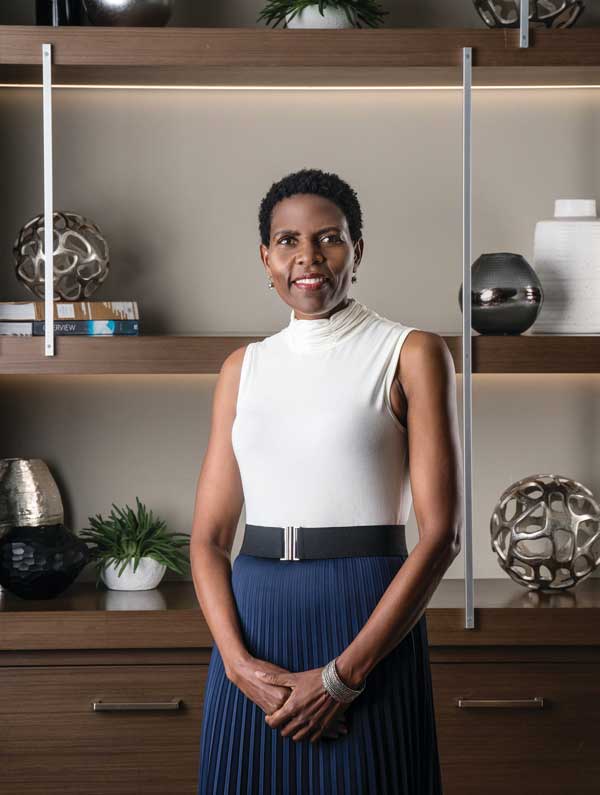 Born and raised in Kenya, Dr. Rose Wadenya set her sights on the medical field at the age of 12. Hemmed in by the limitations of the schooling in her native country, she teamed up with two friends to form a weekend study group. The extra work paid off, and she eventually found herself at SUNY Buffalo. "That improbable success gave me the confidence I needed," she says. "I saw that there's really no limit to where I could go."
After a residency in pediatric dentistry in New York, Wadenya got her doctorate at the University of Pennsylvania School of Dental Medicine before opening her own practice in Havertown. "That same confidence and vision led me here, and that same strategy keeps me going now," she says.
Wadenya is currently mentoring two young women, who may just take over her practice. She's also the author of 20 children's books. Her most recent, Banjo Has a Loose Tooth, was published in 2020. "The books are really humorous yet insightful and thought-provoking," she says. "They help children understand the importance of dental care and having healthy teeth."

Visit eaglecrestkids.com.
Introducing Our Next Gen Honoree
Presented by Comcast Business, Power Women: Next Gen honors a woman under the age of 30 who's becoming a force in the Main Line region.
After college at West Chester University, Madi Coble dipped a toe into the corporate world as a marketing coordinator. She quickly found it wasn't the right fit for her entrepreneurial spirit. As unlikely as it might seem, egg rolls were her forte. Pretty soon, the budding Madi's on a Roll concept was popping up at local festivals and breweries. When the pandemic forced Coble to pivot, she turned to packaging and freezing her creations.

Popular Madi's on a Roll flavors include bangin' shrimp, cheesesteak, jalapeño popper and crab dip, and fresh varieties debut regularly. You can find them at farmers markets around the area, and Coble hopes to go national one day. Earlier this year, she opened a Madi's on a Roll storefront in Exton, hiring her first full-time employee. "It started with a fryer from Amazon, and now I have a storefront," Coble says. "I'd manifested this for so long and thought I could do it. Now it's here."
A business this novel and offbeat has come with its challenges, and Coble cites the new store as one of the hardest things she's ever done. Speaking of challenges, she and her husband, Brian, also welcomed their first child this year. Most days, you'll find Brian playing a major role in the day-to-day operation of the business, and Madi rolling inventory with one arm and holding a baby in the other. "It's not always easy, but it's always rewarding," she says.
Visit madisonaroll.com.
Dina Daubenberger
Founder, PromMiss Dresses
"My story's a little bit different than most people's," confesses Dina Daubenberger.
A mother and practicing attorney, Daubenberger was also a competitive ballroom dancer at one time. When she faced the prospect of buying a $4,000 dress for a competition, she began renting them at more affordable rates, starting with a rolling rack in her dining room. As her inventory grew, her dresses found their way onto the sets of movies and television commercials. PromMiss Dresses came about after clients started requesting bridal and prom dresses.
Her West Chester shop offers dresses for every occasion. "You could be 13 going to a bat mitzvah or 93 going to your granddaughter's wedding—I can dress you," she says. "It's really about empowering women and making them feel like the best versions of themselves."
As the reigning Ms. Pennsylvania, Daubenberger has launched the nonprofit AdvizHer, which sponsors young female entrepreneurs in the process of starting their own businesses. "It's a way for women to get the knowledge, education, funding and confidence they need," she says.
Visit prommissdresses.com.
Deborah Van Cleve
Founder, Van Cleve Bridal & Evening Wear
"I've done a lot of things," acknowledges Deborah Van Cleve with a laugh.
A former schoolteacher, airline stewardess and interior designer, Van Cleve moved to the Main Line after marrying a local man who made the mistake of asking her to give up working. "That didn't last too long," she says.
She went on to buy a small accessories store in Phoenixville. Later relocating to Malvern, Van Cleve began to offer clothing as she continued to grow her space, moving to her current location in Paoli 16 years ago.
A turning point came when Van Cleve ventured into evening wear and the bridal business. "It was the best decision I ever made," she says. "I've always tried to go the extra mile. People coming to our store are there for some of the most important times in their lives. We do our best to make it memorable and happy."
And knowing Van Cleve, she'll continue to reinvent her business. "I've never really had any fear," she says. "It hasn't been without mistakes and issues, but on a grand scale, it's been wonderful."
Visit vanclevebridal.com.
Kim Wright
Owner and Operator, Nothing Bundt Cakes
Several years ago, Kim Wright's husband, William, went franchise hunting. "He came home one day and said, 'I found it. It's called Batteries Plus.' That did not sound sexy at all," Wright admits.
Turns out the community-focused Nothing Bundt Cakes was more her speed. The franchise was founded 26 years ago in the home kitchens of Dena Tripp and Debbie Shwetz in Las Vegas. It now encompasses over 500 bakery locations in over 40 states and Canada. Wright owns five of those in our region, and she was recently honored as Woman Business Owner of the Year by the Main Line Chamber of Commerce.
The mother of four boys, the Springfield resident supports the community through various fundraisers and frequent donations, and she prides herself in the positive work environment fostered at all her shops. "I just love that we're able to create these safe workspaces and teach people how to be valuable employees before sending them off to do what they want to pursue," says Wright. "When you create an inclusive work environment that has closeness, you know you've achieved something."
Visit nothingbundtcakes.com.
Cathleen Cohen
Creator, We the Poets
"Art and poetry as tools for connection and social action have been my life's work," says Cathleen Cohen.
Growing up in New Jersey in an artistic family, Cohen found her passion for creativity early on, thanks to a diligent teacher who helped her find a voice. When she lost her brother during the AIDS epidemic, art and poetry helped her cope. "It was really a connection to my brother and a way for me to work through the loss," say Cohen, who now lives in Wynnewood.
She's since gone on to work with underserved children in Philadelphia, getting involved with a program called ArtWell, where she developed a sector called We the Poets. In 2019, she was named Poet Laureate of Montgomery County, and she paints for the Souls Shot Portrait Project, a nonprofit that shines a light on victims of gun violence in Philadelphia. In all she does, Cohen has made it her mission to help others find a creative outlet through the arts. "It's a healthy way to reflect on what you've experienced, what you're feeling and any concerns you might have," she says.
Visit theartwell.org.
Debbie McCabe
Senior Vice President, BHHS Fox & Roach
Debbie McCabe started her career as an accountant. It's not such a great occupation for a people person, which led her to real estate. "There's always a connection with every individual," she says. "You just have to find it."
Managing to obtain her real estate license as she contended with five children under the age of 7, McCabe worked all over Chester, Delaware and Montgomery counties before joining the management team at BHHS Fox & Roach. She's served as treasurer, vice chair and board chair for the Main Line Chamber of Commerce, and she's also involved with Covenant House, a nonprofit that serves homeless youth. Each November, she participates in its annual sleep-out to raise awareness and funds.
An avid runner, McCabe plans to complete 22 full marathons by the end of the year. "Not everybody is successful for the same reasons, and they shouldn't be," she notes. "Finding that authenticity about people—I just enjoy it."
Visit foxroach.com.
Deanna Doane
Co-Founder, Click Canyon
Growing up in Wayne, Deanna Doane traveled as far as Los Angeles, Atlanta and Kansas City before returning to her hometown, where she bought her parents' house and created Click Canyon with her husband, Brent. "We took all of our knowledge from business and dropped it into this," she says of the digital marketing agency, which helps smaller businesses with everything from web design and email marketing to social media management and search engine optimization. "It gave us the freedom to parent our children and be involved in the community."
Doane grew her business organically through networking. "If I can express the importance of anything, it's that networking is how you build business," she says.
In the process, Doane became a board member of the Wayne Business Association and later served as president. She's also a member of the Delaware County Chamber of Commerce's board of directors. "I love seeing people connect and businesses grow," she says. "I know how special the Main Line is."
Visit clickcanyon.com.
Laura Manion
President and CEO, Chester County Chamber of Business & Industry
You won't find anyone who loves Chester County more than Laura Manion. In fact, that's exactly what a board member at the Chester County Chamber told her before she was asked to serve as their president. "I've lived here, worked here and was raised here, and now I'm raising my family here," says Manion. "I'm so invested in this community and its success."
Manion took the job at age 31, making her one of the youngest chamber presidents ever. Six months pregnant at the time, she worked right up to her due date, answering emails while she was in labor. Stuck on a daycare waitlist for her son, she was forced to bring him to work, experiencing firsthand the childcare labor shortage in our region. "I started to yell this from the top of the mountain over and over," says Manion, who recently testified before the state's House Finance Committee on the issue of expanding the childcare tax credit.
Manion's message: A healthy economy depends on adequate childcare. She's since become a statewide leader on the topic—and she continues to address quality-of-life issues in Chester County. "I'm like a dog with a bone," she laughs. "I'm just not dropping it."
Visit chescochamber.com.
Joanne Craig
Chief Impact Officer, the Foundation for Delaware County
In her role with the Foundation for Delaware County, Joanne Craig works to strengthen the community and find solutions to common problems through initiatives, partnerships and programs. And she holds a special place in her heart for maternal health. "Healthy babies, women and families are at the beginning of everything," she says.
Concerned about the high Black infant mortality rate in the county, Craig founded key services for women and children in the Crozer Health System, acquiring a competitive federal grant for funding. She was also behind the Foundation for Delaware County's Nurse-Family Partnership, which focuses on healthy pregnancies, positive birth outcomes, child development and familial self-sufficiency. It's quickly become one of the most effective programs of its kind in Pennsylvania. "When you make sure the child is healthy and parents have great support, you've created that solid foundation, and families can develop and thrive," Craig says.
Visit delcofoundation.org.
Barbara Wadsworth
Chief Operating Officer, Main Line Health
"When people ask what I do, I say I'm a nurse," says Barbara Wadsworth. "If they ask me enough questions, they figure out that I'm the chief operating officer at Main Line Health."
Wadsworth started her career as a candy striper and worked her way up through the ranks, serving as an ICU nurse and in various managerial and administrative roles before becoming chief nursing officer. From there, she made the leap to COO. Wadsworth was often intimidated by her superiors—and she didn't want to be that type of leader. "Showing up and being present for people is incredibly important," she says.
That support is especially crucial in challenging times, which is why she helped deploy a critical incident response team across the Main Line Health system. "The goal there is to always get people in the best place possible psychologically before they go home," she says about the program, which is available 24/7.
At the end of the day, Wadsworth strives to be fair, consistent and kind—following up and following through. "That's the environment we create as leaders, empowering our teams to do whatever's necessary," she says. "If I show up that way, then they show up that way, and we learn from each other."
Visit mainlinehealth.org.
Martie Bernicker
Executive Director, SpeakUp!
Growing up in Bryn Mawr, Martie Bernicker was drawn to nonprofit work and volunteerism, traveling as far as Africa before taking over as executive director of SpeakUp! Founded by her mother, Martie Gillin, the organization brings teens, parents and educators together to foster safe spaces where young people can share their struggles and develop positive mental health habits. When Bernicker stepped into the role, she felt it was her job to put the science behind her mother's vision. "As much as the world and its challenges continue to evolve and change, the solution is still the same," she says. "It's about being able to talk to somebody—to speak up and ask for help."
Over the past 23 years, SpeakUp! has worked with 30,000 teens and their families. "It's a powerful way to create space," Bernicker says, "asking young people what they want to talk to adults about and then creating opportunities for these intergenerational conversations where people can be open, honest and nonjudgmental."
Recognizing teens as problem solvers rather than problems to be solved, Bernicker has seen so many of them bolstered by supportive relationships with adults. SpeakUp! currently operates in 33 local middle and high schools around the region. Teens, educators and parents are divided into small breakout groups, and no one is paired up with a family member. "Ninety-nine percent of our participants say they gained perspective from others, and 96% say they realized they're not alone in their experiences and feelings," Bernicker says. "When they realize this, they're more willing to ask for help when they need it—and they know where to go to get it."
Visit speakup.org.
Shu-Wen Wang
Associate Professor, Chair of Psychology and Founder of the Tri-Colleges Asian American Studies Program, Haverford College
Born to Taiwanese immigrants, Shu-Wen Wang spent time on both coasts before settling on the Main Line 11 years ago. As associate professor and chair of psychology at Haverford College, she draws on her experience as a second-generation Asian American for studies that focus on stress and social-emotional processes. Wang founded an Asian American Studies program that's offered as a minor at Haverford, Swarthmore and Bryn Mawr colleges. "Programs that look at race and ethnicity are really important for a better understanding of how the experiences of racial minorities in the U.S. have shaped American history and what it means to be American," she says.
A clinical psychologist, Wang sees patients at Bryn Mawr Psychological Associates, and she's also heavily involved in diversity, equity and inclusion efforts in the Radnor Township School District. All of her efforts come together under the same umbrella, with personal experiences and relationships as the glue. "Once we have greater knowledge about something, that generates understanding," she says. "Understanding generates compassion. Compassion generates the ability to work on solutions for the problems that we all face as a nation."
Visit haverford.edu.
Kate FitzGerald-Wilks
Founder, Timeless Design by Kate FitzGerald-Wilks
As a boutique manager and later an international trade specialist with the U.S. Department of Commerce, Kate FitzGerald-Wilks cultivated a love of beautiful clothing and interiors. After she became a mother, however, working from home was the best option.
Not surprisingly, Timeless Design by Kate FitzGerald-Wilks caters to a demographic she understands: the hard-working career woman. With a well-oiled team of four, FitzGerald-Wilks cultivates relationships with her clients that last well beyond the interior design of a first home. The company also takes on more offbeat projects—like college dorm rooms, holiday dinner tablespaces and even flower walls for prom photos. And it has its own branded lines of custom cabinetry and reclaimed tables. "We know our client," says FitzGerald-Wilks. "She doesn't want to drag her children through stores on her day off, but she also wants a home she's proud of."
Visit timelessbykate.com.
Naeemah Johnson
Founder, NBeauty Inc
Beauty, it seems, was in Naeemah Johnson's blood. She obtained her cosmetology license at the age of 17 and went straight to work at her parents' North Philadelphia salon. In 2009, when the business was passed down to Johnson, she was immediately hit with staffing problems. "At that moment, I just had to reinvent myself and the salon to keep it going," she says.
Then developers informed her they'd be knocking down the salon to build luxury apartments. So Johnson made the move to Ardmore Plaza. "The Main Line is a very different beast," she admits with a laugh. "Coming here was probably one of the scariest things I've done in my career."
When the pandemic hit, Johnson pivoted again, taking NBeauty Inc online, where she sold her haircare line, wigs and extensions. Since then, she's opened Resort Nails in Ardmore, a full-service nail salon featuring a press-on bar. "To be able to think creatively, reinvent yourself, and stay new and exciting—that's something I always have to work on," she says.
Visit nbeautyinc.com.
Nicole Klein
Realtor and Founder, the Nicole Klein Team
Right out of college, Nicole Klein discovered her love for working with consumers as a regional manager at Nordstrom. She was just 25 when she bought her first house, and it was her less than wonderful experience with her agent that inspired her to get a real estate license. "With any job, you have to figure out what your 'why' is," she says. "I realized that it was really about the people on my team. By having a team, I push myself to be better."
The Bryn Mawr-based Nicole Klein Team boasts some of the top realtors in the state. Klein also donates a portion of every closing to a charity of the client's choosing. "We've built a really strong reputation for our team in the real estate community," she says. "People know that by working with us, it's going to be seamless and stress-free."
Visit nicolekleinteam.com.
Marcia Williams
Founder, Embellish Beauty
When Marcia Williams graduated from beauty school, she opted for a more stable job at a pharmaceutical company to provide for her young son. She eventually returned to her calling at a salon in King of Prussia. But when family responsibilities took priority again, she launched Embellish Beauty, which specializes in handmade cosmetics and on-location hair and makeup services. The business took off in a way Williams never expected.
Embellish Beauty's products are gluten-free, vegan, long-wear and paraben-free. The hot seller is lipstick. Its long-lasting formula is also mask-proof, which made it a national hit during the pandemic. Williams has been featured on the Today Show and in Forbes and the New York Times, and she's been associated with Serena Williams, Lisa Rinna and other stars.
Amid all her success, Williams has learned how to take time to recharge. "If I'm not filling up my cup, then I can't be really good to anyone else," she says. "Always listen to yourself and trust your gut."
Visit embellish-beauty.com.
Aimee Rubin
Owner, Game on State
"Anyone who knows me knows the worst thing you can tell me is the word 'no,'" says Aimee Rubin. "I'll do everything to get it to turn into a yes."
When Media Borough code anomalies stood in the way of her goal to open an arcade on State Street, Rubin kept at. Her persistence paid off. The borough enthusiastically worked with her to make changes, and Game on State opened almost two years ago. From the get-go, the community-minded spot made it a point to employ individuals with special needs, and it quickly became known as "everybody's arcade." "Instead of focusing on what individuals can't do, we focus on what they can do," says Rubin.
Opening Game on State was a major undertaking for Rubin, who lacks a formal business background. "I'm most proud that I took a risk," she says. "I didn't let the notion of failure stop me. I'm learning every day."
Often, she's learning from her employees. "I see that they've found a second home here, and that's when I well up with tears," she says.
Visit gameonstate.com.
Sydney Grims
Director of Business Development, Fearless Restaurants
Though she's now a crucial part of the Main Line region's most well-known restaurant family, Sydney Grims got her first modest taste of the business at age 12, checking coats at the Moshulu on Penn's Landing. Then it was on to college at Cornell University's prestigious Nolan School of Hotel Administration and a gig at the Four Seasons in New York City, where she greeted guests in the lobby and handled laundry. "On my first day of work, I had Snoop Dogg walking in and the Dalai Lama walking out," she recalls. "I was exposed to the craziness of the hospitality industry early on and really fell in love with it."
Meanwhile, Grims' father, Marty, was building the Fearless Restaurants empire, which includes White Dog Cafe, Autograph Brasserie, Rosalie, the Moshulu and others. Post-college, Sydney earned her stripes by successfully rebranding the Moshulu and enhancing its outdoor dining concept. "Proving that I'm not just Marty's daughter was my proudest accomplishment," she says.
With a passion for connection, Grims launched the Fearless Femmes program. "When I moved back to Philadelphia, I wanted to meet other women in the restaurant industry," she says. "I started hosting these events and found that to be super rewarding. I wanted to give women something they couldn't get just by hanging out with a friend."
Visit fearlessrestaurants.com.
Tracey Jubelirer
Pediatric Oncologist and Program Director, Children's Hospital of Philadelphia
Dr. Tracey Jubelirer was 14 when she moved to Florida from South Africa. Following a pre-med path in college, she settled in Philadelphia for her residency and fellowship in pediatric oncology and hematology. As a mom, she was diagnosed with breast cancer. "It was life-changing," says Jubelirer, who has two daughters. "It gave me the perspective of being a patient. It showed me that you really have to look at your life and realize what's important."
After her own eye-opening experience, Jubelirer turned her focus on the cancer journey of her young patients: How could she support them and their families in a more holistic way? That sparked the creation of the integrative oncology program at Children's Hospital of Philadelphia. It provides support for patients as they manage their symptoms and cope with treatment side effects, improving their quality of life through a variety of therapies, including acupuncture, massage, yoga and culinary medicine.
Based out of CHOP's King of Prussia location, Jubelirer serves as the program's director. It's a different role than she's used to, but she's loving it nonetheless. "I'm using my brain in a lot of different ways, which is exciting and fulfilling," she says. "There's not many careers where you're exposed to so many vulnerabilities and challenges in someone's life. You get to develop lifelong relationships with the kids and their families. That's what it's all about."
Visit chop.edu.
Robin Bond
Founder, Transition Strategies, LLC
Robin Bond was a busy military lawyer when the Air Force sent her back to school for medical law. As a hospital attorney handling employment agreements, she came to realize that employees were ill-equipped to face off against companies with a fleet of lawyers. "They just didn't have a level playing field," says Bond. "I saw that as a business opportunity."
Bond's Wayne-based Transition Strategies focuses on everything from executive compensation and benefits to job offers and severance agreements. "I help clients get the most pay and benefits to transition effectively from one job to the next," she says.
Often, that's not in court but through the art of negotiation. "I always tell my opponents, 'This is your chance to be a hero. Let's do something positive today.' You give the guy on the other side a chance to be a hero and do the right thing," she says. "You'd be surprised how a lot of people rise to that."
Visit transition-strategies.com.

Related: Meet 2022's Power Women of the Main Line and Western Suburbs