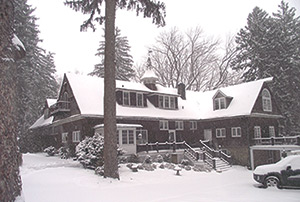 Location: 602 River Road, Shawnee on Delaware, Pa.
Contact: (570) 420-4553, gatehousecountryinn.com
Cost: $160-$215 (double occupancy).
Drive time: About two hours.
The scoop: Built in 1906, this gatehouse was part of a riverside estate owned by a wealthy New York businessman. In 1943, famed bandleader Fred Waring purchased the property and transformed the place into a posh summer home, where he hosted Bob Hope, Lucille Ball and other illustrious guests. Today, the gatehouse is a cozy four-guestroom retreat owned and operated by former Wayne residents Cindy and Gordon Way.
Amenities: A multicourse breakfast is included with overnight stay.
Don't miss: Get your holiday shopping done at the on-site Ice House Antiques Shop. Follow costumed guides into the 1800s at Stroudsburg's Quiet Valley Living Historical Farm for an old-time Christmas celebration.