Historic Villanova estate, Stoneleigh was entrusted to local conservation group, Natural Lands, two years ago by the Haas family. The organization has spent that time preparing the 42-acre property for public use. It will make its debut on May 12-13.
The sprawling property and its Tudor Revival mansion has changed hands several times over the past century. Edmund Smith of the Pennsylvania Railroad Company originally purchased the land in 1877. Stoneleigh was then owned by United Gas' Samuel Bodine. Under both owners, the tradition of gardening on the grounds took shape, beginning with the Olmsted Brothers and later through a formal Beaux Arts design.
Photo by Lisa Dukart.
The property underwent another change in 1932, when Otto Haas purchased it as a country estate for his family. It remained in the family, who valued philanthropy and land protection for nearly 70 years thereafter. In 1996, John and Chara Haas created a conservation easement and, on their passing in 2011 and 2012 respectively, the couples' children carried out their parents' wishes to leave the property to a non-profit, deciding on Natural Lands. The land was officially transferred to Stoneleigh in April 2016, at which point Lower Merion Conservancy took ownership of the existing easement.
To bring the property up to public safety standards, Natural Lands has spent the past two years updating and adding necessary infrastructure, financed by the Haas family. The grounds now feature over one mile of ADA-accessible trails, an open, circular area covered in grass, and a pergola made of distressed natural wood.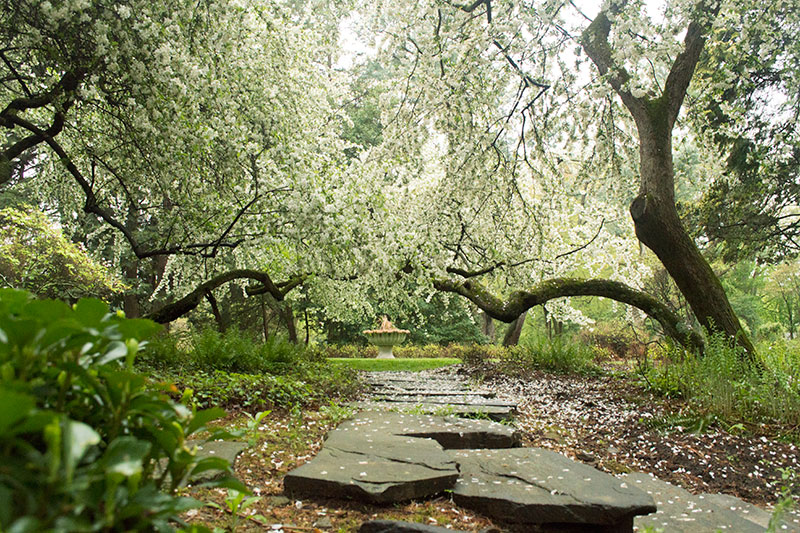 Photo by Mae Axelrod.
The landscaping reflects the styles of its previous owners, with much of it having been let to grow naturally, showcasing native plants. Natural Lands, which has 43 other properties, planted over 8,500 plants on the grounds, which contain over 350 different species. In the future, part of the landscape will be transformed into a natural meadow, which will draw more wildlife, especially pollinators like bees, butterflies and birds.
| | |
| --- | --- |
| | |
| Photo by Ed Cunicelli Photography. | Photo by Mae Axelrod. |
"I think our guests will be able to come in and experience this garden as it grows with us and see new plants as they unfold," says Stoneleigh's director Ethan Kauffman. "We're emphasizing native plants and sustainable landscapes. I think that's a great message, especially given Natural Land's mission: saving land, caring for nature and connecting people to the outdoors."
Photo by Lisa Dukart.
To celebrate the garden's opening, Stoneleigh is hosting a members-only event on May 12, followed by a public debut on May 13. "We can't wait to see people in here enjoying it," adds Kauffman.
Stoneleigh will be open Tuesday through Sunday from 10 a.m. – 5 p.m. and will be free to the public.