E-mails, e-mails, e-mails. They never stop. But every once in a while, one comes along that changes lives.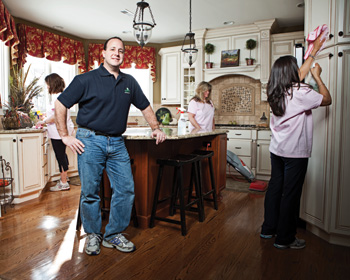 It was by e-mail that Christine Villone learned about the Cleaning for a Reason foundation, a national nonprofit that provides free, professional housecleaning to women currently undergoing cancer treatment. She suggested to her husband, Mark, that their West Chester-based Mop-Ups Cleaning Services become an official partner. "We know how crazy it can be when you're taking care of yourself or a loved one," says Mark. "It's one less thing you'll have to worry about."
The Villones' son Michael, now 12, has survived neuroblastoma. Mark's sister Gina, who started Mop-Ups 15 years ago, has fought her own battle with cancer. She now volunteers to clean the houses of the chosen cancer patients.
Cleaning for a Reason has helped 3,000-plus women in the United States and Canada. Other local partners are Bala Cynwyd's Executive Cleaning Group and the Paoli branch of the Maids Home Services. Each commits four consecutive monthly cleanings to at least two patients.
In January, Mop-Ups took on the Downingtown and West Chester homes of its first two patients. They plan on adding a third per month in the near future. "I get an e-mail a day asking if we can take on more patients," says Christine.
Mop-Ups is both community conscious and eco-conscious. The company not only recycles but also uses nontoxic biodegradable products, HEPA filters and reusable microfiber cloths that are color-coded to avoid cross-contamination.
To learn more, call (877) 337-3348, or visit cleaningforareason.org and mop-upscleaning.com.