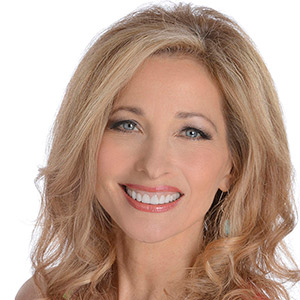 Linda Swain
"The best thing in life is to tell everybody you're going to do something—just tell everybody—then you'll have to do it."
That's exactly what Haverford native Linda Swain did over 15 years ago, leaping headfirst into the world of television. Co-founder of Ardmore's Swain Destinations, along with her husband Ian, she was no stranger to heading into the unknown. But unlike their travel business, begun serendipitously in 1987, sprouting from a friends' curiosity about how to visit Ian's native Australia, television was something altogether new.
Swain's first foray into television came in 2002, when she launched a daytime segment geared at mothers, called Moms on the Move. The series aired locally on NBC 10 before being picked up for wider syndication, for which she received Mid-Atlantic Emmy awards for Outstanding Program Feature and Best Show Host. Garnering lots of positive feedback, including from dads, Swain switched gears and began planning something bigger with broader appeal. It would eventually become her current television show, Tapping In.
It was a natural extension of her years working in travel. "I was always seeking the happiest people so our clients could have the same experience," Swain says. When considering the format and theme for Tapping In, happiness played a key role. Swain, who owns the show, makes the decisions of where and what she wants audiences to see. "If I'm going to feature this destination, then I need to feature why this is the happiest," she says.
The show, which launched in 2014, was picked up to air quarterly in 2016 and Swain is hoping to increase its frequency in coming years. The next episode is slated to air at 2 p.m. on July 31 on ABC. Unlike Moms on the Move, Tapping In is an hour-long feature that appeals to a wide audience, geared towards those who love traveling. Like her previous stint, it draws on her own experiences, combining her love of travel, entertainment and nature. "It always starts with a stirring in your soul. A passion in you to share something," she says of the initial inspiration.
Even the show's title rings true with her mission. "'Tapping in' was a term I would say all the time: Tapping into the source. Tapping in is connecting," she says.
The mother of six adult children, Swain is a self-proclaimed entertainer, evident in her effervescent personality, which radiates as much in person as on screen. It's a part of her personality that she's successfully tapped into, to connect with viewers as well as those she interviews for the show.
Fittingly, the premier episode explored her two homes, Philadelphia and Sydney, earning a Daytime Emmy Award nomination. While it exclusively explored Philadelphia, not its suburbs, Swain says a Main Line segment isn't out of the question. "I grew up on the Main Line and it's just an unbelievable place to live, raise your family, be a community. My kids went to school here, I went to school here, so my roots are here," she says.
While a Main Line episode may still be a year or more in the making, since her inaugural Philadelphia-Sydney episode aired two years ago, Swain has visited many locales, in search of happiness.
In the most recent episode, aired in April, Swain traveled to Auckland, New Zealand and Cannery Row in California. Both have abundant outdoor activities, which, in her typical format, she set out to explore. In Auckland, audiences joined her on a traditional waka, a MÄori boat with upside down sails, joined her at the Auckland Zoo, learned about local conservation efforts, and even went heli-fishing, an on-the-rise activity, in which a scenic helicopter ride drops its passengers at a remote location to fish. Swain also walked the edge of the Sky Tower, the tallest building in the southern hemisphere, and met up with Kiwi fashion designer Trelise Cooper.
In the second part of the episode, Swain set off to the Monterey Coast to visit Cannery Row, which once inspired John Steinbeck's bleak novel set during the Great Depression, also called Cannery Row. Today, thanks to Ted Balestreri, CEO of the Cannery Row Company, the region has been revitalized, bringing a great deal of tourism back.
It was important to show "the history of Cannery Row, how it was completely decimated, and was fished out; there was no wildlife at all. Margaret Mead said, 'Never doubt that a small group of thoughtful, committed citizens can change the world.' That's one of my favorite quotes. A small group of people rebuilt Cannery Row and now four million people live there and there's a ton of wildlife. That's the key message: That we have the ability, as humans, to change things," says Swain.
Each episode has an overarching theme beyond happiness, which Swain lets come together organically. The upcoming episode explores leadership, taking Swain and her crew to India. "These people represent you. Who's the leader in you? You pick the one you identify with," she says.
One of those leaders is Ravi Shankar, better known as Sri Sri. Born and raised in India, the humanitarian and spiritual leader created an education and spiritual nonprofit, the Art of Living, in 1981. As part of its outreach, it coincides with the World Culture Festival, a three-day event in New Delhi. The festival, held in March, drew attendees from 155 nations and saw 3.75 million visitors.
His message isn't so dissimilar, at its core, at least, from what Swain is trying to share on her show. Though she couldn't make it to the festival herself, she visited Sri Sri's ashram in search of his particular brand of happiness. "His whole thing is no stress," Swain says, not giving away much of what will be revealed in the episode.
For Swain, happiness will always be intrinsically linked to traveling. It is, after all, part of her life's work, as well as her husband's, and at the very core of their lives. "A lot of people don't have the means to travel overseas," she says. "But they do have the means to walk somewhere, be in nature. We are hotwired to travel. And when we travel we become more connected to happiness."
Tapping in, it seems, can be as simple as a jaunt in the park.
Tapped in to Linda
Favorite places: Cannery Row, Thailand, Cambodia, South Africa, Australia, New Zealand, Santa Fe, Cape Town, Sedona.
Number of countries she's visited: Around 80.
Places she wants to visit: Antarctica, the Galapagos Islands.
Some musts when traveling: I always want to do something about fashion. I like to go to museums. Something with animals. And I always incorporate cooking.
What she collects: I've collected things from around the world. Now I have enough stuff. At this point, I just want to collect stories.
Craziest thing she's done while traveling: [We were filming on South Africa's] Table Mountain; it was the cloudiest day and I was going to repel down the mountain. I was up on the top of the cliff and there were clouds below me. My harness was too loose and I fell over, and I literally tumbled over, off the cliff. It was crazy to do that. I should've just waited.
Her travel essentials: Extra Ziploc bags. You're always going to need extra Ziploc bags for something. I always take a pair of Minnetonka slippers my kids bought me, no matter if its just a few hours or a long haul. I always take some kind of shawl because it's always cold on planes. And an extra battery for my camera and typical things like chargers and adaptors.