Everybody has a secret. It might be a favorite hole-in-the-wall that serves great food at great prices, a market that has those hard-to-find ingredients needed for the most exotic culinary experiments, or a boutique where you always find the perfect gift for the person who has everything.
It might be a place where you can take the kids on a rainy day, immerse yourself in another culture, or get to know people who share your interests. It may be a service to make life easier. Here are the Main Line's best-kept "secrets"—some tucked away, others hidden in plain sight.
ALSO: Help us with our next Insider's Guide by posting a comment below. We're sure there's plenty we missed.
 
Fab Food
Snacks and Sumo: Maido! A Marketplace of Japan
Belly up to the counter and order some okonomiyaki (a savory pancake of pork, seafood, veggies or all three), with a side of sumo wrestling beamed in from Japan—all for just $7. The lunch menu is limited to three choices, but each is authentic and delicious. Wash down your meal with an ice-cold Ramune soda in berry flavor—or, if you have the nerve, wasabi or kimchi. 36 N. Narberth Ave., Narberth; (610) 747-0557, maidookini.com.
Free Yourself:
Main Line Baking Co.
Gluten- and dairy-free don't have to mean taste-free. The brownies are chocolate-chewy, the muffins and cakes moist, and the breads crispy-crusted. Cute cupcakes include the coconut-covered snowball and the lime-frosted margarita. Wynnewood Train Station, Wynnewood; (215) 292-4200, mainlinebakery.com.
Cheap Fruits and Veggies: Produce Junction
The décor leaves much to be desired, but there aren't many other places where you can feel confident buying pre-bagged fruits and veggies. The quality is consistently high, the prices—including those for robust house plants—are amazingly low. Cash only. 260 N. Pottstown Pike, Suite 15, Exton, (610) 524-5454.
Kosher Confections: Buy the Dozen
Those yummy smells aren't coming from Venus nail salon. The bakery upstairs is primarily wholesale, but neighbors can buy croissants and traditional treats (rugelach, anyone?) at stock-up prices from its no-frills table. Get on the "Shabbat list" to guarantee your weekly challah. Yes, we know about the to-die-for croissants at Le Petit Mitron a few doors down, but this is about hidden gems. Closed Saturday and Sunday. 219 Haverford Ave., Narberth, (610) 667-9440.
Specialty Spirits: Teikoku & Verdad
Unless you're already sake savvy, Teikoku's menu will help you decide which one to pair with your sushi or Kobe. Or try a sampler flight of three ($18) or five ($28). Going back to school has never been as much fun as it is at Tequila University, held almost every month at Verdad. You'll taste three different varieties, paired with tapas ($30). 5492 West Chester Pike, Newtown Square, (610) 644-8270, teikokurestaurant.com; 818 W. Lancaster Ave., Bryn Mawr, (610) 520-9100, verdadrestaurant.com.
 
Great Gifts
Chester Springs Creamery
Sign up chilly-confection aficionados for the ice cream special-delivery service. They'll get two made-to-order quarts each month, delivered right to their homes ($6 per quart plus taxes, shipping and handling). 521 Uwchlan Ave., Chester Springs; (610) 363-8500, milkywayfarm.com.
Euro Market
The Gospodinov family's little shop specializes in Bulgarian, Greek, Polish and Serbian foods, but they also carry a beautiful line of hand-formed and -decorated, oven-to-table Bulgarian ceramics. Consider giving a gorgeous giuveche (stew pot). 30 S. Sproul Road, Broomall; (610) 359-9021, euromarketphiladelphia.com.
Joanna1 Jewelry
Joanna Morrison Marcuse's handmade jewelry is created from precious metal clay. The medium is comprised of pure silver and a binder that, when fired in the kiln, burns away, leaving behind a piece of wearable art. Gallery Eros, 814 W. Lancaster Ave., Bryn Mawr; (484) 222-0513, joanna1.com.
 
Continued on page 2 …
Movers & Shakers
Main Line School Night
Choose from MLSN's "Social Dancing" category for classes in ballroom, Latin and swing. Or take a terpsichorean trip to the Ivory Coast for some African dance—or to Spain for a flamenco fling. Six-week classes: $70-$80. Park at Arnold Field (across from Lower Merion High School), 245 Montgomery Ave., Ardmore; (610) 687-8201, mainlineschoolnight.org.
Aloha Style on the Main Line
Hula isn't just an elegant island dance. It helps relieve stress while increasing flexibility and confidence for women of all ages, sizes and abilities. Go for the more energetic Polynesian dances if you want a low-impact, aerobic workout to trim and tone the waist, arms and thighs. One-hour group classes: $48/month and up. Private lessons: $25/hour. 105 Forrest Ave., Narberth; (610) 667-HULA, alohastyledance.com.
Najia: The Magic of Bellydance
Think you're not built for bellydancing? Najia says, "Nonsense!" Every woman can get "bellylicious" at her weekly classes, which burn 350-400 calories an hour. Try a "Goddess Night" for a lesson, henna party, performance and vegan potluck. Six-week beginners' packages: $90 and up. Private lessons: $50. First Position Dance Arts, 10 E. Athens Ave., Suite 204, Ardmore (and various other locations on the Main Line); (610) 449-7201, bellydanceforbeauty.com.
 
Talk the Talk
Ding Hao Chinese School
Children ages 2 1/2 to 15 can learn the basics of Mandarin and explore Chinese history and culture through games, music, festival celebrations and calligraphy. Tuition for the 15-week, Saturday-morning program is $265. Adults are encouraged to participate in preschool classes and, later, sign up for their own. Radnor Township Middle School, 150 Louella Ave., Wayne; (610) 527-2548, dinghao.ccagp.org.
Main Line Chinese Culture Center
From September to June, programs and clubs allow participants as young as 4 to discover the history, culture and language of China (Mandarin is the most widely spoken language in the world). A summer immersion camp is also offered. Tuition varies. Weekend class at Great Valley High School, 225 N. Phoenixville Pike, Malvern; summer camps in Wayne and West Chester; (610) 308-2624 or (610) 513-2442, mlccc.org.
Japanese Language School of Philadelphia
On Saturdays, JLS offers introductory classes in modern Japanese for age 6 to adult. $315-$405/trimester. 1445 City Ave., Wynnewood; classes held at Friends' Central School, 1101 City Ave., Wynnewood; (610) 642-1202, jlsp.us.
French International School
In July, this institution opens its campus to children ages 4-9 for a three-week "French for Fun" immersion day camp that includes activities in language, games, art, computers, sports, cooking, singing and field trips—all with counselors from France. Campers may enroll for one, two or three weeks. $310/week. 150 N. Highland Ave., Bala Cynwyd; (610) 667-1284, efiponline.com.
 
Peaceful Paths
Tucked away but easy to find are two outdoor labyrinths, where you can relax and reflect as you walk their intricately patterned routes. Set among the campus gardens, the labyrinth at Bryn Mawr College (101 N. Merion Ave.) is open daily from sunrise to sunset, and the one at the Church of St. Asaph (St. Asaph and Conshohocken State roads, Bala Cynwyd) is always open.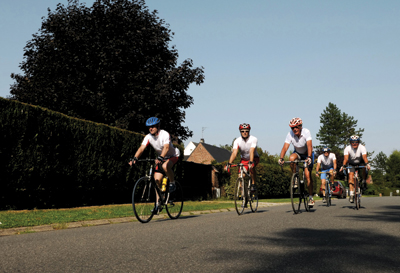 Main Line Cycles
No matter what shape you're in, hit the road and make some new friends on one (or more) of the free weekend group rides hosted by this well-connected shop's staffers. Excursions along the Main Line average between two and three hours, and range from calm to competitive. 717 Montgomery Ave., Narberth; (610) 664-1970, mainlinecycles.com.
 
Continued on page 3 …
Just for the Ladies (or Guys)
Bling It On!
Forget the kids. Gather at least five (or up to 30) of your girlfriends, grab a couple of bottles of wine, and spend an evening blinging out everything from wine glasses to flip-flops. A portion of every purchase goes to cancer research and education. 134 N. High St., West Chester; (610) 696-6996, blingitonme.com.


Online Meet-Up Groups for Main Liners
Enter your zip code on meetup.com to find new friends in your area who share your interests. A recent search turned up local groups for single boomers, new moms, sports fans, foodies, motorcyclists and business networkers.
 
 
That's Entertainment
Stages of Imagination
This award-winning professional adult acting troupe performs limited-run, original Broadway-style musicals geared to children ages 3-11 at Neumann and Saint Joseph's universities. Plays are themed to foster personal character development and life skills, dealing with such relevant themes as self-esteem, bullying, nutrition and tolerance. $6.50. 648 N. Lemon St., Media; (610) 892-8189, stagesofimagination.org.
Chamber Singers and Chorale of Bryn Mawr and Haverford Colleges
Among the finest chamber ensembles in the world, this 30-member group celebrates the music of the Renaissance. Visitors are welcome at rehearsals on Monday and Tuesday afternoons at Haverford, and Thursdays at Bryn Mawr. Wednesday-evening rehearsals for the chorale at Haverford are also open to the public. (610) 896-1006, haverford.edu/music/choral/csingers/cshome.html.
Bryn Mawr Film Institute
In addition to screenings of first-run flicks, BMFI's free "Open Screen Mondays" allow area filmmakers to show short works and have them critiqued by the audience. And check the schedule for "Sing-Alongs," where you can come in costume and warble your way through The Sound of Music, Grease and other faves. 824 W. Lancaster Ave., Bryn Mawr; (610) 527-9898, brynmawrfilm.org.
Gilbert & Sullivan Society of Chester County
Whether you're mad about The Mikado or partial to The Pirates of Penzance, you can't help but love this lively local troupe and its over-the-top productions at West Chester University and West Chester's "Old-Fashioned Christmas." (610) 269-5499, gsschesco.org.
 
The Sporting Life
Fencing Academy Main Line
Group classes for students age 8 and up, from beginner to advanced levels, are held on Wednesday and Thursday evenings. Beginner fees: $160/two months; individual lessons also available. Church of the Good Samaritan, 212 W. Lancaster Ave., Paoli; (610) 889-0300, famainline.com.
Main Line Ski Club
You don't have to be a skier to enjoy the activities organized by members (mostly singles and couples over age 40) of this volunteer club. In addition to hitting the slopes, the groups plan a wide range of other outings, including mixed-doubles tennis, monthly socials, plus hiking, biking and foodie forays. Membership fee: $35/singles, $45/families. mainlineskiclub.com.
 
At Your Service
Job Squad
By filling out a brief online form, Cabrini College can connect you with students for local, nonprofessional jobs like babysitting, light housekeeping, party help, companion care and yard work. The service is free, but you'll be asked to suggest the per-hour fee you're willing to pay for the student's work. 610 King of Prussia Road, Radnor; (610) 902-8100, cabrini.edu.
Surrey Services for Seniors
This nonprofit organization offers transportation, in-home care, fitness, recreation and social programs, and more for seniors of all income levels in Chester and Delaware counties. Supervision is provided by Home Care Nurses, and each caregiver is bonded and insured. 28 Bridge Ave., Berwyn, (610) 647-6404; 455 Park Way, Broomall, (610) 544-1770; surreyservices.org.
 
Continued on page 4 …
Love Your Local Library
Look beyond the books for a wide variety of free (or moderately priced) programs, services and materials.

Delaware County Library System
Grandchildren coming for a visit this weekend? Borrow a free "Grand Kit," a canvas bag filled with themed games, activities and toys for kids ages 3-11. Another novel program, "Pals for Life," encourages shy young children to build their confidence and skills by reading to trained therapy dogs. Delcolibraries.org.
Easttown Library

Get to know your way around a keyboard (plus the Internet and e-mail) during a free half-hour, one-on-one beginner computer class. Or hone your skills during individualized hourlong sessions ($15 per hour). 720 First Ave., Berwyn; (610) 644-0138, easttownlibrary.org.
Radnor Memorial Library
Board games are great for exercising strategic skills—plus, they're a whole lot of fun. For middle-schoolers, Radnor offers a "Dungeons and Dragons" club and chess nights for players of all ages and skill levels. 114 Wayne Ave., Wayne; (610) 687-1124, radnorlibrary.org.
Upper Merion Library System
To help take the intimidation factor out of reading and encourage skill development, this library offers a free "Reading Buddies" program that pairs young children (K-second grade) with volunteer mentors from upper grades (fourth-12th). For entrepreneurs, the library partners with SCORE, a nonprofit small-business counseling service, to offer free and low-cost classes on starting and owning a business. 175 W. Valley Forge Road, King of Prussia; (610) 265-4805, umtownship.org.
 
Take It From Them
Locals share their secret spots.

Mary Ivory
Narberth resident and nurse practitioner
Tom Ivory's wife, quilter extraordinaire Mary highly recommends Cloth & Bobbin (235 Haverford Ave., Narberth; 610-667-5366; clothandbobbin.com) for its extensive pattern and fabric selections, and Lonni Rossi Fabrics (70 Rittenhouse Place, Ardmore; 610-896-0500, lonnirossi.com) for its one-of-a-kind, hand-painted fabrics. Both offer classes for beginners.
Tom Ivory
Narberth resident and owner of Baker Street Bread Co.

Ivory recommends Advanced Health & Fitness (934 Montgomery Ave., Narberth, 610-664-3400), a small, fully equipped, trainer-staffed gym that's "nonintimidating even for 50-somethings." And although he admits he's never taken the plunge, Ivory enjoys hearing the instructors at Aqua Hut Dive & Travel (51 Rittenhouse Place, Ardmore; 610-642-3483; aquahut.net) talk about their underwater adventures. At this Professional Association of Diving Instructors 5-Star Training Facility and National Geographic Dive Center, novices can get their feet wet with one-day introductory lessons in scuba ($75, minimum age 10) and snorkeling ($40, minimum age 5) before they advance to certification instruction. Ask about at-home lessons in your own pool.
Ed Markus
Gladwyne resident and owner of Event Navigators
For a break from his hectic schedule, Markus enjoys perusing the latest multimedia art exhibits at Haverford College's Cantor Fitzgerald Gallery (370 Lancaster Ave., 610-896-1287, haverford.edu).
Dr. Dori Middleman

Merion Station resident and psychiatrist
Middleman loves to stroll the secluded, wooded lakeside walking paths on the campus of Eastern University (1300 Eagle Road, St. Davids; 610-341-5800; eastern.edu). She's also excited about her latest find, Rolling Hill Park (1301 Rose Glen Road, Gladwyne, lmconservancy.org, 610-645-9030), with its historic mill ruins and off-leash dog park. The park also offers a number of free or low-priced, nature-oriented activities, plus the more extensive "Knee-High Naturalists" for preschoolers and parents ($60 for five weeks of 90-minute sessions) and the "Explorer's Club After-School Adventures" program for the K-through-third crowd ($50).