Photos by Rebecca McAlpin
A Malvern home remodel adds a bright, airy kitchen full of space and convenience that flows into a functional breakfast room.
For a family of five in Malvern, a spacious kitchen and breakfast area form the hub of the home—a place where Mom and Dad enjoy espresso, the kids do homework and everyone gathers for meals. Not long ago, the space was far less family-friendly. A wall of arches separated the dining area from the kitchen, blocking natural light and obscuring a view of the garden. A cooktop and sink were shoehorned into a two-tier island, leaving little room for dining or food prep.
To transform two disjointed, dysfunctional spaces into a cheerful, open gathering place, the homeowners turned to Philadelphia-based interior designer Glenna Stone. "They have busy, full lives, and their kitchen needed to work for them on all levels, starting with a more efficient layout," says Stone.
Plans called for removing the archways and replacing tile floors in the breakfast area with the same hardwood used in the kitchen. This unified the spaces and enhanced the flow. Focal points are now a professional-style range with a wood-trimmed hood, along with a show-stopping backsplash of blue, hand-painted tiles. White custom cabinetry and countertops of white, honed Namibian quartzite bring a vibe that's fresh and clean.
Storage is specialized, right down to the designated cupboard for the kids' water bottles and a coffee bar for the parents. "The homeowners are serious about coffee, and the drawers under the coffee bar hold a variety of mugs, spoons, tools and pretty much everything you'd need to be your own at-home barista," Stone says.
In the breakfast room, windows are framed with elegant, unfussy drapes that highlight a view of the backyard. The custom round table is cozy and friendly, accommodating the entire family. "Our kitchen is where we start each morning as a busy family," the owner says. "It's comforting to walk downstairs to a beautiful room that perfectly fits our routine."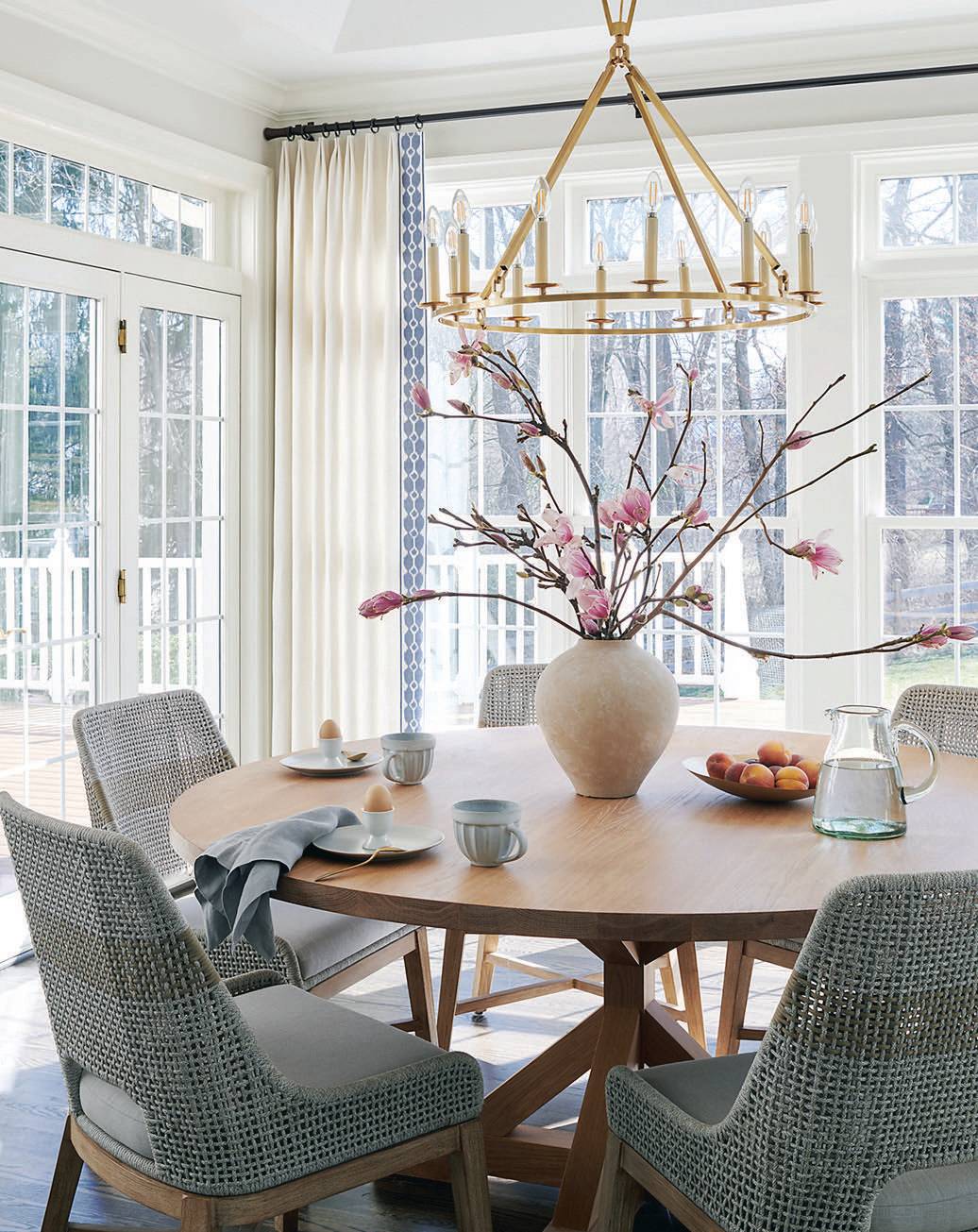 Related: This Converted Sitting Room in Wayne is the Perfect Lounge