Eddie Ross is leaning hard into his defense of Norristown, touting its art league, Five Saints Distilling and a variety of small businesses. He gestures down West Washington Street toward the loft apartment that he and Jaithan Kochar shared while renovating their home in Wayne. "We could see the river, the trees—everything," says Ross. "These would be $10,000 views if we were in New York."
Kochar nods in agreement. "A Manhattan feel minutes from the Main Line," he summarizes.
That may be a stretch, but the two fell in love with the place nonetheless. That's how it is with them: They see beauty where others see problems. For their Maximalist Studios, Kochar and Ross transformed a 9,500-square-foot space in the heart of Norristown into a photography studio and event space for cocktail parties, weddings and other upscale gatherings. In its state-of-the-art kitchen and glamorously furnished seating areas, they create editorial and advertising content for Better Homes & Gardens, Country Living and House Beautiful. Other clients include Lowe's, York Wallcoverings, Calico Corners, Robert Allen Duralee Group, Couture Lamps, The Laundress and John Ritzenthaler Company.
A living room set designed and built at Maximalist Studios. Photo by Marco Ricca.
This fall, Maximalist will inaugurate a series of supper clubs and host classes on cooking, food styling and home décor. The place is so luxurious, in fact, that it could be a posh B&B. "When we first saw it, the place looked like where they find the dead body on Law & Order: SVU," Ross admits.
Once windowless, with a drop ceiling and paint-splattered floors, the former office space now has white brick walls, high ceilings and windows that allow for maximum light. Many details were restored, including the old-fashioned freight elevator that exits into the Maximalist prop house, where rows of shelves are lined with tableware, cookware, linens, lamps, vases and artwork. Kochar and Ross use them to style their digital content, also renting them to caterers for special events.
In a way, props are at the center of the pair's design aesthetic. For them, it's all in the details. From scallop-edged monogramed napkins and tassel-topped ice buckets to Ross's tapestried shoes and Kochar's silver belt buckle, the men fill their lives with uniquely designed, excellently crafted pieces. Not all of them are antiques or name brands, as Kochar and Ross delight in scouring flea markets and consignment shops for discarded treasures. Their 2015 home design book, Modern Mix, celebrates their signature mix of bright colors, riotous patterns and lush materials. Wildly disparate, most of the items don't seem like they should go together—but they do.
In the Maximalist Studios salon, an open floor plan, luxury furnishings and a gourmet chef's kitchen evoke the vibe of a posh city loft. Photo by Trevor Dixon.
The same could be said about Kochar and Ross. But together, they created the Eddie Ross brand, which became an LLC in 2009, two years after they met. Their successful freestyling of colors and patterns is based on a deep knowledge of the classics. Kochar holds a master's degree in interior architecture from the prestigious Rhode Island School of Design. Before he segued into visual merchandising and digital content creation, Kochar traveled the world working for Manhattan's renowned Dash, the interior design and branding agency behind an array of restaurants and retail establishments.
Indeed, it's a bit of an oddball pairing. The product of a Midwestern upbringing and an elite boarding school, Kochar is a first-generation Indian American with a degree from Stanford University, while the Ross family roots are in Greenwich, Conn. "We get married and divorced 10 times a day," Kochar quips.
When Eddie Ross found his way to the Culinary Institute of America, he was sent there, more or less, on the direction of Martha Stewart. Ross had met Stewart at a Greenwich party, where he was part of the catering staff. Still in high school, he'd developed a passion for food design. The extravagant arrangements he created out of vegetables, flowers and assorted props earned him the "King of Crudité" nickname. But Stewart only hired CIA graduates. "So off I went—not to work in restaurants but in catering, and specifically for Martha," he says.
For Ross and Kochar, their home's garden room is a place for entertaining and quiet reflection. Photo by Ed Williams.
Ross graduated from CIA at age 20 and landed a job as associate food editor for the Martha Stewart Living syndicated TV show. It was the early 1990s, the heyday of Stewart's reign, and Ross was there for its IPO and the creation of the cookware, linens and home accessories brands. Though he adored Stewart and her company, Ross felt constrained by mass merchandising. "There's only so much white, gray and jadeite green one can take," he says. "But Martha didn't get that clean look until she went corporate. Left to her own devices, she's a 'more is more' person."
Ross went on to become associate design director for what was then the TV Food Network, working with Bobby Flay, Ming Tsai, Mario Batali and other celebrity chefs. Then he turned to print, writing and editing for House Beautiful before returning to Stewart's realm when it appeared to be on the decline. Though Stewart had just served five months in federal prison, Ross never had a doubt that she would bounce back. When she offered him the senior decorating editor position for Martha Stewart Living magazine, he accepted.
It was during his second stint at Martha Stewart Living that Ross met Kochar—and their personal relationship quickly carried over to the business side. Kochar, who provided the solid business structure for Ross's design skills, tells the story of watching Ross paint a room a beautiful, unique color. "Eddie was painting on a ladder and he wouldn't come down from the ladder in order to move it because he wanted to get the painting done quickly," he recalls.
"There's only so much white, gray and jadeite green one can take."
Kochar is the guy who moves the ladders. One of his first steps was to segue Ross into digital content. Together, they created design blogs, writing how-to pieces and styling photographs that got picked up by national media outlets. They were among the first designers to rule Facebook. Then it was on to Instagram, where they have over 65,000 followers.
Kochar also helped Ross land a spot as a contestant on Bravo's Top Design competition in 2008. Though he was eliminated just before the finals, Ross leaned on his experience in producing content for TV and magazines. "I knew how to do things fast and make crap look great," he says. "I could make Ikea look like Bunny Williams."
After his experience on Bravo, Ross left Martha Stewart Living for the second and final time, becoming the East Coast editor for Better Homes & Gardens. Kochar, meanwhile, was working as the visual merchandising and marketing manager for the upscale Grange Furniture. At the time, he and Ross were dividing their time between a home in tony Litchfield County, Conn., and an industrial-chic space in East Harlem, N.Y., that doubled as a production studio for digital content.
After spending most of 2015 looking for a new home in Connecticut, Ross fell in love with Wayne while visiting for a Better Homes & Gardens photo shoot. "It had everything we wanted that, all of a sudden, Connecticut didn't have," says Ross. "In Wayne, we have access to trains, a local airport and shopping—not to mention easy access to Philadelphia itself."
An in-studio foyer set for a client. Photo by Marco Ricca.
But first, someone else had to be convinced. "It would take some doing," says Kochar, who eventually realized Ross couldn't be dissuaded.
In Wayne, where inventory is sparse, the pair found a house easily—because few buyers were interested in a money pit. Built in the 1920s, the center-hall Colonial they found had four bedrooms, two full baths and a powder room, sat on a single acre, and hadn't been updated in several decades. "It was perfect," Ross insists. "As soon as I walked in, I knew we needed to have it."
They purchased the house in early 2016, christening it Edgewood Hall. The renovation took more than two years, partly due to an atypical construction plan that jibed with the editorial schedule at House Beautiful. Edgewood Hall's transformation was documented in a series of monthly pieces for the magazine. "HGTV makes it seem like renovation takes no time and no money," says Ross. "That's a giant lie."
Home design shows also make a spectacle of gutting houses and discarding doors, floors and everything in between. "You're throwing away the best parts of the house," Ross says.
Doors are one glaring example. "Doors made of new-growth wood from the last 20-30 years are not as nice as doors from
old-growth wood, which have stable, hard and tight rings," says Steven Fritz, who served as the general contractor for Edgewood Hall. "Throw out the old door, and you may have thrown out the better door."
And contrary to HGTV gospel, floors don't have to be level. "Why would you tear out gorgeous wide pine floors and put in laminate flooring just to level them?" Ross poses.
Fritz agrees. "If it's not a structural problem, then it's not a problem," he says. "Little imperfections draw people to old houses, whether they know it or not. They add to the charm and uniqueness."
Fritz shares the "reuse, recycle, restore" ethic embraced by Kochar and Ross. Together, they gutted the house down to the studs, saving the moldings, wood floors, doors and even the doorknobs. New keys were made for old locks, wood was stripped and reused, and moldings were sanded and repainted. "Our job is to do things in a way that makes it look like we didn't do them," says Fritz. "We used older materials, sanded them more aggressively and used more paint to make them look older."
A house in Bridgehampton, N.Y., shot on location for a client. Photo by David Land.
Tom Weston is a principal with McIntyre, Capron & Associates, the Paoli-based architects who turned the sketches Ross made into Edgewood Hall. "Eddie would show up on site saying he found a pallet of something for $200 or consignment shop brass brackets for $15 apiece," Weston recalls.
The firm specializes in custom homes, so Weston is used to catering to client specificities. "They can design their way around problems," he says of Ross and Kochar. "In one room, we had to use off-the-rack cabinetry, but Eddie used an amazing color from the Fine Paints of Europe Collection and created felt lining for the shelves, then paired them with tortoiseshell wallpaper for a custom look."
The vanity in Edgewood's master bathroom is another of Weston's favorite pieces. Ross and Kochar fell in love with a '70s-era Bloomingdale's dresser, then worked with Weston and Fritz to create marble countertops, run plumbing through it and install sinks with lacquered brass fixtures. "What was once an old dresser is now a completely unique vanity," Weston says.
Edgewood Hall's outdoor areas were handed over to Wayne's Roots Landscape. Ross and Kochar were looking for quality, eco-friendliness, historical accuracy and beauty. Reclaimed cobblestone, flagstone, bricks, horse treads and other materials were sourced—mostly by Ross and Kochar—and incorporated into the landscaping. "Eddie and Jaithan are at the forefront of a trend to make homes look like they were always there," says Roots landscape designer Nathan Tuno. "Not Disney World cheesy, but not EP Henry pavers, either."
All around Edgewood Hall, traditional plant materials are used in a modern way. Yellow, white, light-purple and lime-green flowers cover the property, along with dappled willow, boxwood shrubs, hollyhock, foxglove, heuchera, ferns, viburnum, and pink and white climbing roses. "It's a mixing of textures and colors, planting things next to each other that you wouldn't do in a formal garden," says Tuno. "For Eddie and Jaithan, the house needed to sing."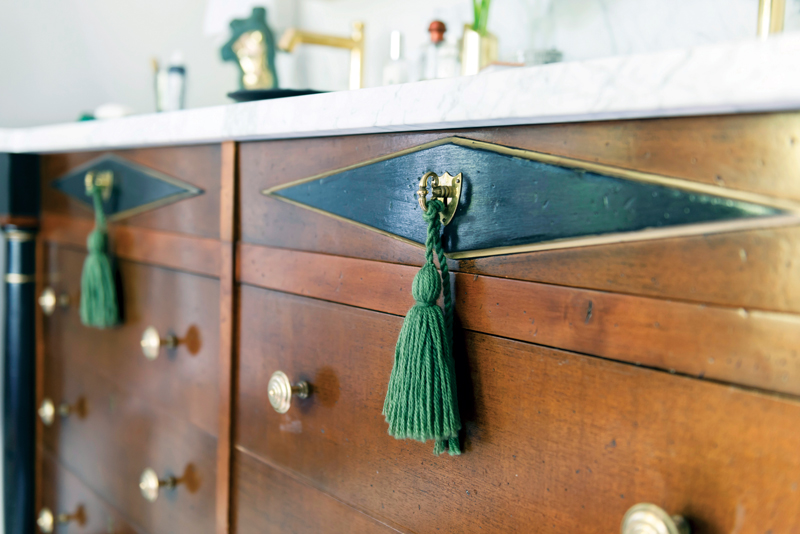 Photo by Ed Williams
Inside Edgewood Hall, the garden room was once a dilapidated screened-in porch. The renovation team raised and insulated the ceiling, installed a new cement slab and radiant-heated flooring, added a French door, and enclosed the room with energy-saving windows. "With our window trim, we finessed the whole long wall to hide the fact that it was out of square," says Fritz. "We did that so we wouldn't have to redo the whole structure and pour a new concrete floor."
The structural parts complete, Kochar and Ross added their design touches—ferns, a gilt mirror, a cement console mirror, upholstered wood furniture—and pulled the room together with a checked floor of white marble and onyx tile. The room adds about 400 square feet of living space to the house, and it epitomizes what Fritz describes as Ross and Kochar's signature "modern mix."
Edgewood Hall's masters use the garden room for entertaining and as a place for quiet reflection. Ross is there most mornings, perusing Instagram, connecting with his followers and conversing with fellow designers. He also spends time there dreaming up new projects—devising fresh ways to glean beauty from imperfection.
Visit www.maximaliststudios.com and eddieross.com.