Once considered a lesser housing alternative, condominiums are popping up everywhere on the Main Line. But will they ever give the area's palatial mansions and sprawling subdivisions a run for their money?
WHEN YOU THINK of Main Line real estate, you picture large homes on ample acreage. But for an increasing number of local homeowners, luxury isn't measured in maximum square footage and green space as far as the eye can see. And while there will always be those looking for tons of space—inside and out—area developers are now courting another breed of sophisticated buyer with an eye toward convenience.
For many of them, Center City Philadelphia's booming condominium market is a bit too urban. Enter Brian O'Neill, founder and chairman of O'Neill Properties, whose Corinthian Condominiums held its grand opening last summer. With its desirable Bala Cynwyd location, the condo project is wooing buyers in the market for an exceptional hassle-free lifestyle. The opulent eight-story building, with 108 units priced between $400,000 and $1.2 million (its two $2.5 million penthouses are already sold), comes complete with a doorman, concierge services and no-questions-asked maintenance.
The Villanova developer anticipated every want and desire of a buyer at this price point, outfitting his units with the highest quality amenities: gourmet kitchens with high-end appliances and granite countertops; master bathrooms with built-in whirlpool tubs and imported marble floors and walls; high ceilings in most of units; and walk-in closets. The fully appointed residences range from 1,057 to almost 5,200 square feet, and feature one, two or three bedrooms. Common areas in the building include a library and lounge; a boardroom for business meetings; a gym; a clubroom with full catering kitchen; and a separate overnight guest room that rivals any hotel suite in the area.
Since Corinthian opened its doors, other condominium projects have been cropping up everywhere from Ardmore to Paoli—some of which are still awaiting township approval. Lack of available land and stringent zoning ordinances make a project as large as the Corinthian development a rarity. Most of the others stand no more than three stories with about 20 condos per development.
O'Neill has another luxury condo project in the works along Mill Creek Road in Gladwyne. His goal is to make Main Line buyers—primarily baby boomers ready to give up the manse and the upkeep that comes with it—feel as if they were upsizing instead of downsizing. "In the old days, buying land was the big focus," he says. "Today people are focused on their lifestyle and want no headaches."
And O'Neill is cashing on that mentality. "This is the wealthiest 55-and-older demographic to come through this country, with the advent of retirement accounts and the tax benefits associated with them," he says. "They have invested, saved and developed net worth, so they want to live larger than they once did."
THE BABY BOOMERS O'Neill and other condo developers are after tend to have another thing in common: They're actively involved in the lives of their offspring. Formerly of Rosemont, Al and Rose Totaro originally retired to Longport, N.J. But with all their children and grandchildren still in the Main Line area, they rethought their decision—and Corinthian made perfect sense. "Life's too short," says Rose. "I wanted to be near my family. I didn't want to miss anything."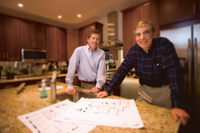 Other empty nesters are buying a place in Florida or some other warm locale, and another close to family. As with any property, location is key, which is why developers like Chip Vaughan (pictured above with partner Peter Monaghan) are marketing transit-oriented developments. The Main Line custom homebuilder partnered with O'Neill on Corinthian and is working on a second 28-unit condo project in Ardmore called Cambridge Square. For the latter, Vaughan and partner Peter Monaghan, of Strategic Realty Investments, have a superb location behind Suburban Square. "If you're not too modest, you can get up in the morning put your bathrobe on and walk to the Farmer's Market for a cup of coffee. If you want to walk a little further, you can go to Starbucks," says Vaughan. "Which is what a condo lifestyle is all about—not having to take your car out of the garage."
According to Vaughan, most people buy a condominium for one of two reasons: "Either they want to change their lifestyle—that's what's happening here—or they can't afford a single-family house—that's not what's happening here."
Or in Center City, where condo-buyers can enjoy numerous restaurant options, convenient transportation and world-class cultural attractions. By extension, the selling point for Main Line condo projects is the accessibility to trains into Center City, so you have all the advantages of downtown living without the challenges. "You can't put condos just anywhere in the suburbs," says Monaghan. "It wouldn't make sense to have a project five blocks off Lancaster Avenue, away from the train station."
Response to Cambridge Square has been so great that Vaughan and Monaghan are working to get township approval on an adjacent property for another building of comparable size and design.
"I do see more condo projects going up as the years go by because the population is still growing; and people want to live on the Main Line, but there's no land available," Monaghan says. "One way to do that is to go vertical. It won't be crazy growth, but rather slow and steady—just like the Main Line area has always been."
WHILE THERE ARE a number of condominium developments on the Main Line—especially along Montgomery Avenue—a majority of the inventory is more than 20 years old. And many of those are apartments that were converted into condos, with low ceilings and dated appliances.
Which is why Wayne's new 54-unit Pembroke North development is such a welcome relief for realtor Carol Ogelsby. "Before there weren't a lot of options to show buyers," she says. "Now we finally have projects. It's been great to be able to show them new construction."
And for those who want to live in the heart of downtown Wayne, there's Cas Holloway's Steepleview, above the shops at 106-110 Lancaster Ave., where 10 condos are slated for completion next month. The units range in size from 966 square feet to 1,480 square feet. "This is the first time in my career that I'm working on a multi-use (commercial and residential) project," says Holloway (pictured above). "We've gotten favorable response so far. It's perfect for a buyer who likes the idea of urban living without coping with the city."
While Holloway expects the greatest interest will come from empty-nesters looking to simplify their lifestyle, he isn't ruling out the possibility of young, single professionals or couples who can afford the $550,000-$700,000-plus price tag. "It has been an exciting project to work on," says Holloway. "Wayne has made it its mission to be a livable town." Radnor Township planner Matt Baumann concurs. "We've been welcoming to these projects, but we're also being very careful," he says. "We have the responsibility to address all stakeholders, from developers to residents."
As of January, Radnor Township was hard at work on its plan for the Wayne Business Overlay District, which would allow for more residential zoning in downtown Wayne. With the new rezoning, he expects to see a mix of condos and rental units to appeal to various economic groups. "When we were looking at the future of downtown Wayne, we looked to its past—and its past included downtown living," says Baumann.
A short walk from downtown Wayne, Pembroke North is bringing the site of the former Wayne Iron Works back to life. Philadelphia's environmentally focused Razak Company is the developer behind the three buildings, which were designed by internationally renowned architect Robert Venturi, whose Vanna Venturi House in Chestnut Hill was featured on a U.S. commemorative stamp in 2005.
Razak Company is committed to intelligent designs and environmentally responsible developments. So it's no surprise that Pembroke North was the first multi-family residential project registered for LEED (Leadership in Energy and Environmental Design) certification in the Philadelphia area. The buildings' highly efficient energy and mechanical systems meet stringent environmental certification requirements, making it truly one of a kind. Other attractive selling points include underground parking, single-floor living and customized units.
"The vast majority of people who have expressed interest in the project are between 50 and 65 years old," says Pembroke North spokesman George Hall. "Most live within a mile of the site and are ready to give up their big house. It's the right fit for people who want to stay in Wayne."
NOT EVERY TOWNSHIP and its residents are throwing out the welcome mat for new condominium projects. Just across Lancaster Avenue from the Daylesford train station, developer ARC Wheeler wants to build a 152-unit condo development on a 13-acre lot. But building can't start until they get approval from Tredyffrin Township, which has been getting an earful from residents who want the area to remain zoned for single-family houses only.
ARC Wheeler is proposing the development as a transit-oriented project. But opponents contend that residents would still have to rely on their cars since Daylesford doesn't have a downtown. Because of this, they say, baby boomers would be less interested than families looking to take advantage of top-ranked Tredyffrin-Easttown schools. The final say lies with the township, which as of January had not made a decision.
In Lower Merion Township, the lack of available land has prompted developers to buy multiple homes with the intention of tearing them down and building condominiums. New zoning amendments will limit the bulk and density of such projects. "We're trying to incorporate standards more in keeping with neighboring properties," says Bob Duncan, Lower Merion's building and planning director.
Thankfully for architect Tom Hall, his Allaire condominiums on North Buck Road in Haverford were approved just before the amendments were put into action. "This project is for the Main Line buyer who wants to be in a quieter neighborhood," says Hall of Allaire, whose 18 units, ranging in price from $800,000 and $1.6 million, will sit on land that once occupied by three houses.
As excited as he is about Allaire—which is scheduled for completion this time next year—Hall is hesitant to entertain the idea of another condo project. "There may be enough on the market for the next couple of years," he says.
And what of the pre-baby-boomers? Don't they have a place in the Main Line's condo boom? "The one market we haven't seen yet is the 30- and 40-year age group," says Cambridge Square's Peter Monaghan. "That may take a little while."
Developers continue to see younger, single professionals opt for the excitement and variety of Philadelphia or Manayunk. And when it comes to the suburbs, "there are other housing alternatives available to a younger group who doesn't mind doing the maintenance," says Monaghan.
Adds Monaghan's partner, Chip Vaughan: "The condo lifestyle is accepted by everyone in places like the suburbs of Washington, D.C. The Philadelphia area is a market unlike any other. People don't go with the flow quickly here; we've never been trendsetters in this part of the country. Condos in the suburbs will be accepted by a younger buyer eventually. But not right now."
 
The Main Line's Newest
Luxury Condominiums

Cambridge Square
Developer: Strategic Realty Investments, Vaughn and Sons Builders
Address: Sibley Avenue, Ardmore
Phone: (610) 658-0199
Website: cambridgesq.com
Available: Spring 2007
Units: 28
Price: $500,000-$900,000+
Details: Exceptional location behind Ardmore's Suburban Square within walking distance to shops and train station.
 
Corinthian Condominiums
Developer: O'Neill Properties
Address: 190 Presidential Blvd., Bala Cynwyd
Phone: (610) 949-0400
Website: corinthiancondos.com
Available: Now
Units: 108
Price: High $400,000s-$1.2 million
Details: Doorman and concierge service, common rooms for entertaining or business meetings, overnight guest suite.
Pembroke North
Developer: Razak Company
Address: 325 East Lancaster Road
Phone: (610) 687-3872
Website: pembrokenorth.com
Available: February 2008
Units: 54
Price: $500,000-$1 million+
Details: Close to downtown Wayne, Pembroke is the first multifamily residential building in the Philadelphia area to be registered under Leadership in Energy and Environmental Design.
Allaire
Developer: Tom Hall, Thomas E. Hall Architects
Address: Northside Haverford
Phone: (610) 293-9900
Website: teh-architects.com
Available: April 2008
Units: 18
Price: $800,000-$1.6 million
Details: Two private elevators provide direct access to six units—perfect for high-profile residents looking for privacy.
Steepleview
Developer: Cas Holloway, C.F. Halloway III & Company
Address: North Buck Lane, Wayne
Phone: (610) 964-9040
Website: cfholloway.com
Available: April 2007
Units: 10
Price: $550,000-$700,000+
Details: Ten units situated above retail stores in Wayne; perfect for buyers who want to live in town.
35 Old Lancaster Road
Developer: Ed Morris, Tradional Properties
Address: 106-110 Lancaster Ave., Bala Cynwyd
Phone: (610) 644-6400
Website: morrisrealtyllc.com
Available: Spring 2008
Units: 21
Price: $500,000-$700,000+
Details: Within walking distance to many synogogues and stores in the area, and a short commute to Center City.
Haverford Reserve
Developer: Goldenberg Group, Morris Realty, and Pohlig Builders
Address: 35 Old Lancaster Road, Havorford State Hospital site, Haverford
Phone: (888) 388-3988
Website: haverfordreserve.com
Available: Late 2008
Units: 198 Condos, 100 Carriage Homes
Price: $750,000-$1 million+
Details: A recreation and residential community exclusively for residents 55 and older.