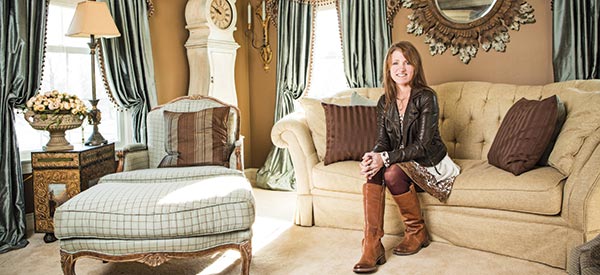 It's obvious why Susan Newcomer named her East Coventry-based interior design firm Beautiful Home. Her main goal is always to design a space that's pleasing to the eye. "I love to teach people how to really look at a room, and then give them practical advice on how to give it style and warmth," she says.
Personal decorating style: Transitional—classic with some contemporary touches.
Favorite room in her house: My kitchen. Most of the cabinetry is white, recessed-panel custom cabinets. I designed one piece to look like a hutch; I have a giant eight-foot pot rack over the island. If I moved and had to redo the kitchen, I don't think I'd change much. 
Most prized possessions: All the custom built-ins and architectural details I've added over the years. They really add character and give my home the personal touch that reflects who I am. 
Color she couldn't design without: White. Some say it's not a color, but it is. I love it because it's timeless, never goes out of style and makes everything else sparkle. 
Design element she loves incorporating into a space: Organic elements like tusks, horns and fur pelts—even things like oil paintings with animals.
Favorite design trend: Brass is coming back—dull, muted, timeworn brass.
Favorite room to design: Kitchens. I love custom cabinetry and thinking outside the box.
Biggest decorating faux pas: People paint, get rugs and drapes, and then stop. The best part of design is pulling it all together with accessories, which gives the room warmth and uniqueness.
Three words that sum up her design: Classic, casual, elegant.
Favorite project: A vacation home that was three hours away. I loved the customer I was working with, and we worked endlessly for nine months from only blueprints.
It was one of the loveliest spaces you'd ever want to be in.