Following his passion and eye for art, Haverford resident Peter Mavrides brings a touch of Parisian markets to the Main Line. What started as a way to decorate his own home, Mavrides has taken to purchasing and displaying European art, for himself and for clients. Most recently, he teamed up with Spogue Kitchens & Bath in Wayne to display his finds, which currently hang throughout the showrooms.
While not all of the works are outrageously expensive, they are tasteful and pair beautifully with the high end rooms Spogue designs. "Some people, after doing a kitchen, don't want to spend $10,000 on a piece of art. Peter's artwork is high quality and it's affordable; that's what makes it really good," says Spogue general manager Carol Rahill. Working together, they've added unexpected pops of color and thoughtful art to rooms like kitchens and bathrooms, which can be hard to decorate.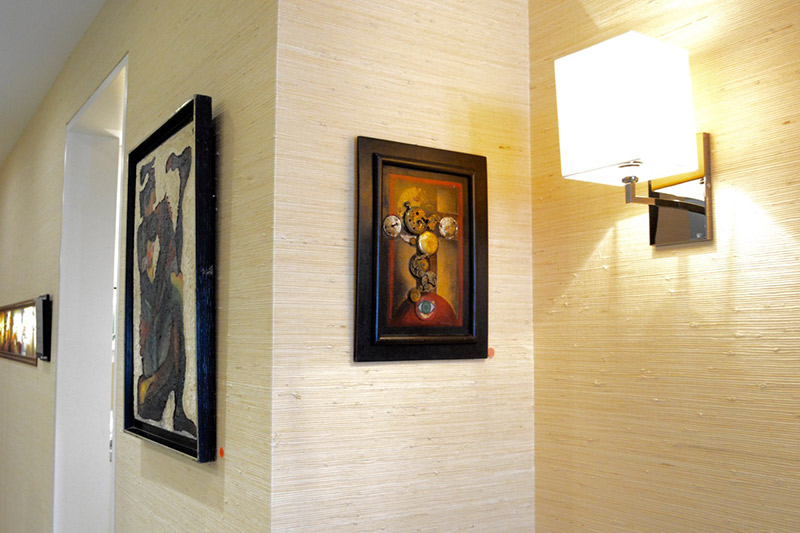 Mavrides' art collecting journey began two years ago, on a trip to Lisbon and Paris. While wandering around France, he stopped at places of significance to expats like Gertrude Stein. "I just found the times of experimentation and expression fascinating," he says. "These are the people that formed the 20th century, the culture." He visited markets and sifted through hundreds of pieces, seeking ones he found special, shipping them home and having them framed. Mavrides has plans to continue searching for unique finds in other European markets to continue displaying on the Main Line.
Forty pieces of art hang throughout Spogue, adding another element to the immaculate showrooms. Works are integrated so that they feel as though they belong in home. Pieces range from French impressionist-inspired pieces to colorful Picasso-esque works. Community members are welcome to stop in or make an appointment to take a tour of the showrooms and art, which is for sale.