Selections from Stone & Key Cellars in Montgomeryville//All Photos by Steve Legato.
Fast fact: Pennsylvania is one of the top apple-producing states in the country, its 70 orchards growing up to 12 million bushels a year. So it's no wonder there's also a burgeoning hard-cider industry—the sixth largest in the nation.
An old favorite in America, cider was the preferred drink of John Adams and Benjamin Franklin. Thomas Jefferson planted apples at Monticello specifically for making cider. Many believe that as early as 1623 American colonists began planting and harvesting apples, which weren't native to North America. Seeds made their way from Eurasia to Western Europe and America by way of missionaries and, later, colonists.
Back then, apple varieties were far fewer. These days, local cider makers take advantage of the selection, which has led to a boom in business and an abundance of flavors for every taste. Commercial brewers tend to favor the dessert apples Americans are accustomed to eating, giving their ciders a sweeter flavor. Artisanal craft brewers like Jason Harris and Chris Firey, however, choose from local varieties, creating a cider that's often much drier.
For newer places like his Stone & Key Cellars in Montgomeryville, Harris knows there's going to be a learning curve—and that he'll have to continue to educate the public on the differences between his ciders and commercial ones. "So many of us just starting out are competing for space," says Harris. "But it seems like there's a lot of space."
Firey shares this sentiment. "There's a renaissance with mead and cider makers," says the owner of Blue Marble Cysery in Phoenixville. "Our market shares will come out of the craft-beer industry."
Harris and Firey are part of a rapidly expanding industry. "Since apples grow so well in Pennsylvania, there's a market for a real craft product," Harris says. "I don't see it as a fad."
In 2013, national hard-cider sales spiked by 89 percent, creating a $280 million market. Of the dozens of cideries statewide, a handful can be found in our region. Here are the closest spots, plus a few that are a bit farther afield.
A Blue Marble bottle for every taste.
Embracing old-school fermenting styles, Blue Marble is known for its heady pours, with a taste of organic agave nectar for added smoothness. You'll find their ciders on tap at select bars. Or sample them in the on-site tasting room, open Fridays. Everything is gluten free.
333B Morgan St., Phoenixville, (610) 933-5483.
Dry fermentation gives Commonwealth's gluten-free Traditional Dry, Razzberet Tart and Gregarious Ginger serious bite. The tasting room is open Saturday afternoons.
2440 Frankford Ave., Philadelphia, (215) 427-2739.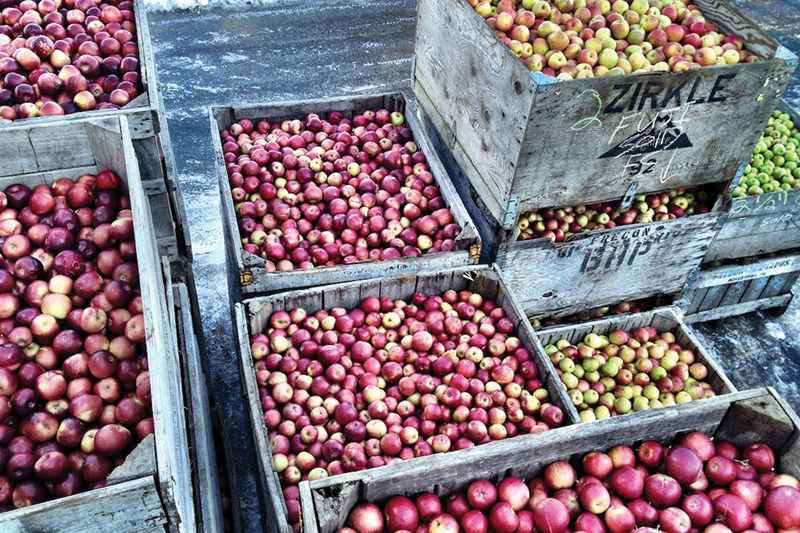 Colorful raw materials at Frecon Farms in Boyertown.
A Boyertown institution since 1944, the Frecon family started making hard cider five years ago. Try the Apfelwein—with its German and Austrian flavors—the sparkling New England-style Hogshead Reserve, or the sharper Farmhouse Sour.
501 S. Reading Ave., Boyertown, (610) 367-6200.
Hardball didn't officially launch until 2013, though its recipe for sweet, semi-dry and dry ciders goes back more than 75 years. Tours are available by appointment.
805 Orchard Road, Mount Bethel, (610) 863-6111.
This small-batch purveyor is inspired by traditional French, English and Spanish ciders. Its four handcrafted varieties are on the dry side.
Inside Round Guys Brewing Company, 324 W. Main St., Lansdale, (215) 368-2640.
With fond memories of his grandfather's hard cider, John Kowchak began brewing his own. The Philly-based Sir Charles has a traditional cider and a cyser (mead made with apples).
This winery offers several ciders, all made from apples produced at nearby Solebury Orchards. Varieties include the barrel-aged Apple Brandy, Cherry Pie (with real fruit), and the farmhouse-style Untamed.
435 Doylestown Road, Montgomeryville, (215) 855-4567.
Barrels lay in wait at Stone & Key Cellars.
Farther afield …
Close to the Appalachian Trail and the Blue Ridge Mountains, this fledgling cidery was founded by two independent farmers in 2013. Its four ciders range from sweeter to drier.
1365 Gablers Road, Gardners.
This Adams County cidery uses fresh apples grown, pressed and fermented on-site. Try the year-round original and Helen's Blend, or one of its seasonal flavors, including peach, pear or the cinnamon-flavored Fireside. Seven varieties are available on-tap at its tasting room.
410 Cashtown Road, Biglerville.
This family farm has been growing produce in the Buchanan Valley since 1976, opening the cider house just last year. Try a pint or take home a growler of the Mountain Top Hop, Pear Cider or Black Bear.
400 Baltimore St., Gettysburg, (717) 334-7537.
This beautiful farm also makes beer and soda. The Crafty Cider is made Champagne style, with no added sweeteners, from locally pressed apples and yeast. Call ahead for reservations in the tasting room, open Tuesday-Sunday.
885 S. Pleasant Ave., Dallastown, (717) 244-9900.
For more local apple-related favorites, check out our area event guide.