As an interior designer, Gina Whalen takes clients' wish lists and makes them reality—and that list can be extensive when you're talking about an 11,000-square-foot home, along with its swimming pool and grounds. Such was the case when she took on the redesign of a pharmaceutical research executive's Newtown Square manor home. Built in 2000, the house boasts a spectacular stone façade and grand architectural features like a sweeping staircase and spacious rooms with ceiling heights that vary from 10 to 30 feet.
"I'd already made the decision to move and found this house a little earlier than I originally planned, and I didn't want to lose it," the owner recalls. "The quality of the construction, the stone, the landscaping, and the overall layout and attention to detail are the things I loved."
Plus, the house is perfect for entertaining, thanks to its connecting kitchen, breakfast nook and family room. When it was constructed, it featured cutting-edge design and amenities. But nearly 20 years later, updates were needed. And though it was roomy, five bedrooms were not enough to accommodate the owner, her two teenage daughters, a live-in nanny and guests.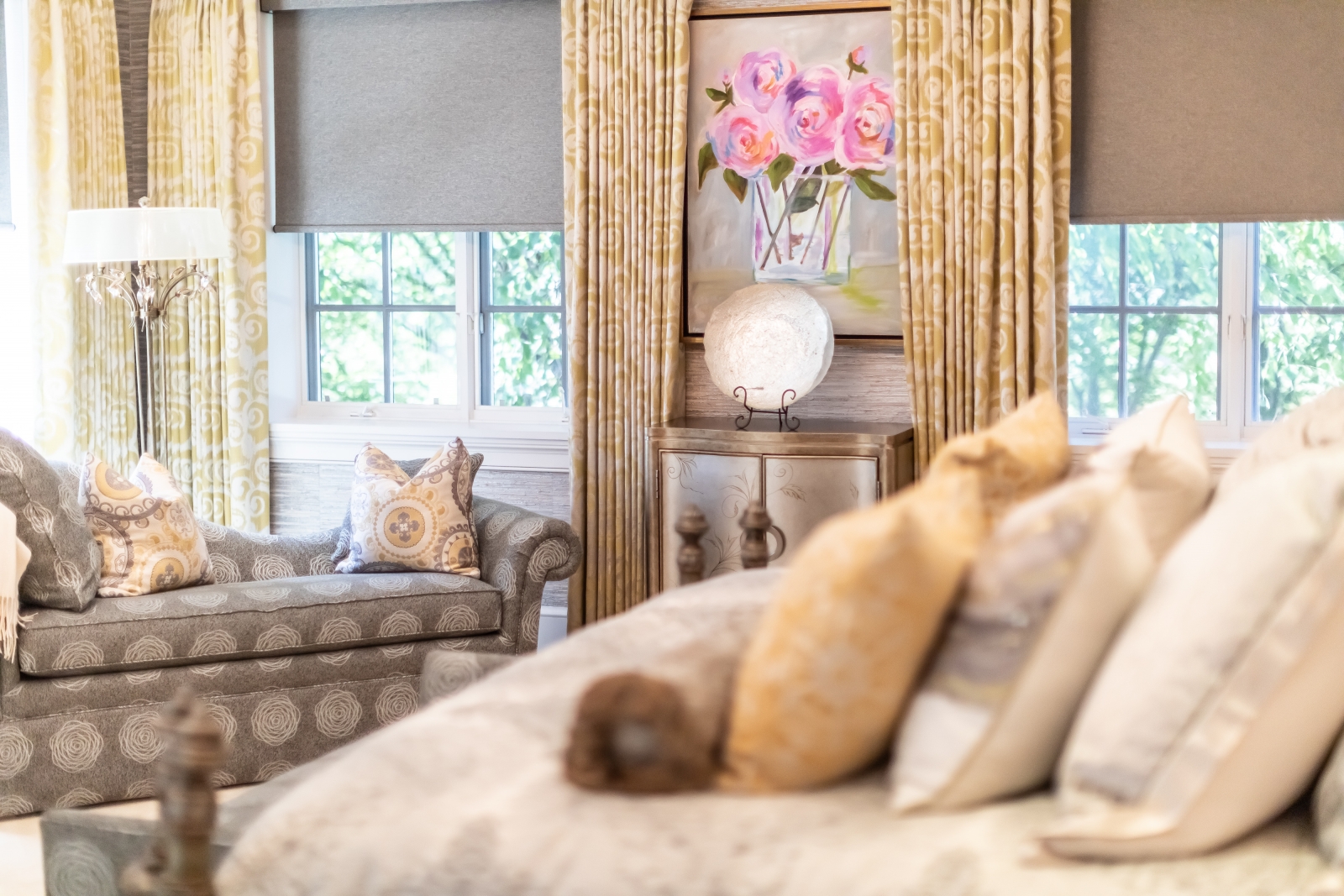 Defining a Style
The owner began meeting with Whalen before she even settled on the house, so the designer could start work as soon as the ink was dry. At the top of the list were an upgraded kitchen and family room, a sumptuous master suite, an expansive poolside entertaining area, and a climate-controlled wine cellar and tasting room. She also tasked Whalen with creating three additional guestrooms from the original footprint.
To get it right, they had to define the owner's style. "A lot of people have never thought about their style, and it's up to me to draw it out of them," says Whalen, of Bella Home Décor in Paoli. "This client is a classy, sophisticated woman, a mover and a shaker with a high-pressure job. We decided that a glamorous, transitional style would be perfect for her home."
They retained the original marble floors in the kitchen and master bathroom, as well as the mahogany paneled walls in the billiards room and study. The rest of the house would be dramatically updated in an 18-month whirlwind of activity.
Whalen worked with Sambrick Builders, NPM Electric and Main Line Sound & Video to handle construction, redo the lighting and sound systems, and install smart Lutron technology.
Aesthetic Sensibilities
From an aesthetic standpoint, the home is inspired by those who live there. Whalen designed a chandelier with a fresh take on a traditional French beaded dome basket for the foyer and commissioned local artist Bruce Becker to paint the picture of it that hangs above the mantel in the adjoining living room. Becker also painted a stylized portrait of a white horse, a reflection of the owner's avid equestrienne daughters.
The original kitchen featured several colors. Whalen's design highlights cabinetry in ivory and taupe, compatible hues with the marble floors. For sparkle, she added round pendant lighting embellished with crystals and metallic gunmetal-gray crocodile-embossed wallpaper.
Old Hollywood meets modern function in the butler's pantry, where the backsplash shimmers in antiqued glass and barware glistens in glass-fronted upper cabinets. Under the counter, the space is outfitted with a dishwasher, icemaker and beverage refrigerator. Whalen retained the black cabinets, which inspired sweeping black curtains in the adjoining dining room. "I think black can be used as a cohesive element throughout a home," the designer says.
Trust the Process
To make a statement in the formal dining room, Whalen suggested a feature wall covered in wallpaper inspired by snakeskin. "Gina and I share a love of animal print and textures," says the owner, who was initially skeptical of the suggestion. "Gina said, 'Just trust me.'"
She did—and the result is a glamorous setting for large dinner parties. A pair of oval crystal chandeliers, custom made to fit the scale of the room, glitter above. Whalen worked with Albed Rug Company in Wayne to make a multicolored carpet woven in India, which she designed specifically for the space.
The master bedroom is feminine and luxurious, with a massive crystal chandelier and an accent wall of floral wallpaper. It's serene, in hushed, silvery grays. A painting with exuberant pink flowers adds a playful infusion of color.
Designed to be an oasis, the master bathroom is awash with indulgences like a soaking tub stationed in a marble platform, crystal sconces and an art-glass chandelier reminiscent of a flower opening its petals. Wood plantation shutters are framed with floor-length draperies.
Guest Rooms Galore
Whalen looked high and low to find space for three additional guestrooms. Unfinished attic space was transformed into two light and airy bedrooms. The third comes from one of many large storage areas in the basement. It's now decorated in soft tones of pale blue and silver.
A connoisseur of fine wines, the owner upgraded the existing wine cellar. She also wanted a designated place to host wine tastings. So Whalen brought in a table crafted from a wine barrel surrounded by leather stools that look as if they were transported from the Tuscan countryside. Fittingly, the textured wallpaper is made of cork.
"My daughters and I absolutely love our home. Moving here and redecorating it was one of the best moves I have ever made," the owner says. "There isn't a better feeling than walking down that big staircase with the sun shining in, looking around and realizing, 'This is our house.'"