Often, it's the little things that matter most. And when it comes to good eating, we all have our tried-and-true, on-the-fly classics to get us through our daily and weekly routines. We asked around, surveying Main Liners (via online ballot and otherwise) on their favorites. Real food for real people. That's something we can all take a bite out of.
For the 411 on local pizza delivery, see page 4. For our 2010 culinary calendar, check out page 5.
Burgers: Elevation Burger, Five Guys Burgers and Fries
If "good fast food" sounds like an oxymoron, Five Guys is on a mission to convince you otherwise with its two-hands-required, "fresh, never frozen" burger. The free toppings selection is unbeatable (the sautéed mushrooms don't come from a can), the fries are always crispy, and the Cajun seasoning is positively addicting.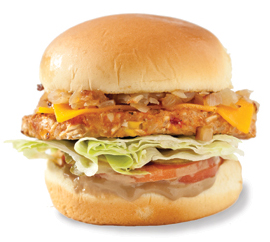 For a lighter bite, try the "little" burgers. And, as any Five Guys fan will tell you, the regular fries are plenty for two. Vegetarians will get a rise out of Elevation Burger's savory, pleasantly textured patty chock-full of veggie bits and grains, tucked into a pillow-soft potato roll (pictured). Regulars swear by the caramelized onions, cheddar cheese and balsamic mustard. And don't skip the shoestring fries. Various locations, fiveguys.com; 50 E. Wynnewood Road, Wynnewood, (610) 645-7704, elevationburger.com.
Celebrate the Eggplant: Upper Crust, Yangming, Bertucci's
Really hungry? Try the eggplant hoagie at Upper Crust in Newtown Square—never breaded, and cooked to a pleasantly squishy tenderness that pairs perfectly with the mozzarella cheese, tangy tomato sauce and soft Italian roll. If it's Asian flavor you're after, Yangming offers huge chunks of tender Japanese eggplant tossed with edamame, soft tofu and a zesty Thai basil sauce. And pizza lovers swear by Bertucci's roasted eggplant pie with caramelized onions and roasted garlic—or add whatever you like. 3711 West Chester Pike, Newtown Square, (610) 356-2104, uppercrustpizzashop.com; 1051 Conestoga Road, Bryn Mawr, yangmingrestaurant.com, (610) 527-3200; 761 Lancaster Ave., Bryn Mawr, (610) 519-1940, bertuccis.com.
Locally Made Find: Highland Farm Cheese

Cheese maker and dairy farmer Martha Pisano specializes in fresh and aged artisan sheep's milk products. (She also raises milk-fed veal.) Her Highland Farm offers brebis (a sheep's- milk version of goat cheese), Camembert, aged Pecorino Romano, Manchego and Gouda, and more. The products are sold at area farmers' markets and served at a handful of local restaurants, including Savona, Talula's Table, Restaurant Alba and Gilmore's. 151 Doe Run Road, Coatesville, (610) 384-7118.
Wrap It Up: La Locanda II Go
If you crave an authentic Italian hoagie, but not the bloat you feel after downing one, try the slimmer versions at La Locanda II Go. The "La Locanda" is packed with prosciutto, sopressata and Genoa salamis, sharp Provolone, and sweet and hot peppers. The "Capone" is equally satisfying, loaded with pepperoni, Provolone, cappicola and Genoa. Non-meat types love the "Verdura," "Fresh Mozzarella" and "Godfather," with ingredients like sun-dried tomatoes, buffalo mozzarella, artichoke hearts, roasted red peppers, fresh basil, sharp Provolone and broccoli rabe. All varieties come swaddled in your choice of a sun-dried tomato, wheat, white or spinach wrap—and for just $6.25. 5003 West Chester Pike, Newtown Square, (610) 325-5200.
Unsung Regional Fave: Luigi & Giovanni's Pork Sandwich
Pick a Saturday, skip breakfast and head over to Luigi & Giovanni's Newtown Square Specialty Market, where its staff will be waiting from 10 a.m. to 3 p.m. (or until the meat runs out) with a freshly roasted porchetta. The meat is cooked overnight—skin on—in a brick-oven rotisserie and seasoned with fresh herbs. The next day, it's pulled into juicy shreds, tossed in a light gravy, layered with sharp Provolone and house-made roasted red peppers, and sandwiched between a crusty, sesame-studded semolina roll. They've been perfecting this Route 3 version of the Philly classic since the 1960s—and it tastes that way. 3601 Chapel Road, Newtown Square; (610) 353-4014, luigiandgiovannicaterers.com.
Fried Chicken: Soulfed Café
Tucked inside American Legion Leon Spencer Reid Post 547, this unassuming hot spot for authentic Southern-style fare is the Main Line's best-kept secret. The bulk of the business is takeout, but feel free to step inside and enjoy the juiciest, crispiest chicken around, plus candied yams, smoky collard greens and baked mac-and-cheese made with nine different cheeses. For $2, they'll deliver anywhere on the Main Line. 233 Simpson Road, Ardmore; (610) 649-3999, soulfedcafe.com.
 
Continued on page 2 …
Eggceptional Benedict: Classic Diner
You might have to wait in line for a while on a weekend, but the Classic's decadent eggs Benedict selections are worth it. Go traditional, or trade the ham for a hunk of filet, Ahi tuna steak, smoked salmon, lump crabmeat, avocado and tomato, sautéed spinach or asparagus. (Alas, the lobster option is on hiatus.) Plus, the hollandaise is made from scratch every morning. Just be sure to make time for a nap afterward. 352 Lancaster Ave., Malvern; (610) 725-0515, theclassicdinerpa.com.
Bar Food: Teresa's Next Door
Teresa's regulars rave about the fried artichoke hearts—cornmeal-crusted, crispy-tender and piping hot. Pair them with an order of skewered, grilled day-boat sea scallops wrapped in applewood-smoked bacon and served with a small pool of lemon horseradish aioli. 126 N. Wayne Ave., Wayne; (610) 293-0119, teresas-cafe.com.
Wings: Campus Corner
This Villanova University institution ranks high for its meaty, messy chicken wings doused in mild, hot, extra-hot, honey, chipotle, teriyaki or barbecue sauce. A dozen will cost you just $7.50, and they'll even deliver a single order. 829 Lancaster Ave., Villanova; campuscornerpizza.com, (610) 527-3606.
Here's the Beef: Ithan Market
Visualize, if you will, a mountain of thinly sliced, rare eye of round roast topped with pickled baby beets and fresh mozzarella, piled high between two pieces of Le Bus multigrain bread generously smeared with horseradish sauce. Now, get in the car and go. 613 Conestoga Road, Villanova; (610) 688-0650, ithanmarket.com.
Buffet: Khajuraho

Seven days a week, this unabashedly sensual ethnic haunt serves up one of the best buffets in town, with about a dozen copper chafing dishes to explore during the week, and even more on weekends—all for just $10.95 ($14.95 Saturday and Sunday). The chicken tikka masala and mango lassi are easy picks for the novice, but don't pass up the lamb korma, karahi or vindaloo. Ardmore Plaza, 12 Greenfield Ave., Ardmore, (610) 896-7200, khajurahoindia.com.
Serious Mexican for Less: Plaza Azteca
Big on taste and easy on the wallet, this mini-chain also boasts an awesome tequila list. Menu highlights include the steak entrées, Pollo Acapulco (grilled chicken breast, shrimp, crabmeat, celery and tomatoes mixed in a nacho cheese sauce), tilapia and shrimp fajitas, Camarones Gratinados (grilled jumbo shrimp and onions blanketed in melted cheese), and lobster enchiladas. 351 Plymouth Road, Plymouth Meeting; (610) 940-3906, plazaazteca.com.
Sleeper Restaurant:
Lourdas Greek Taverna
This petite family-run BYO's humble ambiance matches its home-style Mediterranean fare—a delicious antidote to the pricey and overly ambitious. Greek classics include dolmades, melitzanosalata, spanakopitas, avgolemono (lemon and egg soup with orzo), moussaka, pastitsio and souvlaki. The kitchen also turns out a to-die-for whole roasted fish and other straightforward seafood specials. If you're lucky, you might end up with a generous portion of golden brown, caramely sweet pan-seared scallops, Mediterranean sardines with lemon and olive oil, or Copper River salmon with tomatoes and capers. 50 N. Bryn Mawr Ave., Bryn Mawr; (610) 520-0288, lourdasgreektaverna.com.
Small Plates, Big Taste: Stella Blu
Since tweaking its menu, Stella Blu has earned a reputation for top-notch, globally inspired nibbles that pair exquisitely with its updated cocktail and wine list. Regulars love the fried artichoke hearts with balsamic mayonnaise. We can't get enough of their smoky-sweet littleneck clams with crispy ground pork; wild mushroom ravioli in walnut cream sauce with Pecorino Romano cheese; lobster and fresh porcini mushrooms tossed with fettuccini; and tender, juicy lollipop lamb chops with mint-cilantro yogurt and smoked chili oil. 101 Ford St., West Conshohocken; stellablurestaurant.com, (610) 825-7060.
 
Continued on page 3 …
Solo Lunch: Chipotle Mexican Grill, Ruby's Diner
We're all prone to some anxiety when dining alone, but at this eco-friendly, urban-chic Tex-Mex joint, you can fly solo without worry. Just belly up to one of the high-top tables for two and take in a streetscape that's visible through the floor-to-ceiling windows while noshing on a trio of crispy antibiotic- and hormone-free carnitas tacos topped with tomatillo-red-chili salsa and big scoops of creamy, mashed guacamole. It's plenty to get you through to dinner. Ruby's is another ideal spot for a solo taco break. A tried-and-true menu favorite is the soft shrimp tacos with chunky cabbage slaw, taco sauce, melted Jack cheese, guacamole, chopped green onions and sour cream. Various locations; chipotle.com, rubys.com.
Well-rounded Sipping: Margaret Kuo's
When Wine Spectator speaks, oenophiles listen. And once again, the Wayne-based grande dame of the Kuo dynasty and its Media counterpart were mentioned in the über-authoritative guide's annual awards for general excellence in the Best Restaurant Wine List category. Its well-thought-out selection is equally suited to Kuo's contemporary Chinese and Japanese creations—and your budget. 175 E. Lancaster Ave., Wayne, (610) 688-7200; 4-6 W. State St., Media, (610) 892-0115; margaretkuos.com.
Riviera Getaway: Bar Savona
Swanky, sophisticated and pricey, Bar Savona makes little people feel like high-rollers. A great place to see and be seen— especially during the summer, when outdoor dining is in full swing—this Gulph Mills gem is about more than good looks, thanks to chef Andrew Masciangelo's stellar work in the kitchen. The menu features delectable Italian-inspired fare. Standouts include cavatelli pasta with braised pork shoulder and Tuscan kale, spaghetti alla chitarra with Masciangelo's veal-ricotta meatballs, veal Milanese, a daily risotto (made with farro), plus thin-crust, wood-fired pizzas. For starters, the fried artichoke hearts and polenta, with a fricassée of seasonal mushrooms, are not to be missed. And the bar menu is available for takeout. 100 Old Gulph Road, Gulph Mills; (610) 520-1200, savonarestaurant.com.
Beef and Brawn: Fleming's Prime Steakhouse & Wine Bar
From the big cuts of beef and hefty sides, to its dark woods, manly bar and swanky spirits selection, Fleming's exudes testosterone. Which makes it a great place to close that big deal—and celebrate afterward. The wine list is reason enough to wile away a few hours at the bar. When mealtime rolls around, mix and match items from the bar and dining room menus. And if you stop by at happy hour, you can take advantage of the "five for $6 until 7" special—five appetizers, five premium cocktails and five distinctive wines by the glass, each priced at $6 and served nightly until 7 p.m. Regulars rave about the Wicked Cajun Barbecue Shrimp, seared Ahi tuna with spicy mustard sauce, and jumbo lump crab cakes with a piquant red pepper sauce. For something more substantial, the "burger bar" offers two-fisted concoctions like the Fleming's prime burger topped with cheddar cheese and peppered bacon, Ahi tuna glazed with a soy ginger sauce, and portobello mushroom with sautéed spinach and creamy goat cheese. So, if your husband starts holding his "meetings" in Radnor, you know where he'll be. But don't worry—the bartenders will keep him in line. 555 E. Lancaster Ave., Radnor; flemingssteakhouse.com, (610) 688-9463.
Healthy Breakfast Sandwiches: Wawa, Starbucks
It's no secret that Main Liners of all stripes flock to Wawa at all hours. But mornings mean a little less guilt thanks to its ridiculously popular turkey sausage, egg white and cheese breakfast sandwich. You'd never know you were scarfing down just 12 grams of fat and 408 calories. (The conventional version has 488 calories and 22 grams of fat.) If you can't get your hands on the Wawa version, Starbucks' turkey bacon sandwich is a tasty alternative, with 11 grams of fat and 330 calories. Various locations; wawa.com, starbucks.com.
 
Continued on page 4 …
Special Delivery
We picked three of your favorite local pizza shops and put their delivery squads to the test. Overall, we found that a crispy crust withstood the elements more convincingly and a tangy, balanced tomato sauce counteracted cool cheese. Here's how it broke down.
Bryn Mawr Pizza
658 W. Lancaster Ave., (610) 525-4421
Type: White, half-spinach.
Price: $10.73 (not including tax, delivery charge and tip).
Time ordered: 8:02 p.m.
Time delivered: 8:49 p.m.
Time promised: 45 minutes
Taste: This one was truly cold, making the crust soggy and chewy. It would've been far better right from the oven, when the mozzarella and ricotta meld for that falling-off-the-slice bite.
Garrett Hill Pizza
910 Conestoga Road, Rosemont; (610) 525-8813, ghpizza.com
Type: Plain
Price: $7.99 (not including tax, delivery charge and tip).
Time ordered: 8:03 p.m.
Time delivered: 8:26 p.m.
Time promised: 45 minutes
Taste: Though the hottest pie in the group, the crust lacked crispiness. The cheese fared much better, as it hadn't congealed.
Peace-A-Pizza
1125 E. Lancaster Ave., Rosemont; (610) 581-7010, peacepizza.com
Type: Fresh mozzarella, tomato and basil.
Price: $15.29 (not including tax, delivery charge and tip).
Time ordered: 8 p.m.
Time delivered: 8:55 p.m.
Time promised: 45 minutes
Taste: The pie itself was cold, but the fresh mozzarella held its consistency, and the crust was crisp under the cooled sauce.
 
Continued on page 5 …
2010 Culinary Best Bets

Winter
» Woo your valentine: Feb. 10, Philly-based culinary icon Jean Marie Lacroix comes to the Inn Keeper's Kitchen at the Dilworthtown Inn in West Chester to share his secrets on preparing a classic French dinner that will leave your valentine swooning. (dilworthtown.com)
» Be like Emeril: Sign up for Viking Culinary School's Mardi Gras class Feb. 16 and learn how to work with fresh seafood, cook beans, balance flavors and season properly—all while making seafood gumbo, crawfish pies, king cake and other Louisiana classics. (vikingcookingschool.com)
» Sommelier smackdown: Feb. 24 marks the Wine School of Philadelphia's signature wine-and-food pairing competition between area sommeliers and one of the school's top instructors. Contestants choose wines on a limited budget; audience members try and judge each pairing. At night's end, scores are tallied and a winner announced. (vinology.com)
» See where the pros hone their chops: Join esteemed Main Line cooking instructor Charlotte Ann Albertson on a tour of the Culinary Institute of America in New York. Trips include a gourmet lunch at CIA's five-star restaurant and a student-led tour of the fabulously equipped classrooms and facilities. (albertsoncookingschool.com)
 
Spring
» Bridge the gap between seasons with a BYOF party: All that spring cleaning is sure to get your appetite going, so why not invite a few friends over for an easy fondue supper? With spring veggies starting to show, it'll get you in the mood to till.
» Go green: Sly Fox Brewery & Pub's weekly St. Patrick's Day Boot Camp started back in January, a full 10 weeks before the big day, and culminates in a party at both locations on March 17. The official beer is O'Reilly's Stout, and live Irish music happens Wednesday nights in Phoenixville and Thursdays in Royersford. (slyfoxbeer.com)
» Hit the Brandywine Wine Trail: This monthlong Saturday/Sunday event features tastings of developing vintages in barrels, buckets, bottles and more. Snag a few spicy reds, then stop at one of Kennett Square's Mexican grocery stores and pick up all the fixings for a fiesta. (bvwinetrail.com)
» Take in an afternoon of glassblowing at Simon Pearce: Then stay for dinner and enjoy a farm-to-table meal at this West Chester gem, complete with a bottle of Simon Pearce Reserve wine. Glassblowing demos Wednesday-Sunday. (simonpearce.com)
 
Summer
» All beer, all the time: Annual Beer Week happens June 4-14—on the Main Line and in Philly. (phillybeerweek.org)
» Crack crabs: Try Obrycki's Crab House in Baltimore, which shuns the Old Bay in favor of a spicy black pepper rub. They're Oprah's favorite. (obryckis.com)
» Celebrate your independence with a pig roast: Several local caterers can do the job well, but Sami Rose Culinary Productions/Zachary's BBQ is a good place to start your search. (zacharysbbq.com)
» Celebrate fresh produce with a meal at Talula's Table in Kennett Square: Be prepared to spend, and reservations book a year in advance. But it's worth it. (talulastable.com)
» Delicious getaway: Enjoy a fun-filled weekend celebrating food and wine July 16-18 at Brandywine Valley Culinary Camp. The three-day, two-night adventure includes personal time with chefs, restaurateurs and winemakers. (800-566-0109, ext. 205)
 
Fall
» Hobnob with celebrity chefs: Held Oct. 15-17 at the Philadelphia Expo Center, the Philadelphia Food & Wine Festival is a must for those who enjoy cooking, eating, drinking and shopping—which is basically everyone, right? (gourmetshows.com)
» Learn to love lamb: Buy grass-fed lamb from Canter Hill Farm in Malvern. Available by the cut and priced per pound. (canterhillfarm.org)
» See Chinatown up close and personal: Join chef Joseph Poon for Wok 'n' Walk. Take a Chinese vegetable-carving lesson and tour Poon's stomping grounds with stops at a fortune cookie factory, Chinese bakery, Asian grocery store, fish market and more. (josephpoon.com)
» Escape the fall rains: Entertain the kids with a tour of Herr's Snack Factory in Nottingham. (herrs.com)
» Celebrate Oktoberfest at home: Savor local, seasonal offerings from Victory Brewing, Sly Fox, General Lafayette, Rock Bottom and McKenzie Brew House. And don't forget the Oktoberfest bratwurst from Rieker's Prime Meats in Philly. (riekersmeats.com)
» Stock your freezer: Now's the time to hit up area farmers' markets for all the goodies you'll need until they reopen next season—like pastured, antibiotic- and hormone-free meats. (farmtocity.org)
» Pop the cork: Grab a friend and head to J. Maki Winery (formerly French Creek Ridge Vineyards) in Elverson for a case of its award-winning champagne and other sparkling wines. It's the only American winery to be honored with the gold medal for blanc de blancs champagne at the prestigious Vinalies Internationales wine competition in Paris. While you're there, also pick up a few bottles of its aromatic, lusciously fragrant ice wine. (frenchcreekridge.com)