From train car upgrades to scheduling improvements, the transportation authority is attempting to overhaul its most traveled regional rail line.
Keep up with the latest in local news by signing up for our FREE email newsletter here.
Seated in the 1930s-era tower near the railroad tracks passing through Paoli, an operator works the levers and buttons that help control the commuter trains passing through. Less than 25 miles east, in the control room at SEPTA headquarters, operators monitor flashing lights as they oversee the progress of other trains. Eventually, the Paoli/Thorndale Line—formerly known as the R5—will be operating from a similar Amtrak control center in Wilmington, Del., helping its slow-but-steady move into the 21st century.
Of the 13 lines that make up SEPTA's regional rail system, Paoli/Thorndale is the most traveled—and the most troublesome. Making its way over 35 miles from sparsely populated sections of Chester County through the Main Line and into Center City, it carries more than 23,000 riders on an average weekday—a 25 percent increase since 1997. Yet it's plagued with aging equipment and infrastructure—stations long on history and short on convenience. It's also plagued by nature itself: Trees drop leaves on tracks, causing service delays. Sometimes they drop themselves on the tracks, leading to stoppages.
But SEPTA general manager Jeff Knueppel is determined to dramatically improve the Paoli/Thorndale Line's performance. "I'm not going to be satisfied until we get this line to 90 percent on-time performance," he says.
That figure is defined as anything less than six minutes late. Last year, it was 84 percent. For the system as a whole, the rate was 88 percent. Amtrak, which owns the line, also has plans for improving performance and commuter facilities, although timetables are vague.
Stretching over 35 miles from rural Chester County to Center City, the Paoli/Thorndale Line carries more than 23,000 riders on an average weekday—a 25 percent increase since 1997.
For SEPTA, some of the improvements simply involve better scheduling. Over the past two years, the agency has put cellular modems on all trains, helping it assemble data for revisions. "We have realistic schedules," says Knueppel, who started with SEPTA three decades ago as a structural engineer. "There's no padding at the end."
Here, though, progress sometimes has its downside. Completion of the Center City commuter tunnel in 1984—after six years of construction and over $1 billion in today's dollars—made the regional rail system more efficient. So if a train from Lansdale hits Suburban Station six minutes late, it's automatically six minutes late as it continues on to Paoli or Thorndale. "If we're late in the north, we're late in the south," says Knueppel. "We get two lates for one."
Making up time by speeding up doesn't work, since SEPTA and Amtrak put a positive train-control system on the line for safety in 2017. "There's no Casey Jones here," Knueppel says.
SEPTA also plans upgrades in the fleet, eventually replacing the Silverliner IVs that make up some two-thirds of it with more modern cars, some of them double-deckers that will increase passenger capacity. They'll be pulled by recently acquired high-powered electric locomotives. Knueppel says the Silverliner IV is about the oldest self-propelled regional rail car anywhere in the country. "As Nixon was leaving, those were coming in," he says.
In addition to normal wear and tear, older cars like the Silverline IV have more trouble dealing with wet rails, a particular problem last fall when the line had its third worst slippery rail "season" in 14 years. Also, many trees are on private property, and thus outside the scope of Amtrak trimming projects.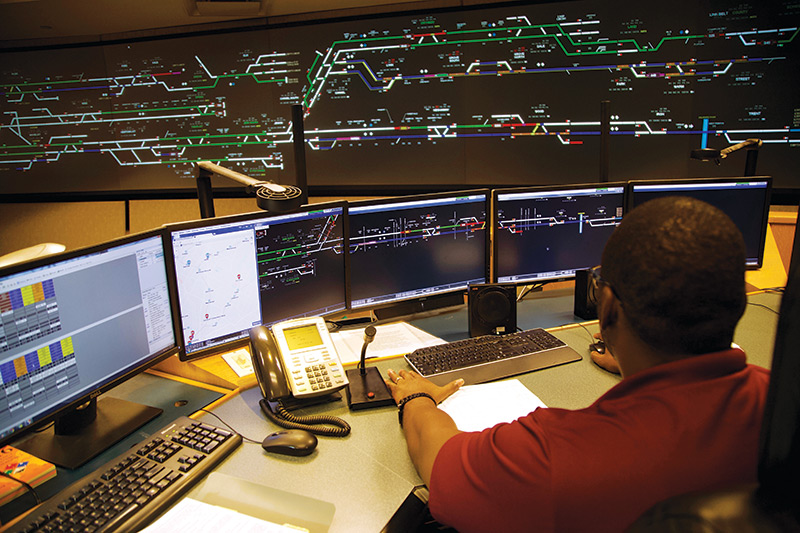 Inside the SEPTA control room. Photo courtesy of SEPTA.
But perhaps the one thing that makes Paoli/Thorndale such a problem line is Amtrak. "There are coordination issues and, of course, they're going to make their trains the priority," says Knueppel, discussing an issue familiar to any commuter who's sat on a SEPTA train waiting for Amtrak to pass.
Of the 13 regional rail lines, three—Paoli/Thorndale, Wilmington/Newark and Trenton—are controlled by Amtrak. Their on-time performance has traditionally lagged about 7 percent behind the other 10 lines—and "that's not good," says Knueppel.
In 2017, 21 percent of trains on Amtrak-controlled lines were late. On SEPTA lines, 12 percent were late. But this was a sharp improvement over the previous year, when 30 percent of the Amtrak trains were tardy. Kneuppel says performance could improve sharply if Amtrak converted to controlling the trains from Wilmington, rather than from the signal towers at Paoli, Thorndale and Overbrook. As for Amtrak, spokesperson Beth Toll maintains that the transfer to Wilmington is definitely in the works, but that there's no target date.
Both SEPTA and Amtrak are optimistic that pending improvements will make Paoli/Thorndale more convenient and reliable. One clear sign is the remodeling of the Paoli station. The project includes a pedestrian overpass, parking improvements, and high-level platforms so commuters can step directly onto the train, as they can at many stations on SEPTA-run lines. In addition to making the cars more handicap-accessible, level platforms reduce delays due to long lines of commuters clambering up steps. SEPTA is converting to these platforms at Exton, with Ardmore to follow.
Such modernization is more difficult on Paoli/Thorndale than on the SEPTA-run lines because Amtrak owns the stations, making renovations more expensive due to extra crews for flagging and safety. Another caveat: Many of the Main Line stations have historical significance, so there must be approvals by the Pennsylvania Historical and Museum Commission.
Paoli/Thorndale is also handicapped by the inability to run trains in reverse routes, due to an outdated signal system and the inability to keep the route open in cases where a falling tree might hit one of the catenary structures that supply power. Toll says that over the next five years, Amtrak will be upgrading the signaling system to give it bi-directional capacity. It will also be replacing the air-switch machines with more reliable machines that have electric switches.
The catenary issues, however, are more troublesome. Currently, a falling tree hitting the wires will take out the whole four-track line. A modernized system might allow the railroad to keep one or more of the tracks open. Knueppel says it could take 10 years to modernize the catenary system. To date, work on that hasn't started.
Meanwhile, SEPTA is working with Amtrak to eventually add more trains that run express for part of the route. In some cases, this would involve having four tracks rather than the two on most lines. It would also mean sometimes breaking the pattern of SEPTA using the outside tracks and Amtrak the inside. "We're going to keep pushing," Knueppel says.
And commuters will keep waiting.