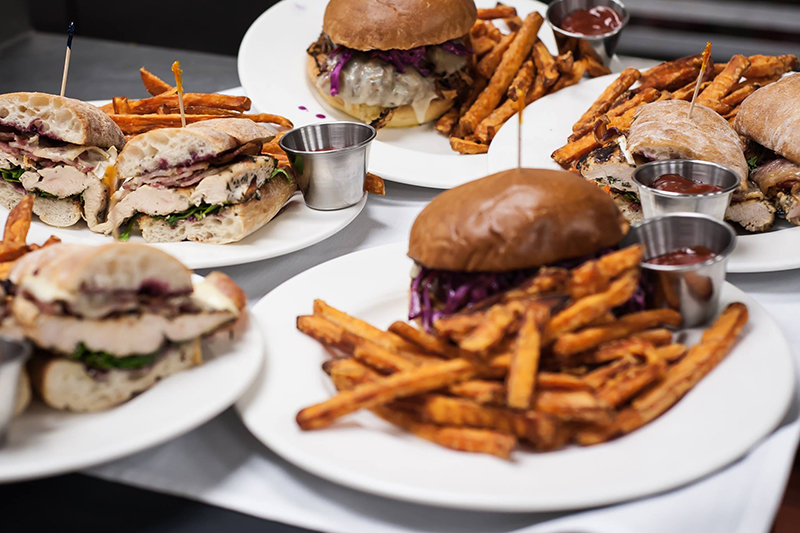 30 Main Sandwiches//photos courtesy of 30 Main
Spring is in the air at Berwyn's 30 Main, which announced its new seasonal menu just this week. Chef Stephen Zurla and the rest of the kitchen crew put their heads together to create selections that perfectly marry diners' desires with fresh, healthy, contemporary options.
Small plate starters include Vietnamese cabbage rolls with mixed veggies and a sweet chili sauce, lollipop lamb chops and fully-loaded lump crab & lobster nachos. Or begin your meal with a fig, gorgonzola and prosciutto flatbread that's substantial enough to share with your dining companion (but you probably won't want to).
From left: caprese salad, lobster nachos
Vegetarian? Dive into two items in particular on the entree menu: mushroom risotto, with portobello and cremini 'shrooms, grape tomatoes, truffle oil, snow pea shoots, asparagus and fontina cheese; and vegan fried rice, with seasonal veggies and soy sauce. For something completely different, sink your teeth into aptly-named Beast of Berwyn, 30 Main's signature burger bursting at the seams with smoked bacon, pork belly, pulled pork, onion rings, lettuce and a sweet tomato jam.
Bring a group all day Sunday through Thursday or before 7 p.m. on Friday and Saturday for a family-style deep-fried turkey meal—prepared with your choice of hot sauce, garlic-herb, Cajun or original seasonings—that also includes seasonal vegetables and mashed potatoes. At just $50 for up to 5 diners and $100 for up to 10, that's a bargain we think you shouldn't pass up.
30 Main, 660 Lancaster Ave., Berwyn, (610) 220-2367, www.30mainline.com