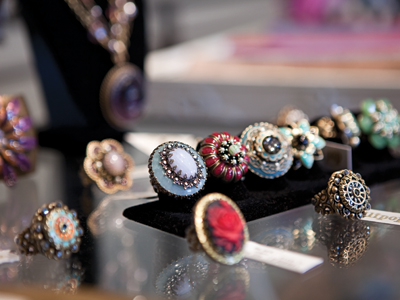 Critics' Picks
(pages 3-14)
Readers' Picks

Bridal Boutique (Online Poll) >>> Wedding Shoppe
503 W. Lancaster Ave., Suite 110, Wayne; (610) 293-1299, wedding-shoppe.com.
Consignment Shop (Online Poll) >>> The Palm Tree
21 Plank Ave., Suite 124, Paoli, (610) 647-2775.
View Critics' Picks here.
Critics' Picks

Art Gallery for Aficionados >>> Serpentine Gallery
Housed in a 19th-century brick building amid the borough's vibrant restaurant scene, Serpentine may be the new kid on the block, but already, owner Sandra Retzlaff has touched a nerve with art patrons who've discovered that "Wyeth country" is an expansive term. Contemporary is the operative word here—be it the bright, colorful pop art of Jeff Schaller, the imaginative sculpture and paintings by the late Bill Freeland, or the mixed-media works by Belle Hollon. 138 E. Gay St., West Chester; (610) 344-3992, serpentinegallerywc.com.
Art Gallery for the Community Minded >>> Miner Street Arts
Housed in a former carriage house and tucked away on its namesake side street, this arts co-op (its managed and shared by working artists) is chock-full of charm and artistry. The jewelry makers alone prove that one-of-a-kind pieces are based on the individual approach to working in silver, copper, beads and stone. You'll also find paintings, glassware, ceramics and more. 9 E. Miner St., West Chester, (484) 905-6619, minerstreetarts.com.
Baby Boutique >>> Nurture
Aptly named, Nurture provides an array of baby and toddler musts, from sippy cups and burp cloths to high chairs and car seats. You'll find stylish clothes for infants and toddlers, along with toys for the bath and everyday play. Nurture's "New Baby Checklist" is helpful for first-timers, as are workshops and classes like "Baby Proofing 101." 19 W. Lancaster Ave., Ardmore; (610) 649-0424, shopnurture.com.
Banquet Facility >>> Drexelbrook Catering & Corporate Events Center
For more than 60 years, Drexelbrook has been a choice venue for weddings, proms, events and galas. Sophistication radiates from the chandeliers, the high, coffered ceilings, the Grand Lobby's marble floors, and the charming outdoor gazebo and walking garden. Choose from five ballrooms, or opt for a more intimate space. 4700 Drexelbrook Drive, Drexel Hill; (610) 259-7000, drexelbrookcatering.com.
Continued on page 4 …
Bookstore >>> Chester County Book & Music Company
While the Borders of the world hang on for dear life, this 29-year-old indie powerhouse keeps chugging along. Some 125,000 books, 30,000 CDs and DVDs, and more than 1,500 magazines and periodicals fill the 28,000-square-foot space, making it one of the largest independently owned bookstores in the country. It's also home to one of the area's best-kept culinary secrets, Cajun/Creole BYO the Magnolia Grill. A friendly, knowledgeable staff of voracious readers rounds out the experience. 975 Paoli Pike, West Chester; (610) 696-1661, ccbmc.com.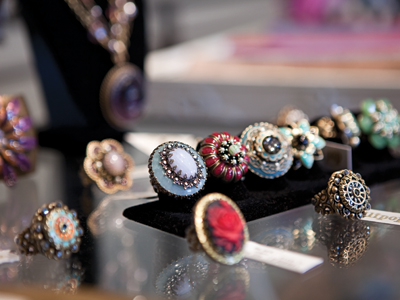 Boutique for Girlie-Girls >>>
Kat Bradley Accessories
Kat Bradley is stocked with all the frilly stuff that makes being a woman fun, from affordable jewelry to sparkly purses. Bring in an outfit, and the ladies here will gladly help you accessorize your entire look. That's what we call fashion-forward service. Eagle Village Shops, 503 W. Lancaster Ave., Suite 620, Wayne; (610) 726-1222, katbradley.com.
Boutique on a Budget >>>
Boutique Wearhouse
This is the spot for women's clothing, handbags, shoes, jewelry and more from upscale brands like Bread & Butter, Dolce Vita and My Tribe—all for up to 60 percent off retail. 5001 West Chester Pike, Newtown Square; (610) 356-1566, boutiquewearhouse.com.
Clothing for Kids >>> Peanut Butter & Jane
Dressing kids should be fun, and Peanut Butter & Jane owner Theresa Benincasa makes shopping for kids' clothing fun, too. Her Wayne boutique is filled with adorable outfits, from pretty party dresses for little girls to hip tees and jeans for the little guys. Her inventory is a fun mix of trendy, preppy, always age-appropriate apparel for the infant-through-elementary-school bunch. 200 W. Lancaster Ave., Wayne; (610) 254-9300, peanutbutternjane.com.
Continued on page 5 …
Clothing for Men >>> Englund's Apparel
Superior customer service is one of many reasons Englund's has been in business for more than 45 years. This Malvern mainstay has an in-house tailor, plus a custom-clothing service with hundreds of fabric options for shirts and suits. 115 W. King St., Malvern; (610) 644-9315, englundsapparel.com.
Clothing for Teens >>> Just Girls
Just Girls proves that mothers can peaceably coexist with their daughters when it comes to shopping for clothes. This unique boutique has the labels that keep the daughters happy (Hudson jeans, Susana Monaco dresses). And everything is age-appropriate (the root of many an argument). 3515 West Chester Pike, Newtown Square; (610) 325-3731.
Clothing for Women >>> Posh Collections
The fabulously dressed mannequins in the window draw us into Posh Collections every time we pass. Super-selective owner Tina Corrado knows her Main Line clientele so well, which is why the Parker tops, Diane von Furstenberg dresses, Paige Premium Denim jeans and Three Dot tees don't stay on the racks for long. 103 E. King St., Malvern; (610) 644-7220, poshcollections.com.
Crafts and Handmade Items >>> The 5 Senses
The name of this boutique for the artisan-minded offers a clue as to its broad inventory—handmade items that tickle the senses, from chimes and Texas salsas to objects made of a gleaming wood that's nice to touch. There's virtually no gift category that can't be filled here, be it a wedding, baby shower, or for that proverbial man who has everything. One unifying theme: Every item represents the best in North American artistry. 133 W. Market St., West Chester; (610) 719-0170, the5senses.com.
Continued on page 6 …
Consignment Shop for Eveningwear >>> Sophisticated Ladies
Consignment devotees will attest that a shop is only as good as its inventory. Sophisticated Ladies takes its name seriously, making the most of its upscale locale and window-lined display rooms to showcase the best in women's fashion. Along with designer labels like Prada, Ralph Lauren, Talbots and Coach, you'll find lightly worn cocktail dresses (tags dangling), over-runs and samples from New York designers. 1 Station Way Road, Chadds Ford; (610) 388-0811, slcboutique.com.
Cooking Supplies >>> Sur La Table
Sur La Table is the go-to home, bar and kitchenware destination for items with the sort of style and flair that's tough to find elsewhere. This summer, pick up a vibrantly hued ice cream maker, a canary-yellow burger press and a vintage-inspired apron to make even the most casual backyard cookout a memorable occasion. 690 W. DeKalb Pike, King of Prussia; (484) 612-0040, surlatable.com.
Custom Flip-Flops >>> Posh N' Preppy
Thanks to the creative gals behind Posh N' Peppy, you'll never have to wear boring flip-flops again. The idea is genius: Take a ladies' summertime wardrobe staple—colorful Havaianas flip-flops—and embellish them with color-coordinated bows and crystal rhinestones. Our current favorite is the Princess Kate, a navy-blue flip-flop with a rhinestone accent that looks remarkably similar to Kate's sapphire engagement ring. (610) 613-7835, poshnpreppy.com.
Custom Jewelry >>> Brian M. Smaul Jewelery
For more than 20 years, Brian Smaul has traveled the world to find the most unique options for his clients. And while we'd love to have his air miles, we'll settle for his exceptional, one-of-a-kind craftsmanship. 503 W. Lancaster Ave., Wayne; (610) 687-1266, brianmsmaul.com.
Continued on page 7 …
Custom Wedding Invitations >>> Two Paperdolls
It's the first impression for guests, so you wouldn't want to leave your invitations to just anyone. Two Paperdolls has an uncanny knack for coming up with the most unique themes, materials and presentations, from envelopes to RSVP cards. 55 West Ave., Wayne; (610) 293-4933, twopaperdolls.com.
DIY Jewelry Studio >>> Blue Santa Beads
Home to the most stunning collection of Japanese seed beads you've ever seen, Blue Santa also has a full schedule of jewelry-making classes, from beginner level to more advanced sessions that take on more involved projects. You'll be thrilled to wear the finished product. 1165 W. Baltimore Pike, Suite B, Media; (610) 892-2740, bluesantabeads.net.
Dog Groomer >>> Brenda McAfee at Buzzy's Bow Wow Meow
Brenda McAfee doesn't play favorites when it comes to her four-legged clientele at Buzzy's Bow Wow Meow. Every canine gets the same five-star treatment. Her perfect blend of TLC and genuine friendliness, coupled with her speed and skill, make grooming a pleasant experience for pooch and owner. Another bonus: They take one dog at a time, so you don't have to worry about your pet being locked in a cage while waiting its turn. 701 Montgomery Ave., Narberth; (610) 617-3300, buzzysbowwowmeow.com.
Dog Trainer >>> Amy Parsons, Canine Creature Comforts
You may require as much training as your disobedient pooch—a fact you might learn after meeting trainer extraordinaire Amy Parsons, who's an expert at teaching dogs and their owners how to speak the same language. Services range from private in-home sessions to extended on-premises stays. 81 Lancaster Ave., Malvern; (610) 296-8407, caninecreaturecomforts.com.
Continued on page 8 …
Early American Antiques >>>

H.L. Chalfant Antiques
In navigating the Brandywine Valley's world of antiques, it helps to have a guide like H.L. "Skip" Chalfant. A 40-year veteran who grew up surrounded by family heirlooms, Chalfant has a deep respect and knowledge of nearly every aspect of the business, from early decorative arts to late-20th-century paintings. In fact, his shop resembles a museum of key periods of American decorating styles. But it may be the early pieces—the beds, boxes, chairs, silver, chests, needlework and more—that best illustrate his belief that antiques should be used and enjoyed on a daily basis. 1352 Paoli Pike, West Chester; (610) 696-1862, hlchalfant.com.
Eveningwear >>> Bedazzled Boutique
You'll feel like you're in a closet playing dress-up at Bedazzled Boutique, where you'll find the latest styles from major names like Nicole Miller, Badgley Mischka and LaFemme. Aside from gowns and cocktail dresses suitable for any special occasion, Bedazzled also has gorgeous shoes, purses, jewelry and more. 218 S. Newtown Street Road, Newtown Square; (610) 359-1707, bedazzledboutique.com.
Event Designer >>> Eventricity
From corporate meetings to mitzvahs, Phyllis Jablonowski and her team at Eventricity never waver from their commitment to enhancing the overall guest experience. They make sure every event—big or small—has the sort of wow factor that will keep attendees buzzing long after the last of the bubbly is gone. 4700 Drexelbrook Drive and Valley Road, Drexel Hill; (215) 886-0202, eventricity.net.
Continued on page 9 …
Floral Designer >>>

Petah Bashano Event & Wedding Design/Studio Florist
When it comes to flowers, Petah Bashano is an unabashed creative genius. His talents surpass mere floral arranging to embody a more comprehensive grasp of the role flowers play in the overall atmosphere of any occasion. It's about beautiful bouquets—and so much more. Lawrence Park Shopping Center, 1991 Sproul Road, Broomall; (610) 356-7300, alvinsflowers.com.
Furniture Makeovers >>> Chairloom
When it comes to breathing new life into stuff that looks like its headed for the trash, Molly Andrews is a makeover genius. She has an expert eye for indentifying exactly what makes a piece worthy of that second chance, employing a variety of contemporary and traditional fabric lines. As for what comes next, Andrews relies on her colorful, can-do personality to reinvent everything from turn-of-the-century sofas and chairs to antique daybeds and benches. 38 Rittenhouse Place, Ardmore; (914) 484-5498, chairloom.com.
Garden Accessories >>> Waterloo Gardens
Waterloo Gardens is a much-loved Main Line mecca for all things "outdoor living," from statuary and trickling fountains to birdfeeders and first-class dining sets. You'll also find a dizzying array of plantings, including annuals, perennials, bulbs and more. Wanna really make your über-competitive neighbors jealous? This is the place. 200 N. Whitford Road, Exton, (610) 363-0800; 136 Lancaster Ave., Devon, (610) 293-0800; waterloogardens.com.
Continued on page 10 …
Happy Hour for You and Your Pooch >>> The Bark Avenue Boutique
It's a toss-up over who's having more fun—the dogs or their owners—at The Bark Avenue Boutique's weekly Thursday-night "Yappy Hour." The "Bowser Beer" and "Fine Wine for the Canine" (both nonalcoholic, of course) start flowing at 5:30 p.m. Pooch-friendly appetizers include snacks from the boutique's "Barkery." It's BYO for the owners, who can mingle with other dog lovers. 37 Coulter Ave., Ardmore; (610) 642-4495, thebarkavenueboutique.com.
Health Food Store >>> Lionville Natural Pharmacy
Owner Ben Briggs was touting natural therapies and healthier living long before terms like "integrative medicine" found their way to the mainstream. Gluten-free products are big here—but so are cooking essentials like organic spices and herbs. Lionville's inventory is like a mini-history of the wellness industry, so it's no wonder that the place has been described as the ultimate convenience store for local health-food lovers. 309 Gordon Drive, Exton; (610) 363-7474, lionrx.com.
Home Accessories >>> Hob Nob Home Interiors
Hob Nob has loads of stylish accessories under one roof. Chances are you'll find just the right lighting option, furniture piece or artsy accessory, along with experts to help you visualize how it will work at home. If you don't, one of the many in-house artists and craftsman can customize something to your specifications. 308 W. Lancaster Ave., Wayne; (610) 688-1290, hobnobhome.com.
Continued on page 11 …
Kids' Bedding and Gifts >>> Bedbugzz

For the past five years, this spacious, cute-as-button shop has catered to designer-savvy parents who want their nursery or toddler's room to be as stylish (or as organic) as the rest of the house. Owner Kathy Caccamo comes to the rescue with custom bedding by Serena & Lily, rugs by Dash & Albert and coverings from My Blankee, among other brands. You'll also find stuffed animals, fun clothing, décor items and educational toys. 128 E. State St., Kennett Square; (610) 444-5566, bedbugzz.com.

Lingerie >>> Gie Gie Lingerie & Breast Care
When the occasion calls for something, well, a bit more "ooh la la," head to Gie Gie. No matter how sexy or conservative your tastes, they've got something in your comfort zone, whether it's classy corsets, playful "bralets" with matching panties, or elegant peignoir sets. 36 Chestnut Road, Paoli; (610) 296-7626, giegielingerie.com.
Mixed Martial Arts Duds >>> Shosen
The brainchild of former wrestler Jon Hiscock, this budding Manayunk-based apparel company supplies graphically extreme T-shirts and other premium performance outerwear to mixed martial artists. Aside from sponsoring MMA competitors like Bellator Fighting Championships Lightweight champion Eddie Alvarez, it recently partnered with Dragon Gym in Exton, a martial arts hub for 38 years. Expect bigger things to come. 210 Shurs Lane, Manayunk; (877) 221-7382, shosen.com.
 
Continued on page 12 …
New Garden Shop >>> The Garden Center at Linvilla Orchards
The new Garden Center's much-anticipated arrival at Linvilla Orchards was worth the wait. As promised, it's stocked with an impressive variety of seasonal plants and flowers, along with plenty of supplies and tools. Plans are for the new space to also house Christmas Land, destined to be one the most festive spots around. 137 W. Knowlton Road, Media; (610) 876-7116, linvilla.com.
Party Band >>> Jellyroll
If you're looking for a band synonymous with a great time, Jellyroll has long been the region's best bet. The house band for the Flyers Wives Fight for Lives Carnival, Jellyroll has played everything from local mitzvahs to the White House Congressional Ball. The veteran 13-member ensemble has a horn section that's second to none, and a flexible set list of classics new and old that can accommodate any audience or occasion. When it comes to this well-seasoned band, versatile is an understatement. (610) 358-9010, brandywinevalleytalent.com.
Printer >>> Professional Duplicating
There's not much the team at ProDupe can't handle—especially if it's business-oriented: Brochures, business cards and banners are expertly crafted by the in-store graphic design team. It may not be the first time you've hired someone to design your logo or newsletter, but it may well be the last. 33 E. State St., Media, (610) 891-7979; 866 W. Lancaster Ave., Bryn Mawr; (610) 520-1234, produpe.com.
Running Shop >>> Chester County Running Store
With its knowledgeable, passionate staff, this downtown West Chester storefront has become the unofficial headquarters for the area's running scene. Whether organizing weekly training runs or sponsoring charity races, they offer advice, encouragement and a sense of community to beginners and lifelong runners alike. Whether you're training for your next marathon or thinking about trading your remote for a new pair of sneaks, CCRS is there to help. 24 S. High St., West Chester; (610) 696-0115, runccrs.com.
Continued on page 13 …
Treasure Trove >>> Harry's Treasures & Collectibles
Harry Althouse runs a pretty tight ship when it comes to obtaining the best selection of antique furniture, estate jewelry and vintage household collectibles. The sheer volume and range of his inventory—including items that look as if they were stolen from the set of Mad Men—demand a quick turnaround. Or, as Harry likes to remind customers: He's not running a museum, so please take it off his hands. 22 E. Lancaster Ave., Ardmore, (610) 642-4775.
Unusual Items for the History Buff >>> Military History Shop
It's not easy to be a landscape painter while running a store devoted to all things military, but Matthew Reinert manages to do both well. Books on military history and DIY model kits are the bookends of a collection of merchandise that also includes authentic reenactor clothing, vintage wartime artifacts, prints and maps. In honor of his own childhood passions, Reinert also stocks an impressive array of hobby supplies, including paints in military colors for toy soldiers. 204 E. State St., Kennett Square; (610) 368-4513, militaryhistoryshop.blogspot.com.

Valet Parking >>> MedPark
It would certainly be enough to perform the requisite duties of a valet service, but MedPark goes the extra mile to ensure that its staff doesn't neglect even the smallest details. Its recipe for client satisfaction includes everything from friendly attendants and flawless service to emergency battery-jumps. 1380 Bartlett Road, Wayne; (610) 647-3130, medparkcorp.com.
Wedding Boutique >>> Van Cleve Collection's Wedding Pavilion
Everyone should look beautiful on a wedding day. That's why Van Cleve specializes in everything from showstopping bridal gowns and gorgeous accessories to attire for the mother of the bride and bridesmaids—plus eveningwear by famed designers like Alberto Makali. Even so, the shop's expert team shines brightest for its brides, with exceptional alterations and custom-designed gowns and jewelry. 68 E. Lancaster Ave., Paoli; (610) 647-5055, vanclevecollection.com.
Continued on page 14 …
Window Treatments >>> The Curtain Exchange
The prospect of dressing your windows becomes a lot less daunting with the team of experts at The Curtain Exchange in your back pocket. They'll help you navigate the more than 150 custom, ready-to-hang drapery options in stock, along with the hundreds of fabric options (if you prefer to create your own look). Still not confident in your choice? Feel free to take your selection home and "live with it" for two days—just to be certain. 111 E. Lancaster Ave., Devon; (610) 765-1142, thecurtainexchange.com.
Women's Accessories >>> Apricot Lane
Finding the perfect outfit is one thing. Finding all the accessories to complete said outfit is another. Apricot Lane can help with both. It has all the fedoras, flip-flops, scarves, jewelry and handbags you'll need to bring personal flair to your latest ensemble. Suburban Square, Ardmore; (610) 645-5205, apricotlaneardmore.com.
Women's Consignment Shop >>> Greene Street Consignment Shop
From H&M to Talbots, from cocktail dresses to that perfect pair of shoes, this breezy Philly mainstay is now spreading its wealth of style to the suburban masses. We love the flashback bubble umbrellas, classic oldies soundtrack and biodegradable shopping bags. And its "40 percent commission with no annual fee" policy should make any seller smile. 848 W. Lancaster Ave., Bryn Mawr; (610) 519-0878; 119 W. Market St., West Chester, (484) 947-5562; greenestreetconsignment.com.
 View Readers' Picks here.