Photo by Jared Castaldi
Hours before a summer appearance at the Sellersville Theater, one Bacon is fidgety, and the other is relaxed. Taking a break from soundcheck, Kevin picks at a greenroom spread of lunchmeat and olives. He crunches ice cubes, sips hot tea—anything to keep his voice fresh.
Before the two sold-out shows in Sellersville, there's a "Free at Noon" set at World Cafe Live in Philadelphia the same day. A little more than 25 miles away is Phoenixville, where Kevin's older brother, Michael—the relaxed one—maintains the Bacon family's Chester County retreat. That makes their regular benefit shows at Phoenixville's Colonial Theatre a sort of homecoming, reaffirming the Bacon Brothers' local ties and a longtime involvement in preservation and the arts.
Now 66, Michael is a career musician, diversified enough to play 30 instruments. He's also a new member of the Corinthian Yacht Club in Essington. His racing vessel is dubbed Chaos, and his wife, Betsy—who's sailed with him for years but never raced—is "generally terrified."
For Michael, the competition is "rejuvenating to my brain." He doesn't have a studio in Phoenixville, calling himself "a go-to-the-office kind of guy" who needs downtime. "We're doing well with the band," he says. "There's very little in the way of an overall plan, but that makes us unique. Other bands all seem to have a plan."
That may have something to do with 56-year-old Kevin, whose busy acting career has encompassed roles in everything from 1984's Footloose to 2004's The Woodsman, the latter a critically acclaimed drama he produced and starred in. (The Bacon Brothers tune, "Chop Wood (Carry Water)," is on the soundtrack.) Other films of note include the Oscar-winning JFK, Apollo 13 and Mystic River, plus The River Wild, for which he was nominated for a Golden Globe. Kevin currently stars in The Following, now in its third season on Fox.
Michael has had his own success in the entertainment industry. He's scored three Oscar-winning films: The Johnstown Flood, A Time for Justice and King Gimp. A 2011 Emmy Award came by way of his score for The Kennedys, and he received a 1992 ACE Award nomination for the music to The Man Who Loves Sharks. Other scoring projects include Slavery by Another Name, a 2012 Sundance selection; Teddy: In His Own Words, winner of a 2010 Emmy; and The Secret Life of the Brain, a five-hour PBS documentary by Emmy-winner David Grubin.
Of late, Michael has continued with Finding Your Roots, a 10-year PBS project that uncovers celebrity genealogy, and he's begun work on a film about the Communist Party USA. (His idol, folk music's Pete Seeger, was a party member.) "He has such sensitivity," says Betsy about her husband of 42 years. "He's his mother's son—he even looks like his mother. And Ruth was such a gentle person. Michael has that same pulse."
"Kevin is more like Ed," she adds. "He definitely has that competitive edge."
For the uninitiated, Edmund Bacon was a celebrated planner, architect, educator and author at the height of the mid-century era of urban renewal. During his tenure as executive director of the Philadelphia City Planning Commission from 1949 to 1970, he essentially shaped today's cityscape. His design concepts became Penn Center, Market East, Penn's Landing, Society Hill, Independence Mall and the Far Northeast.
"His love was for the city, and we all understood that," says Kevin of his father, whose other four children were girls. "What I remember is that he was really into being famous—and, for me, it was a real driving force. Most actors, artists or athletes will tell you it's a cop-out to say you don't want to be famous. Every one of them wants to be seen, heard and recognized. For me, I wanted to be famous; I wanted to be more famous than him. But I didn't realize that until later in life."
Michael and Betsey at the family home in Chester County;

Michael and Kevin performing at the World Cafe Live in July.
All the music came from Michael. Whatever was cool to listen to, we were listening to it at 7 and 9."
Childhood friend Harry Spivak is reminiscing about the early inspiration for the Bacon Brothers, a band whose folk-rock leanings are safely middle-of-the-road while still appealing to more sophisticated listeners. In fact, the band is a direct result of Spivak, who listened to a demo the two had made, along with a duet by Kevin and his wife, actress Kyra Sedgwick. Spivak pitched the idea of the Bacon Brothers, then coined the simple name.
Spivak's father, Jerry, joined brothers Herb and Allen as partners in Philly's original Electric Factory. Along with Larry Magid, they were pioneers of the local live-music scene.
Harry has known Kevin since he was 6 years old. The Bacons lived on Locust Street, and the Spivaks were just around the corner on Van Pelt, near the English Village section of Philadelphia. When he was 16 and Kevin 17, they boarded a bus headed west for a backpacking adventure. Shortly thereafter, Kevin left home for New York.
"There was nothing but rah-rah support," Kevin recalls of his upbringing. "Anything I was into was always the greatest thing. It wasn't difficult to emerge from under Dad's shadow, because he always said, 'Go for it.' You'd think they'd freak out to find out that I was leaving, but they said, 'See you.' I'm not sure they even knew I left. I'm saying that facetiously, but I was the youngest of six."
Adds Michael: "They really cared about self-expression and our looking inward with that."
When Michael's late-'60s band, Good News, played the Electric Factory, his younger brother tagged along. The first band Kevin played in was Chet Brown & Footloose—no connection to the movie, interestingly enough. These days, the brothers parlay their significant life experience into deeply personal music. "Every song tells our story, though names have been changed," says Kevin. "There are a lot of secrets."
Back on stage for soundcheck in Sellersville, the brothers field a Spivak request for his 21-year-old daughter, who's just started a job that day with the Hudson Project, a summer music-and-arts festival on the Saugerties, N.Y., farm that hosted Woodstock '94. The impromptu performance leads to fresh video of a song that can only be called "Katie Spivak."
"It's destined to be a hit," Kevin jests.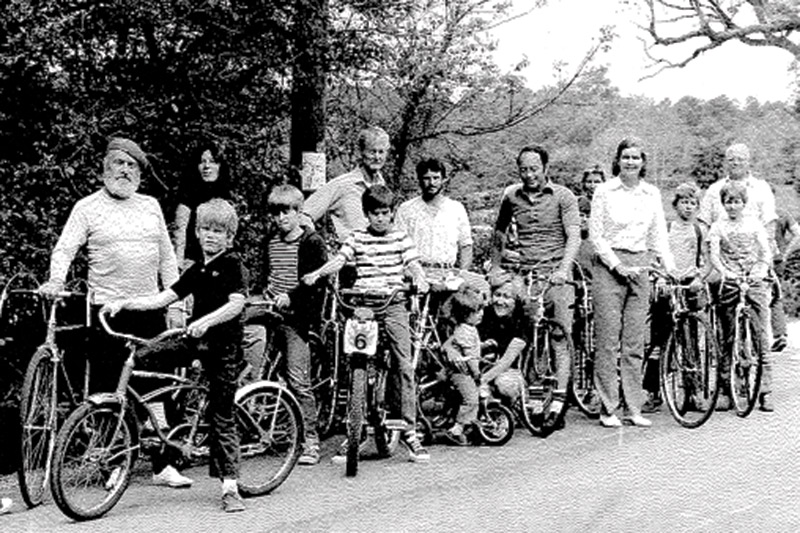 The Bacons participating in the French and Pickering Creeks Conservation Trust's first Iron Tour in 1977.
From the back porch of the Bacons' 1823 stone farmhouse in Phoenixville, one can spy a brick paver that salutes the family patriarch with a favorite line of his: "Ah, the beauty of it all." Here, Michael and Betsy Bacon hang wet laundry on a line—something they can't do in their Upper West Side co-op, where they live on the seventh floor. Michael's studio is on the first.
The couple has one son, 32-year-old Neal, who's maintained a low profile since trying his hand at acting in the late '80s. Michael and Betsy will spend Christmas in their former sawmill-tenant duplex on Pickering Creek. For Thanksgiving, they'll be in New York at Kevin's place.
Initially, Ed and Ruth Bacon rented the Phoenixville property as a getaway in the 1930s. At the time, it was owned by the Fosters, family friends and serious Chester County landowners. The Bacons bought it in the 1940s, building an addition designed by their architect friend, Oskar Stonorov.
Michael had been living in Nashville, where he'd become a staff songwriter for Combine Music Publishing and recorded two solo albums for CBS. When his luck ran out in Music City in the mid-1980s, he and Betsy came back east and bought the Chester County home from his parents. Kevin sometimes visits and "crashes" there, and both brothers share a century-old family retreat in the Adirondacks. The place has no electricity, and Michael often goes there to write. "This is civilized," Betsy says of the Chester County home.
Born at Bryn Mawr Hospital, Michael still feels like a tourist in New York. "The houses here are built of a fieldstone you just don't see anywhere else in the country. It's an English-Welsh influence," he says. "At the time, [it was] just the easiest, cheapest way. Now, they're masterpieces. As the rooms get smaller and smaller, you can just feel the history. Plus, there's this very cool modern addition."
Kevin sums it up more simply: "Michael's house gives off a vibe you just don't get anywhere else."
In 1976, Ed and Ruth put their 16-acre property into an easement with the French and Pickering Creeks Conservation Trust—the organization's third. Ruth's mother, Dorothy Smith Holmes, had a house and nine-acre property just down the road. It's now owned—and eased—by Kevin and Michael's first cousin.
Eleanor and Sam Morris founded the French and Pickering Creeks Conservation Trust in 1967, later recruiting kindreds like Ed, a Quaker, and Ruth, a teacher and liberal activist. Together, they promoted easements as a way of conserving land in northern Chester County.
In the spring of 1979, Ed spoke bluntly at an conference on the voluntary preservation of open space. He deemed it self-destructive to build a mall in the middle of nowhere, then have people commute there by automobile. "[Even] a group of houses in this isolated spot is immoral in every way," he said. "The invention of the two-acre-lot subdivision is the invention of the devil … If you have 2,000 families to house, you destroy 4,000 acres."
"He may have been planning Philadelphia, but part of it was how he connected it with the suburbs," says Sara Painter, the trust's marketing and development director. "[The Bacons have] had a real hand in how we protect land and our watersheds—and I don't think they're done yet. Michael is still here, and he's still friendly with our founding family. There could be no better benefit than to have someone involved who's already protected land."
Michael and Kevin with their late father, Edmund
Whether or not a benefit concert at the Colonial Theatre happens next year largely depends on Kevin Bacon's schedule. There have been six shows so far. On a good year, a single appearance may raise $50,000, which is split by the theater and the French and Pickering Creeks Conservation Trust.
"The work of the two organizations is intertwined," says Mary Foote, the Colonial's executive director. "The revitalization of downtown Phoenixville has brought people back to the region and enhanced the interest in living in and preserving open space on its rural fringe."
Still, Michael says it's inaccurate to call it philanthropy. A philanthropist, he purports, has enormous resources and gives them away. "I just feel strongly about the trust," he says. "So doing a concert is hardly a hardship, because I just love playing music."
"But it is a compliment to be asked to do it," his wife chimes in. "And there's such fellowship in this area."
The Bacon brothers have a history at the Colonial, where they attended shows and movies as kids during the summer. Now, their benefit concerts—typically 650-seat sellouts—are generating a halo effect. "Attendance has grown each year," Foote says. "It's gone beyond Kevin, his name recognition, or coming to see an actor, and become more because of the music."
That said, a date for the next show is still pending. "Having a tradition means keeping it going, so I hope they do," says Foote. "We're already hearing, 'When are they coming?'"
For the last Colonial show, proceeds went to a planned expansion. Other years, it helped fund third-floor renovations and, early on, general operating expenses. "The Bacons may be adopted sons of the region, but they're sons who come home," Foote says. "Betsy and Michael, in particular, are excited about our expansion, and generally excited about what's happening in Phoenixville."
When it comes to Kevin, his take on philanthropy is reflected in his website, www.SixDegrees.org, a networking and social-conscience outreach vehicle he launched more than 20 years ago. (Remember the whole "Six Degrees of Kevin Bacon" thing?) Its focus remains on helping multiple small grassroots charities with social-media and live appearances. "It's more about a million people with $10 each, and the connectivity," he says.
In March 2014, the Bacon Brothers did a show in Washington, D.C., for Jenny Pacanowski, a veteran friend of Michael's with post-traumatic stress disorder from her service in Iraq. That night, she became the first veteran with PTSD to receive the Purple Heart. Michael played cello to the beat of her poetry. Now, he has an interest in connecting vets with community groups. "I'm not a veteran, but I'm in awe," he says.
In early 2009, the Bacon Brothers played the Hard Rock Cafe's "March on Stage" benefit concert series. Later in the year, they gave a brief show for the fundraisers who climbed to the top of Pikes Peak in Colorado in support of the Love Hope Strength Foundation. That same year, they teamed with Philadelphia singer Bunny Sigler and some Mummers to record a special edition of their song, "New Year's Day," to help pay for the 2010 parade when the city wouldn't. They also performed a benefit show at the Electric Factory. When the parade took place, Kevin and Michael were grand marshals.
"The idea of the Mummers going away was ridiculous," says Michael. "We had the song, and it was a great opportunity to satisfy a musical curiosity: Could we integrate the Mummers sound? It was a completely, utterly satisfactory musical experience—and that was philanthropy. We lost enough money to qualify it as philanthropy."
As for his parents' activism, it went beyond philanthropy. "It's the way they lived their lives," Michael says. "My mother started a nursery program for the state inmates at Graterford prison. She was a saint to them. She had a privileged childhood and always thought she had to answer to that."And though it took awhile, his father's artistic and architectural influence "got to" Kevin. "I love furniture, design and architecture. If I didn't become an actor and a musician, I would've done that," he says.
But, as a kid, it was a different story. "Our father had endless piles of drawings, maps and books. It was all excruciatingly dull to me," says Kevin, who has two children of his own—Sosie, 22, and Travis, 25—with Sedgwick. "But, with time, I began to make more of a connection. It gradually seeped in."
Kevin connects this slow conversion directly to a set of Charles Eames chairs his dad owned. After he died in 2005, they were passed on to Kevin and other family members. He now shares an affinity for the sort of assimilation his parents imbued in everything, including the Phoenixville house's mid-century addition. "It was a combination of both worlds, so it really taught us how to appreciate the differences between things," Kevin says.
Recently, Michael has been reading about his father and his career. "Every time we come to Philadelphia, we still hear a lot about him," he says. "His focus was to follow the course of something you had a talent in and a love for. To not do that meant you couldn't live your life to the fullest—you wouldn't become a full person. Dad supported the band, came to see us, and loved it."
For Kevin, music wasn't easy. Initially, he felt like "a stranger in a strange land."
"Clearly, acting has always been my bread and butter," he says. "I saw my brother on the road all the time, and it seemed too hard to me—sitting in a room all the time (writing songs and waiting to perform). I needed girls and other things. At first, I thought acting was going to be easier, that you didn't have to practice as much. Of course, I was way wrong."
Michael concurs. "Songwriting is like an allusive bird that's always flying into the distance," he says. "I'm proud of my brother, though. It's amazing how far he's come. Kevin's a long way removed from needing my help."
He touts Kevin's gift for turning everyday experiences into universal lyrics everybody can identify with.
"They're still secretly laughing behind my back," Kevin quips.
Visit www.baconbros.com.