Savona is steeped in history. The stately Gulph Mills mansion dates back to 1765 and was once the headquarters of Aaron Burr, third vice president of the United States and infamous duelist with the ill-fated Alexander Hamilton.
Fast-forward 232 years to 1997, when Savona began as a Riviera-inspired classic dining venue. It was recalibrated a decade ago with the addition of a second café menu and an enclosed 26-seat wraparound terrazzo patio adjoining its already-sexy bar. In 2016, there was a complete two-floor interior refresh, as separate menus were combined into a singular vision embracing varying price points. Throughout the years, co-owners Evan Lambert and Andrew Masciangelo have provided a creative spark and sterling European-style service from an exceedingly polished staff.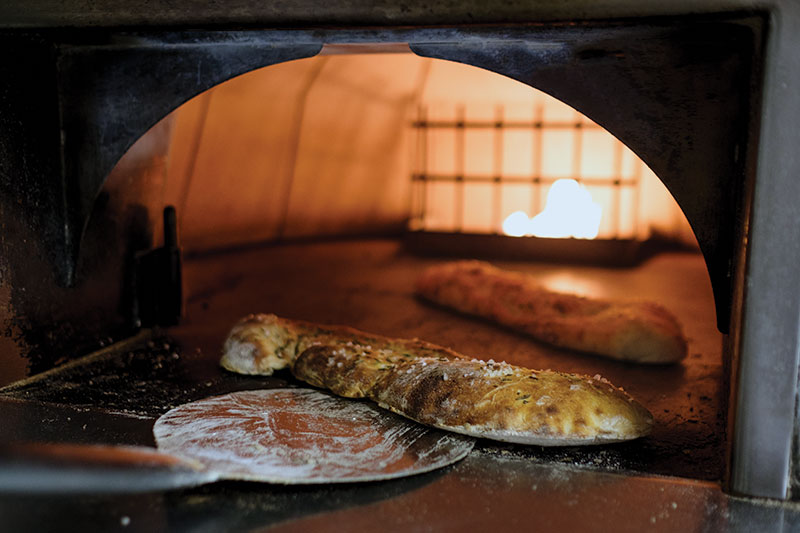 Savona's wood stone oven.
Savona's once-warm interior color palette is now hued in cool, soothing grays. Flowery printed chalkboard menus and colorfully stenciled sea-life paintings line the walls along the dining rooms and in the bar area. It's in that stylish lounge where the skillful daily dance of the cooking brigade in action can be seen through the wide windows of the exposed kitchen.
| | |
| --- | --- |
| | |
| Savona's veal chop. | Vanilla panna cotta with Amarena Fabbri cherries. |
Known as Chef Drew to his crew, Masciangelo assembles tempting boards overlaid with cured meats, fresh cheeses, and spiedini (grilled skewered fare) like Gulf shrimp, Amish chicken and Kobe beef. The crudo comes in various forms, including a noteworthy seared tuna with spicy Calabrian chili flecks. The vibrant salt-roasted beets with creamy ricotta are a winner, and the flame-kissed Neapolitan-style pizza is among the area's best.
Five Second Tuna, with crispy leeks and Calabrian chili.
Signature dishes like the well-seasoned chicken under a brick and the Scottish salmon, shimmering brightly amid ripe San Marzano tomatoes, have withstood changing tastes over the last 20 years. Savona still produces outstanding grilled fishes and butcher-block proteins alike, as exemplified by the hearty Rocky Mountain rack of lamb, a colossal veal chop (sporting a crispy crown of haystack potatoes) and one evening's special—a buttery Dover sole so moist, rich-tasting and delicious (and boneless), it could've passed itself off as veal picante. Meanwhile, the mostly Italian desserts—gelato, sorbet, panna cotta, a flourless chocolate brownie—are all fine but fall a bit short of the kitchen's full creative potential.
The veal chop is a 16-ounce first cut.
Sommelier Michele Konopi was only 6 years old when Savona opened, and she brings both millennial-aged youthfulness and a keen knowledge to her award-winning wine program. Her 1,000-plus wine list is one of the region's deepest, full of top-tier varietals and reasonably priced finds alike.
As the restaurant chains continue their steady march into nearby King of Prussia, Savona remains a stalwart survivor: A Revolutionary War-era vestige where thoughtful adaptation goes hand in hand with the owners' unwavering spirit of independence.
100 Old Gulph Road, Gulph Mills, (610) 520-1200, www.savonarestaurant.com.
CUISINE: Coastal Italian fare. COST: $12-$55. ATTIRE: Smart casual to semiformal. ATMOSPHERE: Elegant 18th-century abode with a stylish interior. HOURS: Lunch: 11:30 a.m.-2:30 p.m. Monday-Friday. Dinner: 5:30-9 p.m. Sunday-Thursday, 5:30-10 p.m. Friday and Saturday. EXTRAS: Complimentary valet parking; wine dinners and winemaker tastings.