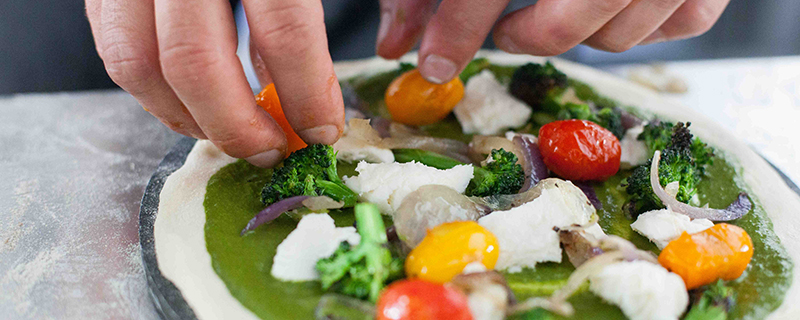 If you are looking for hand-crafted pizzas, calzones and salads made with locally-sourced ingredients and house-made cheeses and sausage served in about five minutes, then head over to Providence Town Center's newest restaurant addition, RapiDOUGH Pizza Pies.
The brainchild of local restaurateurs and brothers Nick Farrell, owner of Sovana Bistro in Kennett Square and Tom Farrell, owner of The Classic Diner in Malvern, RapiDOUGH combines fresh ingredients with rapid food preparation for a modern pizza parlor dining experience.
The menu allows customers to order from suggested pizzas, salads and calzones or can create their own meals from an array of fresh sauces, toppings and dressings. All natural drinks are sourced by 3rd Coast Soda Co, dispensing a healthier alternative to traditional sodas.
Distinctive pizzas like the asparagus pie with white sauce, egg, goat cheese, asparagus and arugula or the rucula pie topped with white sauce, cherry tomatoes, arugula and feta cheese showcase the brothers' over 50 years of combined experience delivering inventive, crowd-pleasing food.
What makes the ordering experience both unique and rapid are the specially-designed iPad kiosks. The electronic ordering provides consistent food delivery to the table in about five minutes.
"We designed an interface to streamline the ordering process while also offering diners the ability to customize their orders," says co-owner Tom Farrell. "The ordering kiosks essentially eliminate wait time to place an order, allowing us to promptly serve meals even during peak hours."
Find RapiDough Pizza Pies at 99 Market Street in Collegeville (near Movie Tavern); phone: (484) 961-8898. Hours of operation are as follows: Tues.– Sat., 11 a.m.– 10 p.m.; Sun.: 11 a.m.– 9 p.m. Take-out is also available.