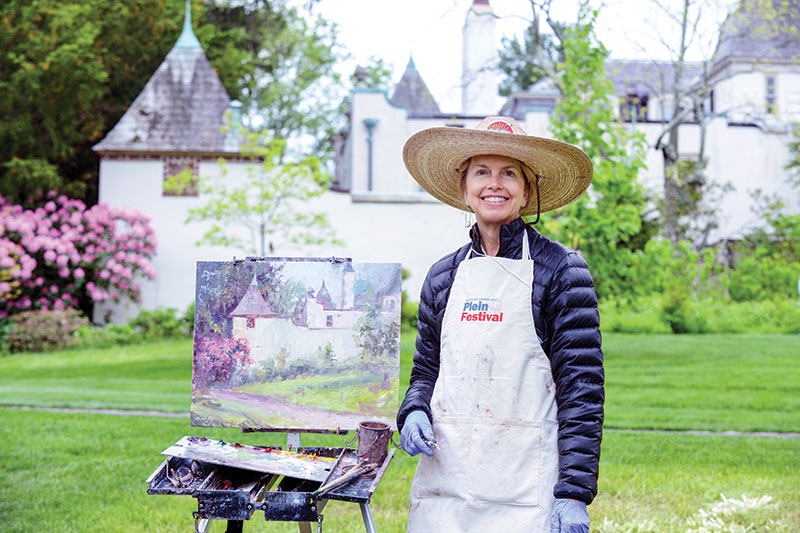 The Wayne Art Center Plein Air Festival runs through June 30.
Wayne Art Center Plein Air Festival
May 6-June 30, Wayne
Celebrating its 12th year, the Wayne Art Center's Plein Air Festival showcases beautifully rendered outdoor scenes from artists throughout the region and beyond.
Camelot at Act II Playhouse
May 15-June 24, Ambler
For its final production of the season, Act II Playhouse makes a grand exit with Camelot.
Clover Market
Starts May 20, Various Locations
Find everything from vintage goods to handmade jewelry at the open-air Clover Market, which makes stops in Bryn Mawr (May 20) and Kennett Square (June 10).
Philadelphia Eagles Training Camp
Dates TBA, Philadelphia
Want to catch a glimpse of the Super Bowl champions before the season opener? Chances are you won't be the only one headed to Eagles Training Camp at Lincoln Financial Field.
The Devon Horse Show returns May 24-June 3. Photo by The Book LLC.
Devon Horse Show
May 24-June 3, Devon
From May 24-June 3, rediscover one of the top equine events in the nation at the Devon Horse Show and Country Fair. Founded in 1896, the show features world-class evening, boutique-style shopping, and plenty of family-friendly entertainment and treats.
Hike Valley Forge National Historical Park
King of Prussia
Valley Forge National Historical Park is a trail-covered nature lover's paradise many of us take for granted. Reacquaint yourself with Washington's headquarters, the brigade huts and Washington Memorial Chapel—and keep an eye out for the abundant wildlife.
The Stoogeum in Ambler pays homage to the iconic Three Stooges.
Visit the Stoogeum
Ambler
Set aside a Thursday and head to Ambler's Stoogeum, which features nearly 100,000 artifacts celebrating the legendary Three Stooges comedy team. Appointments are also available.
The Linvilla Orchards Strawberry Festival returns June 2.
Linvilla Orchards Strawberry Festival
June 2, Media
Kick off summer on a naturally sweet note at the Linvilla Orchards Strawberry Festival. The June 2 event promises lots of family fun to go with some prime berry picking.
Victory Brewing Block Party
June 3, Kennett Square
The Victory Brewing Block Party brings food trucks, a beer garden, live music and other activities to Kennett Square on June 3.
The Wayne Music Festival features live music along North Wayne Avenue.
Wayne Music Festival
June 9, Wayne
Bluesrock belter Joan Osborne headlines June 9's Wayne Music Festival, which features live music on three outdoor stages, followed by bands performing late into the night at restaurants along North Wayne Avenue. The family-friendly event benefits the Music is Love Foundation and Children's Hospital of Philadelphia.
Spring Mountain Adventures
Schwenksville
Less than 40 minutes from the Main Line in Schwenksville, Spring Mountain has plenty to offer zip line enthusiasts— or try geocaching, the 21st-century take on a scavenger hunt.
Grammy-nominated artist Ruthie Foster will perform at this year's State Street Blues Stroll.
State Street Blues Stroll
June 9, Media
June 9's State Street Blues Stroll features a variety of bands performing live in restaurants and other venues in downtown Media. Performers have included Stevie and the Bluecasters and Grammy nominee Ruthie Foster.
Horseback Riding Through Marsh Creek State Park
Downingtown
An invigorating day of horseback riding is closer than you think. Hit the more than 11 miles of designated trails at Hope Springs Farm in Marsh Creek State Park.
Chadds Ford's Brandywine Battlefield.
Explore Brandywine Battlefield
Chadds Ford
Explore the 9.5 square miles of rolling hills and historic land that make up Brandywine Battlefield. The site features the Benjamin Ring Home and the Gideon Gilpin Home and Farm.
Newsies at Media Theatre
Thru. June 10, Media
Media Theatre tackles the stage version of Disney's big-screen musical Newsies. The show runs through June 10.
Chester County Mac & Cheese Cookoff
June 10, Downingtown
Need a dose of comfort? Look no further than June 10's Chester County Mac & Cheese Cookoff in Downingtown, where you can sample numerous sumptuous variations from local restaurants and home chefs alike.
Def Leppard and Journey at Walls Fargo Center
June 11, Philadelphia
Fans of '70s and '80s arena rock will get a double dose of nostalgic fun when Def Leppard and Journey share a bill at Wells Fargo Center.
Thrill seekers can skydive indoors at King of Prussia's iFLY.
Skydive Indoors at iFLY
King of Prussia
At the only iFLY location in Pennsylvania, you can spend an hour and 45 minutes skydiving indoors.
Learn to Fly at Liberty Flight School
West Chester
If you really want fly, try a class at West Chester's Liberty Flight School. Or check out your neighborhood from above on one of its scenic tours.
U2 at Wells Fargo Center
June 13-14, Philadelphia
If last summer's sold-out show at the Linc was any indication, Irish rock icons U2 carry a lot of weight in Philadelphia. So we suggest you get your tickets now for one (or both) of their back-to-back shows at Wells Fargo Center.
Aladdin at the Academy of Music
June 13-July 1, Philadelphia
Hotwire the nearest flying carpet and head to Broadway Philadelphia's Aladdin at the Academy of Music. The Disney favorite runs June 13-July 1.
Philadelphia Concours d'Elegance Preview Gala
June 15, Philadelphia
Explore the Simeone Automotive Museum while raising funds for the Children's Hospital of Philadelphia at the annual Concours d'Elegance Preview Gala.
The Chester County Balloon Festival runs June 22-24.
Chester County Balloon Festival
June 22-24, Toughkenamon
At the 12th annual Chester County Balloon Festival, held June 22-24 at New Garden Flying Field in Toughkenamon, you can witness the beauty of these floating machines at dawn or dusk—or hop aboard and experience it first-hand.
Imbibe in Phoenixville
Take a casual tour of Phoenixville's burgeoning craft beverage scene. Stops include Crowded Castle Brewing Company, Bluebird Distilling, Stable 12 Brewing Company and Root Down Brewing.
Grains of the World Dinner at Newlin Grist Mill
June 23, Glen Mills
June 23's Grains of the World Dinner at Newlin Grist Mill highlights 2,000 years of global cuisine—and plenty of bread.
Cesar Milan at the Keswick Theatre
​June 23, Glenside
On June 23, Cesar Millan comes to the Keswick Theatre to promote his Nat Geo WILD series Cesar Millan's Dog Nation.
Norristown's Elmwood Park Zoo includes a zip line and ropes course.
Visit Elmwood Park Zoo
Norristown
At Norristown's Elmwood Park Zoo, you can take on the treetop adventure course, with its zip line and obstacles.
Philadelphia Union
Date varies for home games, Chester
Witness the impressive soccer skills of the Philadelphia Union as the team hosts the Vancouver Whitecaps (June 23), Atlanta United (July 7), Los Angeles Galaxy (July 21), New York City (Aug. 18) and New England Revolution (Aug. 25).
Tour the Herr's Factory
Nottingham
Among Pennsylvania's best-known exports, Herr's offers tours of its factory in Nottingham, where you can see chips and pretzels being made—and even get a taste.
Cheer on the Philadelphia Phillies this summer at Citizens Bank Park.
Philadelphia Phillies
Date varies for home games, Philadelphia
With Delaware Valley sports teams now on a serious roll, the young and improving Phillies are looking to capitalize on those winning vibes. Gather the family for an affordable field trip to Citizens Bank Park and watch the Phils take on the Yankees (June 25-27), Dodgers (July 23-25) and Mets (Aug. 16-19)—three teams with long and illustrious histories.
Longwood Gardens Workshops
Date varies, Kennett Square
Horticulture fans can soak up the knowledge of various experts at one of the many classes and workshops offered at Longwood Gardens. Count us in for "The Art of Espalier" (June), "Sun Perennials" (August-September) and "Vegetables" (August).
Longwood Gardens Festival of Fountains
Thru. Sept. 30, Kennett Square
Summer at Longwood Gardens means the Festival of Fountains, plus fireworks on July 1, July 21 and Aug. 11.
Foo Fighters at BB&T Pavilion
July 7, Camden, N.J.
Ex-Nirvana drummer Dave Grohl and his hard-rock outfit the Foo Fighters barrel into the region for one of the most highly anticipated outdoor shows of the summer at BB&T Pavilion. The band is touring behind its 10th release, Concrete and Gold.
Port Providence Paddle
Phoenixville
Take to the water in a canoe, kayak or paddleboat with Phoenixville's Port Providence Paddle. The company offers a two-mile loop and twilight excursions on the Schuylkill River.
Shania Twain at Wells Fargo Center
July 12, Philadelphia
Shania Twain is proving she can still draw a crowd with her "Now" tour. The best-selling female artist in country music history performs at the Wells Fargo Center.
Taylor Swift at Lincoln Financial Field
July 13-14, Philadelphia
Pop's reigning queen, Taylor Swift, brings her fittingly massive "Reputation" tour to the Linc. Expect a whopping 69,000 screaming fans per night.
Eastwood Summer Classic
July 28, Pottstown
Automobile aficionados won't want to miss this year's Eastwood Summer Classic, which boasts plenty of classic eye candy. This year's event will be held on July 28 at Eastwood's retail store in Pottstown, with auto-body repair expert Kevin Tetz on hand for seminars and meet-and-greets.
West Chester's Benchmark Twilight Cycling Classic rolls into the borough on Aug. 11.
Benchmark Twilight Cycling Classic
Aug. 11, West Chester
The Benchmark Twilight Cycling Classic rolls into downtown West Chester on Aug. 11, offering men's and women's pro bike racing and family-friendly entertainment.
Take a Cooking Class
Craving Indian food? Learn to make your own at Haneeda's Kitchen in Glen Mills. Or try your hand at French, Moroccan or American cuisine at the Kitchen Workshop in Paoli.
Old Fiddlers' Picnic
Aug. 11, Coatesville
A longstanding Chester County tradition, the Old Fiddlers' Picnic returns Aug. 11 to Hibernia County Park with great music, tasty food, mansion tours and more.
Bacon Brothers at the Keswick Theatre
Aug. 11, Glenside
Local boys the Bacon Brothers nurture their ongoing connection to the area with a late-summer visit to the Keswick Theatre. Kevin's the well-known actor, and Michael makes his living as a composer for films and TV. Their likable folk-rock collaboration has found an audience to sustain it for over 20 years.
Legoland Discovery Center Adult Night
Aug. 16, Plymouth Meeting
Plymouth Meeting's Legoland Discovery Center isn't just for kids. Its Pre-Season Adult Night on Aug. 16 focuses on sports.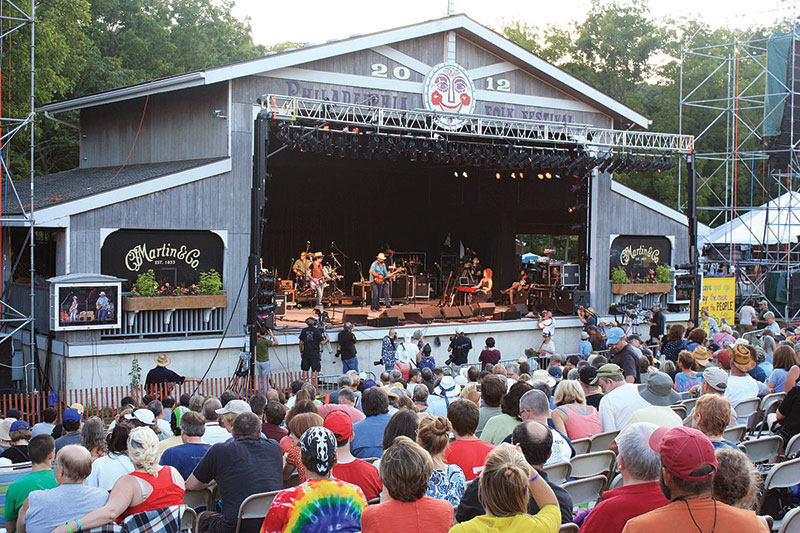 The Philadelphia Folk Festival takes place this year Aug. 16-19.
Philadelphia Folk Festival
Aug. 16-19, Schwenksville
Now in its 57th year, the Philadelphia Folk Festival is the oldest continuously run outdoor music festival in North America, drawing more than 30,000 music fans annually. Held at Old Pool Farm in Schwenksville Aug. 16-19, this year's event features Patty Griffin, Wynonna (Judd) & the Big Noise, the David Bromberg Quintet and many more acts.
Read Books by Local Authors
Spend an afternoon soaking up some sun with a good book with local ties. Try Shipley School alum Jessica Knoll's The Favorite Sister (Simon & Schuster, 384 pages) or local favorite Lisa Scottoline's After Anna (St. Martin's Press, 400 pages). And for youngadult readers, there's Wild Blues (Atheneum/Caitlyn Dlouhy Books, 256 pages), by Radnor-based author Beth Kephart, due out in June.
Alabama headlines Country Spirit USA this summer.
Country Spirit USA Festival
Aug. 24-26, Glenmoore
Aug. 24-26, Chester County will play host to some of country music's biggest names at the first-ever Country Spirit USA festival. Held on the Ludwig's Corner Horse Show grounds, the three-day festival will feature over 20 acts on two stages. Headliners include Alabama, Toby Keith and Brad Paisley.
Renior Exhibit at the Barnes Foundation
Thru. Sept. 3, Philadelphia
Explore the works of renowned impressionist painter Pierre-Auguste Renoir and his multitalented offspring, filmmaker Jean Renoir, at Renoir: Father and Son/Painting and Cinema, on display at the Barnes Foundation through Sept. 3.
The American Treasure Tour features classic cars and other antiques.
The inside of a Hollywood prop warehouse must look an awful lot like the American Treasure Tour in Oaks, with its miniature circuses, classic cars, old nickelodeons, model airplanes, record collections, dolls and more.
Explore Reading Terminal Market
Philadelphia
Get your fill of Philly specialties at Reading Terminal Market, whether it's cheesesteaks, locally roasted coffee, or Lancaster meats and cheeses. Visit on Tasting Thursdays for free samples.
Franklin Institute Game Masters
Thru. Sept. 3, Philadelphia
Set aside a rainy day for the Franklin Institute's Game Masters. Running through Sept. 3, this impressive exhibit features the works of over 30 designers, from web to console games.
The PGA BMW Championship will be held at Newtown Square's Aronimink Golf Club this year.
PGA BMW Championship
Sept. 4-9, Newtown Square
Cap off the summer with some world-class swings at the prestigious PGA BMW Championship Sept. 4-9. The 2018 event will be held at Aronimink Golf Club, marking a return to Pennsylvania after almost 60 years.