Aroma's charbroiled lamb kabob: $11.99/lunch, $17.99/dinner. Photo by Ed Williams.
Tucked away in a tasteful space at Valley Forge Towers, Aroma is among a dwindling number of indie BYOB operations left in KOP. The gyros, shawarma and kababs are fragrant and of exceptional quality, as is the delicious charbroiled lamb kabab ($11.99 lunch/$17.99 dinner).
10104 Valley Forge Circle, King of Prussia, (610) 337-9300, www.aromamedcuisine.com.
A remote-feeling roadside pub, Beaver Creek Tavern is a hub for local duffers who flock from nearby Ingleside and Honey Brook golf clubs. Menu favorites include an array of simple, spot-on sandwiches and the fish and chips with Yuengling-battered haddock. The signature Gorgonzola Pacchette—pinched pyramids of pasta stuffed with gorgonzola, blue cheese, Monterey jack and ricotta cheeses, smothered in a white wine garlic sauce—will set you back just $15.99.
1350 Bondsville Road, Downingtown, (484) 593-0481, www.beavercreek-tavern.com.
This fast and friendly eatery offers breakfast, lunch and dinner with an international flare. Flavors span the globe in a kitchen that excels at tacos, lamb-filled pitas, falafel wraps, kabobs and pizza. Bonu is also known for its kolaches, the warm, slightly sweet baked pastry of Eastern Europe. Bonu stuffs them to fit the meal—egg, ham and cheese for breakfast, Philly cheesesteak lunch kolaches, and banana and berries for dessert. Prices range from $2.79 for one to $23 a dozen.
320 E. Lincoln Highway, Exton, (484) 872-8494, www.bonucafe.com.
Broadway Bar & Grill's crab cakes: $18.99. Photo by Ed Williams.
One of the hallmarks of a great restaurant is consistency. On that note, Tony Blanche's Clam Tavern, located on a residential street in Clifton Heights, has remained the standard bearer for the freshest seafood around. Seven years ago, Blanche opened Broadway Bar & Grill just across the street, where you can enjoy a few Clam Tavern classics, including mussels, shrimp in a basket, and clams casino. Or opt for land-based fare like meatloaf with mashed potatoes and a vegetable—a Blanche family favorite—for $13.99.
329 E. Broadway Ave., Clifton Heights, (484) 461-2802, www.clamtavern.net.
Bee Sting Wings at Capone's: $9.50/dozen Monday-Wednesday. Photo by Tessa Marie Images.
When Capone's opened in 1974, it was a shot-and-a-beer-joint, plain and simple. Today, their 8-ounce Angus burgers are top-notch, and so is the garlicy chicken scampi over pasta. Capone's award-winning wings, meanwhile, are the apex of bone-in deliciousness. Monday-Wednesday, Bee Sting Wings are $9.50 a dozen.
224 W. Germantown Pike, Norristown, (610) 279-4748, capones-pa.com.
Don't let the name fool you—this gangster is as safe for your system as it gets. Owner Miguel Osorio, who grew up in the projects of New York City, has opted for a healthy plan of attack here, offering concentrated wellness shots, baked sweet potatoes with black beans, pickled cabbage and cashew-nacho "cheeze," and soulful kale and rice bowls. The $12 Dirty South features brown rice with beans, mushrooms and sunflower seeds, slathered in homemade barbecue sauce.
2454 W. Main St., Norristown, (610) 630-1600; 6 Gay St., Phoenixville; (610) 616-0000; www.gangstervegan.com.
At this historic 18th-century inn, the best deals can be had during Happy Hour in the Warren Tavern and outside on the Spring House Terrace. Try a white-cheddar cheeseburger ($12), a crab-cake sandwich ($16), or the very definition of elegant and affordable bar fare—a flatbread topped with impossibly tender filet mignon, aged Provolone, carmelized onions, roasted peppers, and gorgonzola cream ($17).
9 Old Lancaster Road, Malvern, (610) 296-3637, www.generalwarren.com.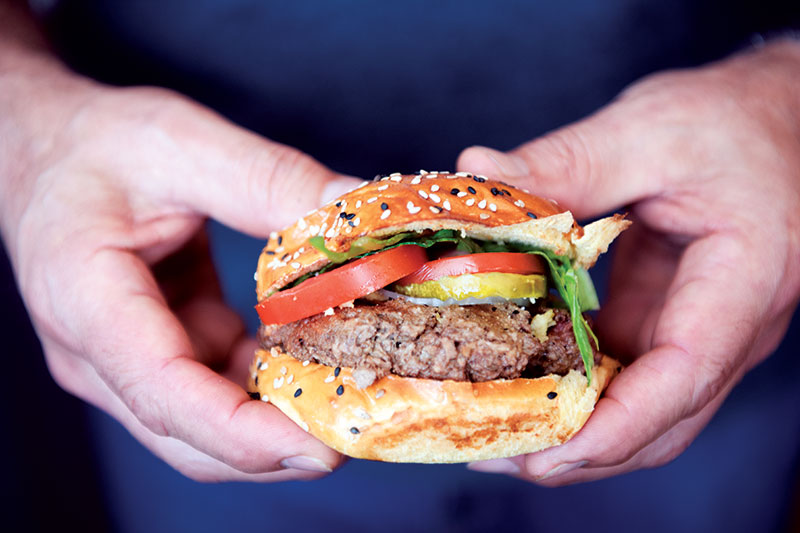 Greyhound Café's Impossible Burger: $15.95. Photo by Ed Williams.
Eclectic vegan creations include Moonstruck Meatballs atop garlic bread with marinara ($8.95), and the Greyhound Salad ($9.95), a derivation of a Caesar salad that's a whole lot healthier. And the Impossible Burger ($15.95)—the closest thing to a meaty char-grilled patty you'll find anywhere—should sway any carnivore.
81 W. Lancaster Ave., Malvern, (610) 240-0222, www.thegreyhoundcafe.com.
With just six seats, Hugo and Tany Salazar's diminutive Phoenixville establishment may be the smallest restaurant in our area—and it's definitely the only Guatemalan one. Highlights include pungent carne asada with rice and beans, crispy flautas, bulging chicken enchiladas, and lightly spiced pork tacos. On Fridays, the Salazar's serve sopa da pata—cow feet soup—a coriander-flecked delicacy. On Fridays and Saturdays, they make a limited assortment of tamales at just $2.50 each. Note: Guatamalan Kitchen is cash only.
6 Main St., Phoenixville, (484) 302-6059.
This no-frills eatery is as affordable as it is flavorful. The vada pav—two sweet buns filled with mixed veggies, green chutney, herbs and spices—is Bombay street food at its finest. And you're unlikely to find the chicken curry in puffed pastry anywhere else in the region. For our money—just $12.99—the classically delicious Chicken Biryani justifies its heat factor.
260 N. Pottstown Pike, Exton, (610) 363-9500, www.indianhut.com.
Aside from the energizing juices and smoothies, Jaco boasts an assortment of tasty soft tacos, burritos and quesadillas stuffed with braised beef, chicken, pulled pork, or veggies. For an extra boost, try a refreshing acai bowl or a wheat-grass shot. The fish taco is a real deal to savor: sweet North Atlantic cod with pineapple salsa, pickled cabbage slaw, roasted poblano cream and tomatillo salsa—$4 for one or $7 a pair.
21 W. State St., Media, (484) 444-2839; 8 W. Gay St., West Chester; (610) 436-4177; www.jacojuiceandtaco.com.
Long lines are the norm on weekend mornings at this breakfast institution, where owner Pete Liccio keeps the old deli ways in play. All his meats are roasted on site; hoagie rolls come direct from Conshohocken Bakery and the bagels from 110th Street Bakery; and shakes are blended with Philly's own Bassett's Ice Cream. For dinner, locals rave about the roasted beef brisket, served with bowtie kasha and a vegatable ($14.95).
551 E. Germantown Pike, Lafayette Hill, (610) 897-8107, www.knishesanddishes.com.
"Food truck meets brick and mortar" is how owner Jim Cerenzia describes the hut where he and wife Karen Taylor serve all-day breakfast, double-stack smashed burgers on Baker Street brioche buns, and an all-beef Island Dog enveloped in a sweet King's Hawaiian roll ($4.49).
8419 Germantown Ave., Chestnut Hill, (267) 766-5044, www.louies-little-hut.business.site.
There's tremendous value in owner Kannika Kim's traditional Thai menu—shareable curry dishes, vegetarian entrées, and notable chef's specials like tamarind-sheened Pad Thai Duck and pineapple-chunked Tropical Cashew (vegetarian or chicken). A gingery medley of scallops, shrimp, mussels, squid and fried tofu with lemongrass, green peppercorn and shaved carrots, the Seafood in Paradise tastes as exquisite as it looks on our cover—and it's just $20.95.
3120 Ridge Pike, Eagleville, (610) 631-0969, www.mymangostreetbistropa.com.
An homage to co-owner Bert Johnston's mother, Miss Winnie's brings authentic Jamaican fare to West Chester with a menu that features fried chicken dusted with house jerk seasonings, and Friday and Saturday dinner specials like pungent oxtail, the barbecue chicken leg and, most notably, a $14.25 curry goat platter that's truly unique to the area.
211 E. Market St., West Chester, (484) 469-9151, www.misswinnies.com.
Here, breakfast is a simple and savory affair. We routinely fill up on the $5.99 Naples Supreme, with egg, sweet sausage, roasted peppers and sharp Provolone, served either panini style or on a long roll. As for dinner specials, $8.99 gets you a choice of pasta and sauce.
55 Seaboldt Way, Chester Springs, (610) 458-8065, montesanobros.net.
Prices at Tina and Brian Foley's Bridgeport institution are dirt-cheap. You'll pay no more than $5 for French toast or a short stack of pancakes, a breakfast sandwich, and eggs done any way you like them. Burgers, cheesesteaks, hot and cold sandwiches, and hoagies never top $6.50. Regulars swear by the Whitesteak, Tina's variation on the cheesesteak made with turkey breast ($5.75), and the homemade corn or blueberry muffins ($1.75).
138 W. Fourth St., Bridgeport, (610) 272-7587.
The Cantonese/Japanese pedigree is strong at New Leaf. Co-owner Terry Yeung learned much from his time at Wynnewood's Sang Kee, and his sushi chefs come from Margaret Kuo. Along with the pristine sashimi and the well-constructed maki rolls, specials include wok-tossed shrimp bathed in a creamy coconut ginger sauce ($16) and spicy Mongolian lamb with black pepper sauce ($17).
2916 West Chester Pike, Broomall, (610) 353-8888, www.newleafcuisine.com.
There's more to Pho Ever Yours than soup—like vermicelli rice noodles served cold and mixed with beef, chicken, pork, or shrimp, tossed with fresh lettuce, mint, cucumber and pickles, and topped with crunchy peanuts and scallions. But if broth's your thing, we suggest the Pho Dac Biet, a satisfying combo of steak, brisket, meatball and tendon, for $10.95.
106 N. Essex Ave., Narberth, (484) 800-1239, www.phoeveryours.com.
Brick-oven pizzas and seafood are the draw at this booming Chester County BYOB. We highly recommend the Pomod'oro pizza, topped with mozzarella and fresh tomatoes, for $15.50. And don't leave without trying the house-made tiramisu or cannoli.
200 Chestnut St., Downingtown, (610) 873-0405, www.pomodorodowningtown.com.
Railroad Street Bar & Grill's lobster grilled cheese: $18.75. Photo by Tessa Marie Images.
Mike McCloskey never set out to create what's arguably the best dive bar in the western suburbs. But this little roadhouse in quiet Linfield has a legion of followers who flock there for the tomato-jam fries, amazing grilled cheese sandwiches, "infamous" chicken wings and juicy half-pound burgers (made with beef from locally raised Longhorns). Don't overlook the lobster grilled cheese ($18.75)—tender meat poached in butter and enveloped in gooey sharp cheddar.
36 Railroad St., Linfield, (610) 495-7043, www.railroadstreet.com.
This adorable café is the heart and soul of Saint Peter's Village. The woodsy cottage setting offers idyllic patio views of boulder-lined French Creek. Chef Melanie Melle and her amiable staff serve delicious light breakfast fare and lunchtime sandwiches made with her freshly baked breads. Friday Pizza Night is a favorite for wine-toting locals, who enjoy live acoustic music and savor 10- and 14-inch semolina-encrusted specialty pies that run $14.50 and $18.50.
3441 Saint Peter's Road, Saint Peters, (610) 469-7501, www.saintpetersbakery.com.
At this honest-to-goodness country market, owners Dave and Roberta Rotelle sell their award-winning cheeses, freshly baked breads, meats and sweets—and free samples are abundant. The cheery sandwich shop is known for its pancakes, homemade soups, cheese melts, and hearty sandwiches. Their claim to fame is the Honey Brooker—two toasted slices of white bread piled high with a proprietary blend of aged cheeses, fresh turkey, crunchy John F. Martin bacon, tomato and Russian dressing, which will
set you back about $7.50.
5287 Horseshoe Pike, Honey Brook, (610) 273-3552, www.septemberfarmcheese.com.
At the obsessively beer-centric TJ's, greatest hits include the Bangin' Shrimp Tacos, maple-smoked Buffalo wings and chargrilled burgers. For just $15.75, the Sweet & Spicy Chicken & Waffles offers supreme comfort, thanks to a cornbread-cheddar waffle slathered in bacon butter, maple syrup and gochujang sauce.
35 Paoli Plaza, Paoli, (610) 725-0100, tjsbeer.com.
Three Crazy Ladies' open-face meatloaf sandwich: $7.50. Photo by Tessa Marie Images.
What's really crazy about this takeout, catering and counter business in Malvern is the fact that it's located in the back of a Sunoco station. Three Crazy Ladies serves wholesome breakfasts and filling lunches at zany-low prices, with most items less than $10. Their bestseller is the open-face meatloaf sandwich with pimento cheese, ketchup, carmelized onions and three fried eggs, for $7.50.
7 W. Lancaster Ave., Malvern, (610) 640-0590.