Braised short rib from Mistral. Photo by Steve Legato.
Editor's note: This story is from 2018. To view our 2019 Best New Restaurants feature, click here.
Mistral
This high-end yet casually sophisticated restaurant and bar is the antithesis of your typical mall experience. That's mostly thanks to the approachable fusion cuisine of James Beard-nominated chef Scott Anderson. The shareable menu includes soy-kissed chicken-thigh satays, honey-coated lamb-and-falafel salad, and a deeply robust braised short rib. At happy hour, partake in signature cocktails, cultivated wines or a nicely priced house pilsner. Along with Sunday brunch, outdoor seasonal seating puts diners in the heart of the mall action—albeit quietly.
160 N. Gulph Road, King of Prussia, (610) 768-1630, www.mistralkop.com.
Editor's note: This story is from 2018. To view our 2019 Best New Restaurants feature, click here.
Crab cakes from Cedar Craft & Kitchen. Photo by Steve Legato.
Cedar Craft & Kitchen
Paul DiBona (Conshohocken's Pepperoncini) deftly pairs comfort food and craft cocktails at this friendly spot. Chef Brian Morris' biggest sellers include tangy St. Louis-style pork ribs, cheddary ham-stuffed risotto bites, a deeply satisfying meatloaf and a fragrant Italian roast pork sandwich. The bar features 11 beers on tap, a simple, well-curated wine list and the signature Jim Beam-laced Muddy Waters cocktail.
1061 Cedarwood Road, Glenolden, (610) 537-7003, www.barcck.com.
Sona Pub & Kitchen
Sona—Irish for "happy"—offers top-flight American gastro fare with a fusion kick. We love the malty fish and chips, the caramelized brussels sprouts with crispy cider-braised pork belly, and the surprisingly good pizzas. For weekend brunch, there's Cap'n Crunch-coated French toast, traditional Irish bangers and puddings, and the WTAF—a chorizo sloppy Joe on a grilled glazed doughnut topped with two eggs. Bar highlights include 32 craft brews on tap and 60-plus by the bottle. Hardly your typical Irish pub.
4417 Main St., Manayunk, (484) 273-0481, www.sonapub.com.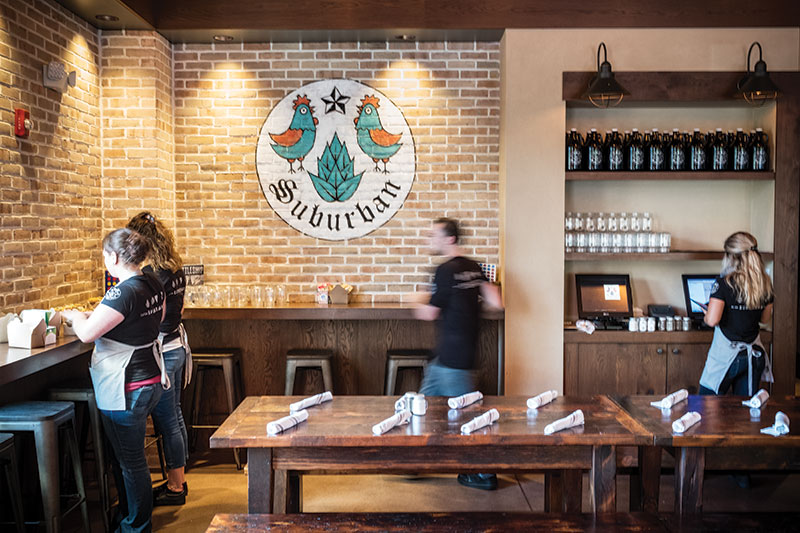 Suburban Restaurant & Beer Garden. Photo by Steve Legato.
Suburban Restaurant & Beer Garden
To the right side of chef Eric Yost's dual-concept eatery, there's the higher-end Farmer's Room, its ever-changing menu a field-to-table homage to local farmers and purveyors. On the left side, it's the picnic table-lined Beer Garden, a libation-splashed playground where you can enjoy 24 local craft beers, along with ciders, regional wines, and cocktails infused with local spirits. Menu standouts include panko-coated deviled eggs dolloped with porcini mousse, the Lebanon bologna sandwich with stout-spiked mustard, and a juicy Wyebrook Farm double-patty burger. Suburban also has Sunday brunch, live music several nights a week, and an outside lounge with cozy fire pits.
570 Wellington Square, Exton, (610) 458-2337, www.suburbanbg.com.
Al Pastor
Justin Weathers and Joe Monnich have upped the ante at Eagleview's Al Pastor, building on their rustic American dining success at Lansdale's Stove & Tap. Their energetic Tex-Mex cantina boasts an earthy, offbeat vibe. Pair a cucumber-jalapeño margarita with crispy cauliflower tacos, nachos blanketed in Oaxaca cheese, or adobe-rubbed chicken quesadillas. Extonites flock to $5 Margarita Mondays and $3 Taco Tuesdays. When the weather's nice, the outdoor patio is a huge plus.
580 Wellington Square, Exton, (484) 341-8886, www.eatalpastor.com.
Spicy tuna sundae from Bluefin. Photo by Steve Legato.
Bluefin
Chef Yong Kim's sushi-centric BYOB newcomer is a bastion of uncompromising quality and freshness. It's sexily contemporized series of spaces are ultra-modern yet comfortable, with an eight-seat sushi bar as the centerpiece. On Thursday at lunch and all day Sunday, Kim prepares his toro tuna sashimi and signature spicy tuna sundae. Tuesday-Saturday, chef Nishi—the Japanese master who taught Kim the art of sushi making—takes over.
555 Wellington Square, Exton, (610) 458-3234, www.bluefineagleview.com.
Delice et Chocolat. Photo by Ed Williams.
Delice et Chocolat
At this exceedingly friendly, authentically Parisian café, Joseph Amrani (Le Bec-Fin) teams up with wife Angela Cheng, son Nicholas and his pastry-chef-and-chocolatier brother, Antoine. And there's more: quiche, salads, tasty paninis, cold sandwiches like the yummy jambon fromage on a baguette, smoothies, coffee drinks, and (real) hot chocolate.
7 Station Ave., Ardmore, (610) 649-7001, www.delicechocolat.com.
Pala'a Latin American Seafood
At this unique 23-seat BYOB, you can't miss the sweepingly serene bay scene on the wall and the beach chairs resting under a baby palm tree tucked into one corner. Venezuelan Ivan Brcek pours an invigorating papelón laced with sugar cane and lime, to go with a menu that features Caribbean sea-focused highlights like crispy half-moon corn empanaditas stuffed with fish mohito, a traditional sweet, citrus-tanged shrimp ceviche, olive-oil-sheened salmon, and tuna tartare. You'll also find several chicken and vegetarian options.
18 W. Lancaster Ave., Ardmore, (484) 413-2392.
Photo by Steve Legato.
Firepoint Grill
This much-needed dining and nightlife focal point in Newtown Square excels at tempting starters, rotisserie-kissed ribs, juicy chicken, burgers and steaks, wood-fired pizzas, and main plates like whiskey-glazed shrimp over warm cheddar grits. The inside bar and partially enclosed full-service patio are after-work hot spots, perfect for noshing on weekday happy hour specials, also served at the inside bar. Brunch is served Sunday, as is a Sunday brunch happy hour.
3739 West Chester Pike, Newtown Square, (484) 428-3093, www.firepointgrill.com.
Paladar Latin Kitchen & Rum Bar
The make-your-own guacamole, tempting tacos, slow-smoked pulled chicken and richly flavored Latin stews are perfect accompaniments to Paladar's splashy assortment of margaritas, mojitos and other specialty cocktails. GM Paul Foglia is having some fun curating his massive rum collection—more than 93 bottles and counting. At happy hour, the indoor and outdoor bars lend a communal vibe, and Paladar boasts an impressive weekend brunch.
250 Main St., King of Prussia, (484) 965-9779, www.paladarlatinkitchen.com.
Davio's
Steve DiFillippo has assembled some impressive talent at his latest Davio's, a 10,000-square-foot leviathan in King of Prussia Town Center. Most notable is executive chef Ted Iwachiw, who starts with 100-percent source-verified Brandt natural beef for his sublime steaks. Also excellent: the penne chicken with walnut cream and the delectable cheesesteak spring rolls. Davio's three-course power lunch ($19) is a steal. There's also Sunday brunch and outdoor seating (in warmer months).
200 Main St., King of Prussia, (610) 337-4810, www.davios.com.
Roasted beet salad from Enoteca Tredici. Photo by Steve Legato.
Enoteca Tredici
Zavino Hospitality Group owner Greg Dodge brings his amped-up enoteca concept to thriving Bryn Mawr Village. Amid stunning Pottery Barn-on-steroids surroundings, young Kristina Wisneski chefs beyond her years, as evidenced by her housemade pastas, deep-dish chicken parm, and cured meats and cheeses. Among the wood-fired flatbreads, we highly recommend the Stache, with pistachio pesto, mozzarella, parmesan and lemony arugula. Tredici has also become a Route 30 requisite for weeknight happy hour, thanks to award-winning mixologist Pablo "Papi" Hurtado, who oversees the 18-seat Cararra-marble bar.
915 West Lancaster Ave., Bryn Mawr, (484) 381-0268, www.tredicibm.com.
Agave Mexican Cuisine
Credit Roberto Medina and Claudio Sandolo, owners of Media's Spasso Italian Grill, for identifying a need for authentic Mexican fare in sleepy Chadds Ford. Medina's flavorful Puebla-inspired family recipes form the foundation of the menu at this energetic 100-seat cantina, its colorful interior designed by Medina's wife, Cris. Bring your favorite tequila, wine or beer to enjoy with a chili relleno, flautas, quesadillas, tacos, enchiladas or any of the other elevated street-fare standouts.
1620 Baltimore Pike, Chadds Ford, (484) 770-8345, www.agavebyo.com.
Golden Bunapi mushrooms from DanDan. Photo by Tessa Marie Images.
DanDan
A contemporary communal setting encourages family-style dining at DanDan, where owners Catherina and Kevin Huang have capitalized on the success of their Rittenhouse Square original with the same authentic, intensely flavorful Sichuan stir-fry noodle dishes and sesame-sweet Taiwanese flavors. Don't miss the chicken, shrimp or tofu potstickers—and defintitely do not bypass the addictive dumplings.
214 Sugartown Road, Wayne, (484) 580-8558, www.dandanrestaurant.com.
Fried green tomatoes from Founding Farmers.
Founding Farmers
At this all-day restaurant, bar and bakery in the humming King of Prussia Town Center, the cheery First Bake Cafe & Creamery greets patrons on the main level, offering house-roasted coffees, fresh-churned ice cream, and freshly baked bagels, doughnuts and pastries. Upstairs, enthusiastic servers deliver a copious array of American comfort-food classics like Pennsylvania pot roast, Southern-style chicken and spicy shrimp arrabbiata, plus healthy grain and protein bowls. The bar is where it's at for artisan-crafted cocktails and housemade sodas and syrups.
255 Main St., King of Prussia, (484) 808-4008, www.wearefoundingfathers.com.
SOMO
With a long list of restaurants under his interior designer's belt, what else was there for James Morrissey to do but open one of his own? His chic-industrial American bistro and bar has a speakeasy vibe, with bookshelves lining the walls, cushy booths and funky mood lighting. In the kitchen, veteran chef Allen Lattany crafts classic comfort food with an urban twist. Higlights include hot buttermilk chicken and waffles, flavorful sofrito pulled pork atop a grainy baguette, stout-braised short rib, and healthy build-your-own Buddha bowls. With its 23 rotating drafts and handcrafted cocktails, the bar alone is worth a visit.
4311 Main St., Manayunk, (267) 297-6668, www.somomanayunk.com.
Octopus with shishito peppers and chickpea salad From Cerdo Mediterranean Kitchen & Bar. Photo by Steve Legato.
Cerdo Mediterranean Kitchen & Bar
Young restaurateur Brian Pieri showcases Spain's porcine bounty with house-cured meats, a terrific wild-boar burger, an impressive Iberico pork loin, and rustic Mediterranean fish and seafood dishes. Ignore your gut and try the sardines with raisins and pine nut salsa, all slathered onto a crusty baguette. It's far better than its sounds. Cerdo also offers a thoughtful selection of draft wines, including a light Spanish rosé and a jammy Tempranillo. This spring, grab a glass of Cava and dine alfresco on the patio. The feel is more Catalonia than Conshy.
382 E. Elm St., Conshohocken, (610) 234-0561, www.cerdorestaurant.com.
Truffled foie gras toast from Hearth Kitchen.
Hearth Kitchen
Bryan Sikora is the big regional name behind this homey eatery near Longwood Gardens. His simply prepared, housemade American and Italian lunch and dinnertime pleasers include pork-cheek ravioli with chanterelle mushrooms, Parmesan-dusted spaghetti with tender cockles in a fragrant pool of buttery white wine, and nicely blistered wood-fired pizzas. The subdued bar is well-stocked and fit for lingering.
847 E. Baltimore Pike, Kennett Square, (484) 732-8320, www.hearthkennettsquare.com.
Steak and eggs from City Works Eatery & Pour House.
City Works Eatery & Pour House
"Enhanced sensory stimulation" pretty much sums up City Works' 90-plus craft beers on tap, 14 HDTVs and well-executed, modernized classic American menu. The 9,000-square-foot space also has 14 rotating taps that feature rare, limited and seasonal brews, plus a festive happy hour Monday-Friday with select $4 drafts and apps and half-off select wines. The menu leans toward comforting favorites like juicy burgers, addictive duck confit tacos and a satisfying rack of ribs.
220 Main St., King of Prussia, (484) 690-4150, www.cityworksrestaurant.com.
Bella Vista
Weathers and Monnich's second Exton venture is a stylishly modern 50-seat American-Italian trattoria with an intimate bar. Try the popular chicken parm, one of the rich homemade pastas, or a soulful bowl of veal-and-mushroom ragu. Take advantage of BYOB Mondays with no corkage fee, half-price glasses of wine on Wednesdays, and half-price pizzas from 4 to 6 p.m. at weekday happy hour. Sunday brunch offers bottomless mimosas.
560 Wellington Square, Exton, (484) 341-8621, www.eatbellavista.com.