K
itchens are often the most used and loved spaces in a home. They serve as central hubs, where families gather daily for meals and where friends are welcomed into the home. When undergoing a remodel—whether full blown or small scale—or building a new home, personalizing the kitchen with top-notch appliances is important to helping create the right atmosphere. Appliances like Sub-Zero can create a beautiful aesthetic with high performance capabilities to suit any lifestyle.
Ferguson Bath, Kitchen & Lighting Gallery, which has area locations in King of Prussia, Lansdale, Cherry Hill, N.J. and Wilmington, Del., among many others, has an expert team to help personalize the perfect kitchen. Philadelphia Area Showroom Manager Sara Brandon offers advice on implementing the right appliances.
Prioritize the appliances. When it comes to personalizing your kitchen with appliances, forethought is required. "Many Sub-Zero appliances are built-in or integrated into the kitchen layout," says Brandon. "You have to take into account your cabinet design and making sure the appliances are put in the proper location." She recommends visiting a showroom as soon as you're ready to begin the design process to ensure there is room for the right appliances. Sub-Zero refrigerators and freezers come in a vast range of sizes, so families and couples can pick the ones best suited to their needs. Even those who are remodeling and have limited space can take advantage of their varying sizes.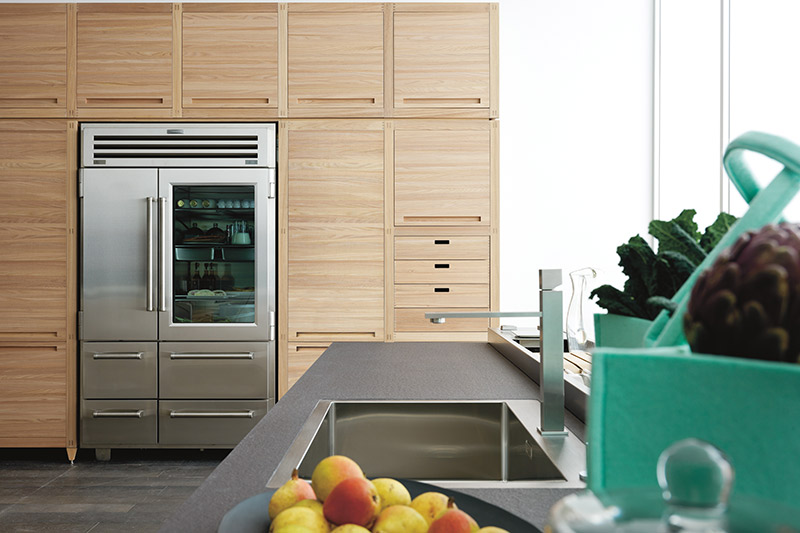 Make them family friendly. Sub-Zero is a great option for anyone, but especially for families and those who love cooking. The brand has become highly regarded for its cooling, which keeps food fresh for longer. "Food preservation is key when it comes to Sub-Zero," says Brandon. That's important whether throwing a party or having snacks handy for little ones. Young children strive for independence, but height limitations can sometimes leave them out, especially when it comes to finding a juice box in the fridge. Undercounter refrigerators are a great addition. Alternately, those looking to add refrigeration, or simply don't have room for a full unit, can take advantage of undercounter units. "A beverage center has two racks for wine and the rest are shelving units, making them a versatile option," says Brandon.
Create a focal point with refrigeration. Sub-Zero appliances are beautifully crafted. There elegant designs mean they can be seamlessly integrated or stand out magnificently, becoming a focal point in any kitchen. "The sky's the limit when we're talking about kitchen design," says Brandon. A popular way to make a refrigerator and freezer the focal point is to group them together, or what Brandon calls ganging, which is becoming a popular trend. "You really can customize these appliances more than ever before by simply adding fixtures together," she says. Whether that's flanking a refrigerator/freezer combo with wine units to beautifully display a carefully curated wine collection, or putting in a large refrigerator and adding a smaller column freezer, there are many permutations to customize a space.
Customize the front. Sub-Zero is well known for its adaptability, especially integrating refrigerators and freezers into a design. Customers have the option of keeping a sleek stainless steel design or adding a wood panel overlay. "An overlay cabinet creates a more seamless kitchen design," says Brandon. She adds, "A cabinet-front panel can change the entire look of a refrigerator." Doing so can completely camouflage a unit to draw attention elsewhere. Alternately, overlay treatments can add another dimension, giving the unit the appearance of an armoire or a decorative pantry door.
Make the stove a highlight. Stoves often seem utilitarian, but modern designs mean they can become a focal point in the kitchen. A larger stove and accompanying hood, typically in the 48-inch size, commands attention and creates a modern aesthetic. "You can create a mantle-like effect with the ventilation," says Brandon. Wolf ranges and stovetops are an ideal match for Sub-Zero refrigeration. These designs can be used to create a commercial or contemporary look, making use of stainless steel. "It keeps a clean and sleek design," says Brandon.
No matter what kind of remodel or design, Ferguson's local product experts can help determine the best appliances and sizes to suit each customer's needs. In addition to their expertise in Sub-Zero, consultants can assist with whole-house lighting options, plumbing selections and a wide range of appliances to create a cohesive, functional and aesthetically pleasing kitchen.
Visit Ferguson Bath, Kitchen & Lighting Gallery showrooms in King of Prussia, Cherry Hill and Wilmington. For more information, visit www.FergusonShowrooms.com.
Ferguson Bath, Kitchen & Lighting Gallery
302 Hansen Access Rd.
King of Prussia, PA 19406
(610) 337-8856
www.FergusonShowrooms.com.